1 NODE TO RULE THEM ALL
1 NODE TO RULE THEM ALL
REVOLUTIONIZING MASTERNODES
Masternode is simply a cryptocurrency full node or computer wallet that keeps the full copy of the blockchain in real-time, just like your have Bitcoin full nodes and is always up & running. But masternodes are considerably different in their functionality than normal nodes. They are different because they perform several other functions apart from just keeping the full blockchain and relaying blocks/transactions as a full node does in Bitcoin/Litcoin.
In the cryptosphere, there are several ways by which you can make profits and earn a handsome amount of money. And the best thing is that you can choose the best way that works for you and can accordingly adjust your reward/risk ratio. One such way of earning in cryptosphere is by running a masternode.
1NODE is a cryptocurrency and platform aiming to revolutionize and simplify the world of masternodes. In the world of the constantly changing, to remain on top you must be consistently improving. Financial revolutions have come in many different forms, yet the most important revolution has yet to take place; the revolution on currency.
1Node aims to overtaking traditional standards. Masternodes remain king, they provide benefits to all participating parties through coin staking.
GOALS OF 1NODE
Our goal is to revolutionize masternodes by providing several solutions under one roof through 1-platform. The 1NODE ecosystem will be comprised of the following elements:
 1CLICK – A tool that allows you to deploy your masternodes in seconds.
 1TRADING – A decentralized exchange platform that will allow users to trade masternodes and instantly convert their rewards into FIAT/BTC.
 1SOURCE – A smart industry builder and blockchain solution provider.
 1POOL – A multi-coin pool for POS and MN coins, this pool allows users who have lesser coins to gain rewards more quickly than individually.
COIN SPECIFICATIONS
COIN NAME: 1NODE
TICKER: XON
TOTAL SUPPLY: 50,000,000
ALGO: X11
BLOCK REWARD: 2 - 20
MASTERNODE COLLATERAL: 1 500
MASTERNODE REWARD: 70 – 90%
STAKING (POS) REWARD: 30 – 10%
BLOCK TIME: 60 seconds
TOTAL SUPPLY: 50 000 000
PREMINE: 0.5%
ROAD MAP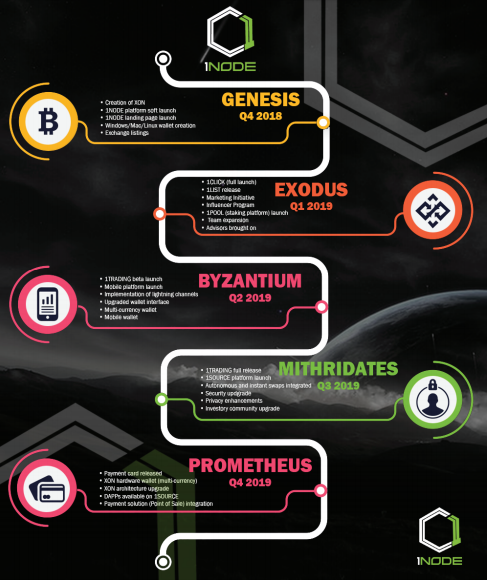 ADVANTAGE OF 1NODE OVER OTHER MASTERNAODE
By removing the quadratic scaling of hashed data for the verification signatures, large transactions can also be generated in the 1NODEs meta network even if those transactions are lager or generated maliciously, without facing the previous difficulties with the signature hashing.
Modifications to script opcodes easier will cause a progressive scripting in all Bitcoin.core based blockchain architectures – so that supporting sidechains or creating even smarter contracts by using Merklized Abstract Syntax Trees (MAST) can be attained much easier by 1NODE.
Reducing UTXO growth; the unspent transaction output (UTXO) database is sustained by each fullnode of a blockchain to review whether a new transaction is valid or duplicitous. To guarantee a fast and effectual network, this database is needed to be very swift to query and change.
This challenge becomes even tougher when more users are using the blockchain, since every new user requires at least one individual UTXO entry. SegWit progresses the situation by regulating the signature data by dropping the UTXO group size by at least 75%.
Join us on discord: http://discord.gg/MH8kU3W