Why did Bitcoin decline 14% in 15 Minutes?
My fellow Steemians,
On Tuesday, Bitcoin recaptured the $ 10,000 mark, but quickly declined back below it. The largest cryptocurrency fell by less than $ 1,400 on BitMEX, the largest crypto derivatives platform, in less than 15 minutes.
These are three reasons likely that underlie the decline.
Longsqueeze
As it is more often the case in the crypto market with a large rise or fall, we can point the finger at margin calls of leverage positions. Huge leveraged long positions have built up over the past few weeks, with much of this on BitMEX.
With a leveraged position, a trader invests with borrowed money and therefore has to force sell at some point if the price hits a critical level. If many people are in the market in this way, a large sales wave will arise if the price hits the critical level.
Before the decline, 75% of all leverage positions were long, which is very high. When the price fell, about $ 120 million in long contracts were liquidated. This can also be seen on a graph below from Skew.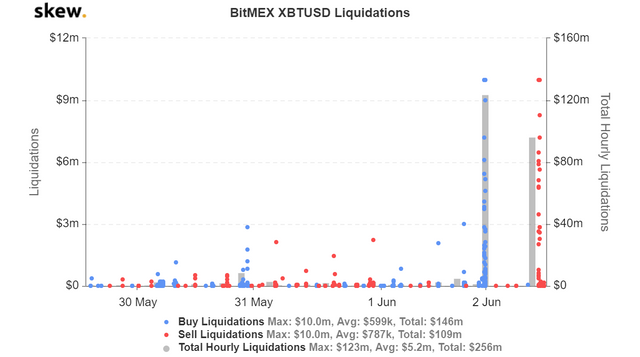 CME futures
In addition to the futures on BitMEX, it is also possible that bitcoin futures on CME played a role in the decline. For example, the decline in the market only started when the US futures market opened. PlanB, an investor in bitcoins, tweeted the following about it:
"BTC crashes at $ 1,000 in 15 minutes with the opening of US markets (exactly the same time and volumes as on May 20 and 21)."
Whales
It was also striking that whales, large holders of bitcoins, sent their coins to BitMEX and Binance a few hours before the drop. For example, Ki Young Ju, CEO of CryptoQuant, said:
"Several large BTC inflows to Binance and BitMEX took place a few hours before the dip."
Ju illustrates the inflows with the following image: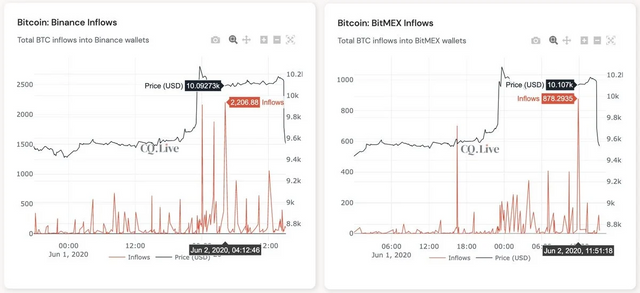 Thus, the whales likely triggered the initial initial decline, which was subsequently amplified by the forced sale of futures positions on the derivatives platforms!
Thank you for reading!
https://slimbeleggen.com/crypto/news/cryptomunten/3-redenen-waarom-de-bitcoin-in-een-kwartier-met-14-daalde/