The Big Long – Update on Collapse in Bitcoin Dominance – 11/14/17
A few weeks ago, I posted the following image: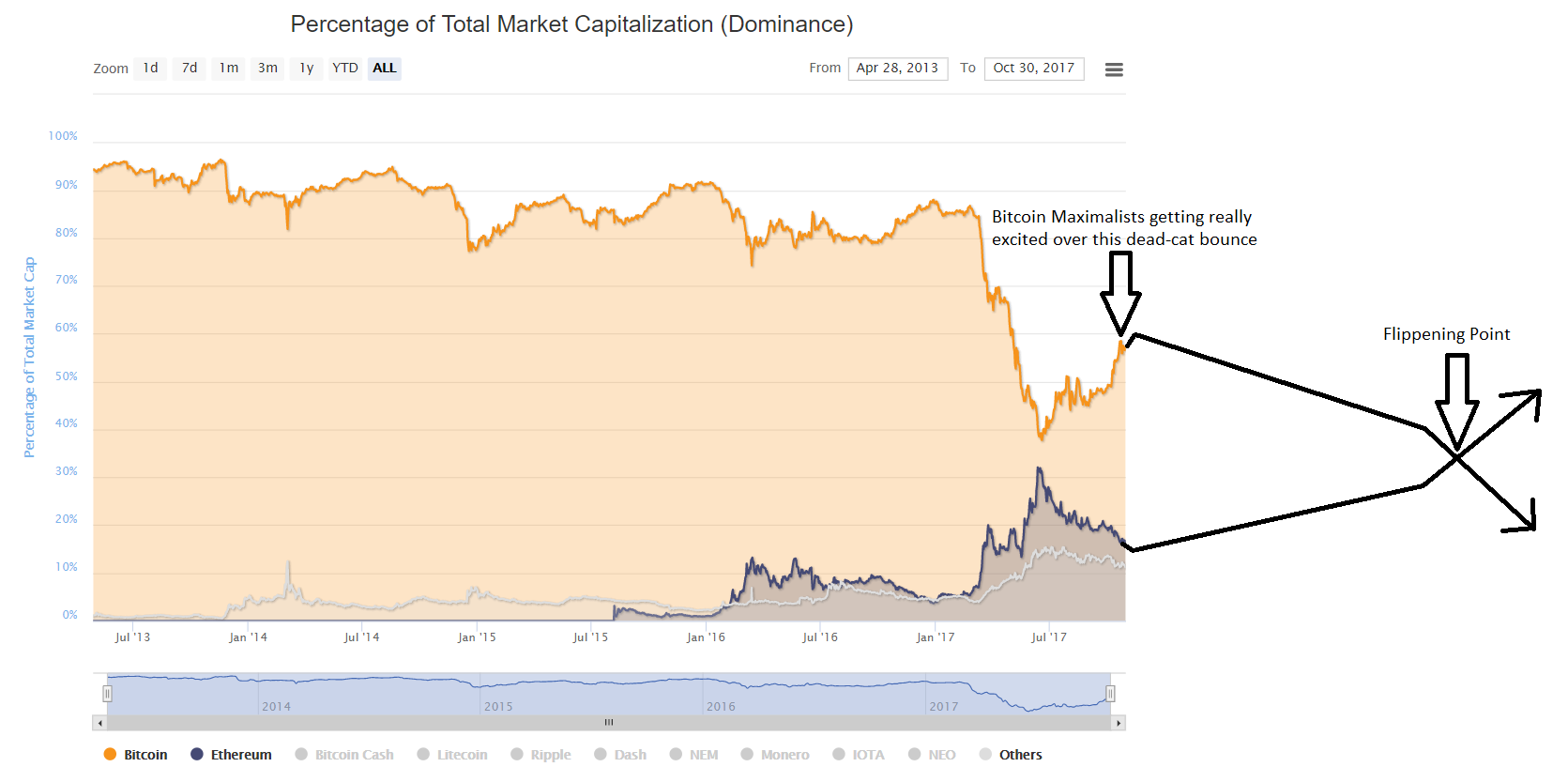 Here is what has happened, as predicted. So far, so good.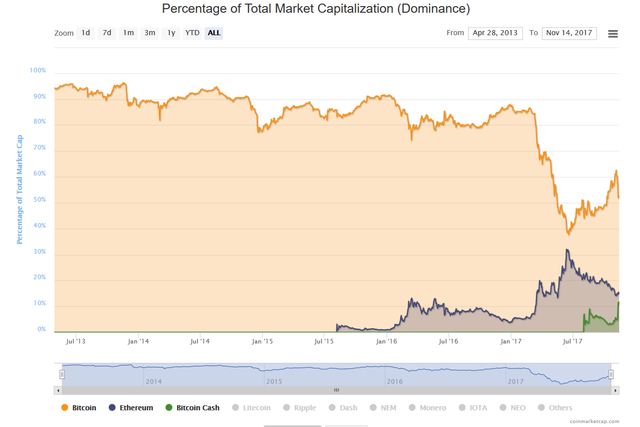 Bitcoin's share of the overall crypto market should continue to decline with another leg down in the coming months. The network has split twice effectively, resulting in bitcoin, bitcoin cash, and bitcoin gold. I was surprised that bitcoin cash did not capture a larger share of the market initially, although it has recently eaten away at bitcoin's dominance. Bitcoin Cash would have probably done better with segwit enabled in conjunction with the 8 mb block size limit. Perhaps a new fork will emerge with segwit and 8mb blocks combined as a final fork of the bitcoin network during this cycle.
I am aware of all arguments for leaving the 1mb block size limit in place, but have yet to see a convincing, realistic argument for doing so, although proponents of the 1mb block size limit have strong conviction in their arguments. Perhaps they will be proven right over time and the big blockers will be proven wrong. We shall see.
Personally, I think a block size of 1 mb is a joke at this stage. Suppose bitcoin sees full adoption of segwit and tx limits increase to roughly 12 tx/sec max. That allows each person on earth 1 bitcoin tx approximately once every 20 years, which will not fly for a global reserve currency. Sure, people can use the lightning network, side chains, or some other off-chain scaling solution, but the core security properties of bitcoin are lost when not using the main chain. Also, I was glad to see 2x cancelled because a 2 mb block size limit is also a joke. Bitcoin Cash's 8 mb limit is a step in the right direction, as long as the roadmap calls for much larger blocks over time. In my opinion, Monero's dynamic block size limit is probably the best solution out right now, and any bitcoin fork would be better suited to use it.
I am not opposed to secondary scaling solutions, I just believe everyone should have a right to the core security properties of the main chain, if only for large transactions, or else the system doesn't work as intended for all of humanity.
I imagine this will work very similar to the way people use fiat today. For instance, say I have $100,000. I may put $90,000 in a savings account, $9,900 in a checking account, and $100 in my wallet in my back pocket for everyday spending. The bank accounts are the most secure and the back pocket is the least secure. If I lose the $100 in my back pocket, I may not be too happy about it, but it won't ruin my life. If I lose the $99,900 in my bank account, I am devastated. The eventual dominant chain should provide tx limits at rates that will easily allow every person on earth at least 1 tx per month, which roughly equates to around 3000 tx/sec or segwit enabled 250 mb blocks. This rate is generally consistent with the rates at which people transfer large sums of money from their savings account to spending accounts. Once a month, a person can transfer a few thousand dollars' worth of digital currency from the main chain to an account for monthly expenditures and from there they can transfer a hundred bucks or so to a not-so-extremely-secure wallet on their phone for daily expenditures, or vice-versa. This way people can take advantage of the core security properties of the main chain while having the flexibility and ease-of-use inherent with a typical personal wallet. For all intents and purposes, the $100 back pocket wallet could be a centralized solution.
This is how I see this technology eventually maturing. However, I think Proof-of-Work is in the process of being obsoleted and a superior consensus mechanism will emerge as dominant. Ethereum's Casper design is the front runner. In fact, Ethereum is the most likely candidate to be the internet of value at this point because of Casper and scaling solutions including sharding, plasma, and raiden networks. These scaling solutions should provide the 1tx-per-person-per-month on-chain settlement that I outlined above, along with other secondary use cases in subsequent layers.
Most likely, the winner will capture 80%+ of crypto market share, while the rest will have combined less than 20%, consistent with the pareto principle. It is very difficult to predict exactly how this will play out and it almost certainly will not evolve exactly as anyone foresees, but it is very exciting to watch and participate in. Good luck to everyone involved.
Disclaimer: None of this is advice of any kind.