How To Create IQ Cash Masternode On Flitz App And Earn Huge ROI From Home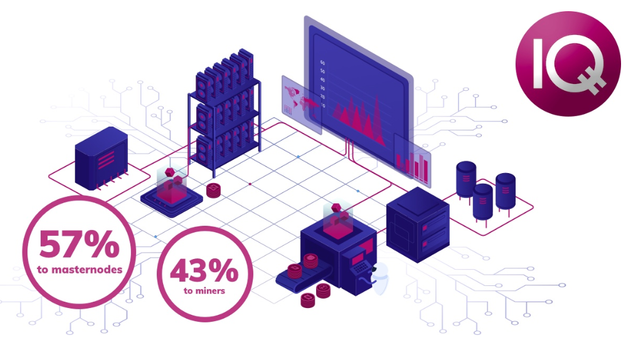 Introduction
When people mention or talk about cryptocurrency and blockchain technology, what quickly comes to mind is trading and mining and rightly so, as these are the two major ways of earning from the industry. Cryptocurrency, with all its volatility has churned out more success and effectively spread out wealth among the majority of people more than the conventional fiat money industry has ever done and this, despite having just two major sources of earning from it. What this means is that, if the earning potential and means are increased, then more people will benefit and also the adoption of blockchain and cryptocurrency by the mainstream will be accelerated. Trading cryptocurrency is a dicey albeit lucrative venture, owing to the volatility of the industry and most times, to make it in crypto trading, you must have a long record of trades under your belt which translates to a veritable history of losses and gains. As a newbie in the crypto world, it takes some level of technical know-how before you can succeed in the average, in trading.
On the other hand, crypto mining requires a whole lot of computer power resources and electricity uptake. Now, these resources are not easily accessible to the average John which then means that top level mining is left in the hands of large organizations that have the capacity to build large scale mining farms that are quite capital intensive.
Nevertheless, the cryptocurrency and blockchain world have really opened up earning potentials to so many individuals out there and people now, more than ever, are more financially secure all thanks to cryptocurrency.
Now, one may ask, what other earning opportunity is there in the cryptocurrency digital world? Are there other investment opportunities like we have in traditional business settings that one can easily go in without necessarily having a technical know-how skills or large fundings at the fingertip.
This is where the IQ Cash cryptocurrency project comes in. IQ Cash is designed to provide a fast and simple crypto investment platform for both traders and investors with an amazing ROI of more than 200% per annum.
Many blockchain powered cryptocurrencies oftentimes concentrate on rewarding only miners and neglecting other contributors to the network but IQ Cash is setting a different pace with it's concept of rewarding investors who own masternode servers.
How To Earn With IQ Cash Using Flits App
IQ Cash concept is so simplified that even a total newbie can easily key into its earning program and start earning immediately and right from the comfort of his room. This is in perfect line with the project's goal of providing investment and earning opportunity for interested users without them leaving their homes, with practically no prior knowledge of investment technicalities and best of all, providing huge ROI with minimum investment capital.
To start your earning journey on the IQ Cash platform, all you need to do is follow three simple steps and you're good to go.
The first step is to download the IQ Cash wallet. The IQ Cash wallet is available for download in different operating systems hence we have Windows wallet, Linux wallet and MAC OS wallet. So, whatever operating system your device is running on, there is a compatible IQ Cash wallet for it which you can easily download. The wallet is very secure and has a user-friendly interface that is easy to navigate.
What is more interesting is that the Android community is not left out as there are several Android cryptocurrency apps with the ability of creating and launching masternodes that can be used and run the IQ Cash masternode but the one being recommended is Flits App. It is available on both Android and iOS platforms and is very easy to use and navigate through. Once you've downloaded the Flits App, opening an account on it is very easy. Once you've signed up, you then proceed and click on the New Wallet tab, then search for IQ.Cash and then copy the wallet address that will be displayed. From there, navigate to Fees and Payments>copy FLS wallet address. These two wallets (IQ.Cash and FLS wallets) are very important in the next steps.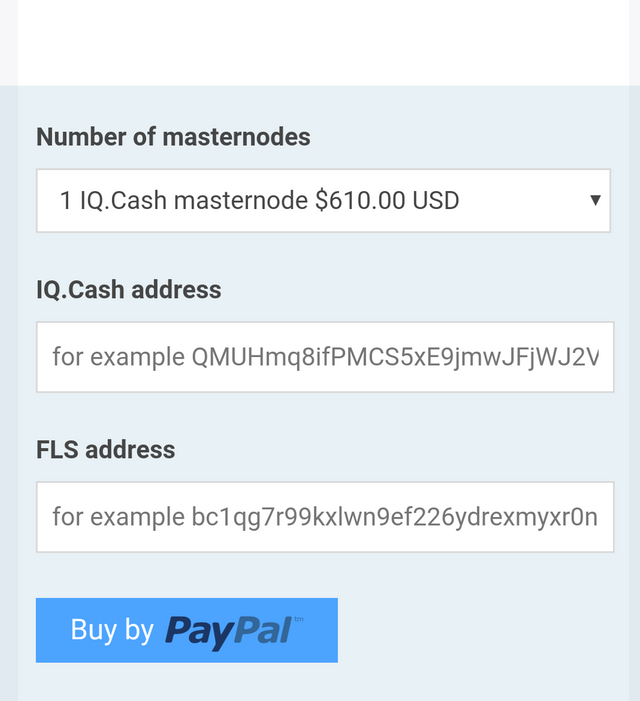 The 2nd step is buying a masternode IQ.Cash package. The masternode package costs just 3000 IQ.Cash tokens which can be bought from any of the several exchanges on which IQ.Cash is currently listed. To buy the masternode, you will follow this link which opens a tab where you will fill in the IQ.Cash and FLS wallet addresses you copied. Be sure not to mix them up so you don't lose your funds. Then also you specify the number of masternodes you're paying for and your email address so you can receive notification once the transaction is concluded. Then click on Buy. Once that step is completed, and you receive the email alert of successful crediting of your IQ.Cash wallet with the correct amount of IQ coins, you then need to log in back into the Flits App, navigate to masternodes tab and click on deploy. It will open a new tab where you are to select the coin you're paying with, select IQ.Cash and then specify the number of masternodes you want to set up according to the package size you paid for. Once that is done, you now go to Nodes list and select Start Node. This will automatically start up your node(s) and voila! You become a proud investor in the IQ Cash project. Can you see how easy it is to become a masternode owner? No technicality or stress involved.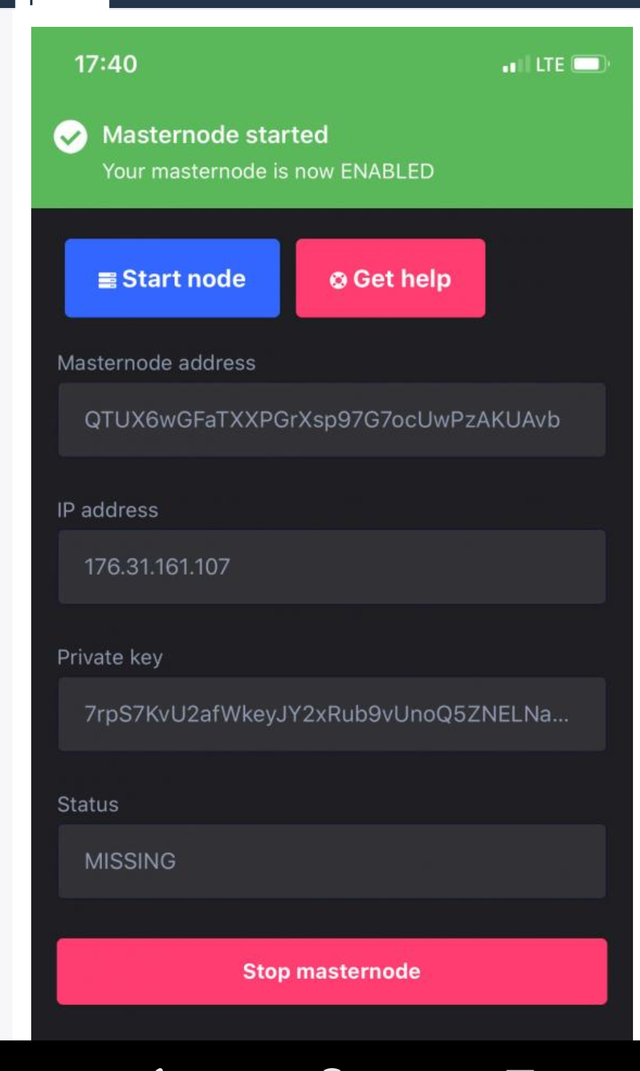 Third step is to create as many masternodes as you want and voila! You start earning. Easypeasy, right? One thing though, it is advised that when purchasing the IQ.Cash needed to pay for the masternode, you should buy a little bit above the required 3000 IQ tokens because there is a little server rent charge to be paid, about 1.99 euros so you can buy 3001 IQ so the server fees can be taken care of as well.
Once these simple 3-step points are taken, the investor's earnings start trickling in and it can be used to buy up more masternodes or it can be liquidated on the exchange.
Features That Make IQ Cash Reliable
More than one decade of relevant experience in the investment financial industry with regards to the coin developer
Fully decentralized feature that ensures that data on the IQ Cash ledger cannot be changed. Also, the IQ token has a limited amount and there are no plans to create or produce more of it.
Highly secured such that every account can only be accessed by the owner. And because each account is created on the decentralized blockchain, it cannot be blocked.
ASIC resistance which refers to the solution of significant acceleration of a network's complexity growth.
Speedy transactions of about 5 seconds made possible through the InstaSend of data across the network.
Anonymity ably provided by the PrivateSend algorithm which ensures that users data are safely and securely encrypted and protected from any third party involvement.
In summary, IQ Cash cryptocoin is a well designed platform for crypto investors to earn hugely and passively with peace of mind because there are checks put in place to ensure sustainability on the platform. IQ.Cash is listed and trading on seven different crypto exchanges namely HitBTC, Mercatox, Bithumb, Bitforex, Consbit, Crex24 and P2PB2B so you can go explore the token on any of those exchanges.
To learn more about the project, here are some links for you
Website
http://iq.cash/?utm_source=btt&utm_medium=bounty&utm_campaign=pr
YouTube
https://www.youtube.com/finexpo
Telegram
https://t.me/IQ_cash
Discord
https://discord.gg/qekuX6r
Twitter
https://twitter.com/IQ_Crypto
Facebook
https://www.facebook.com/TradersFair/
GitHub
https://github.com/IQ-Cash/iqcash/releases
Bithump
https://support.bithumb.pro/hc/ru/articles/360046055014--Event-100-000-IQ-Grand-Prize-Pool
Mining pool
https://pool.iq.cash
Explorer
https://explorer.iq.cash/
BTT ANN Thread
https://bitcointalk.org/index.php?topic=4360591
Writer's BTT profile link
https://bitcointalk.org/index.php?action=profile;u=2047938
BTT Username
Ebykamsiokoro