SteemotoGP Round 17 Phillip Island - Australia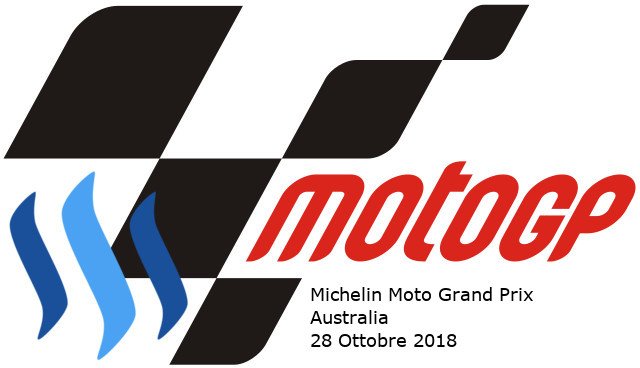 By Angelus (Own work) [Public domain], via Wikimedia Commons
By steemit.com (steemit.com) [Public domain], via Wikimedia Commons
ITA
Motegi
E alla fine vince sempre lui...Marc Marquez, che partiva da dietro, con una gara da manuale e grazie anche all'errore di Dovizioso, alla fine porta a casa game, set e partita.
Dicevamo Dovizioso a terra dopo una gara, comunque, di altissimo livello. Chi ci guadagna sono Crutchlow con la Honda clienti e Rins con la Suzuki.
Valentino continua ad essere il migliore delle Yamaha, la bravura del DOC non si discute, e chiude al 4 posto.
Ma la notizia incredibile è lo 0 di @bubbolo21 che vede il vantaggio ridursi su uno scatenato @green77, il gatto @catgio, invece scavalca il "pollo" 🐓 @zipsardinia
I giochi sono ancora aperti!!!
Phillip Island
Archiviato il campionato mondiale resta aperta la lotta, tutta italiana, per il secondo posto, tra Valentino e Dovizioso. Il cannibale sarà sempre pronto, però, a mettere altre vittorie nel suo palmares.
Siamo pronti a questo weekend motoristico?
Vi ricordo che c'è anche il GP di Formula 1 in Messico.
Chiudo con una nota di tristezza. 7 anni fa, il 23 ottobre, ci lasciava Marco Simoncelli. E dopo 7 anni il suo ricordo è ancora forte nel cuore dei tifosi.
Ciao Sic!
IMPORTANTE
Per tutti i nuovi giocatori ricordo le regole:
si accettano le scommesse entro la mezzanotte di Sabato (al giovedi pubblicheremo il post con la classifica al round precedente e la presentazione della nuova gara)
Per patecipare si upvota manualmente al 100% e il resteem è molto ben accetto per aumentare i partecipanti e i premi in palio
Premi, 3 categorie totali:
Vincitori singolo GP - 1, 2 e 3 classificato di tappa vincono rispettivamente il 30%, 20%, 10% degli STEEM netti del post (instant prize) al pagamento del post.
Vincitore Campionato - Primo assoluto in classifica a fine campionato il 20% del rimanente dalle gare.
Campione del mondo - scommessa sul pilota che vincerà il mondiale il 20% del rimanente dalle gare.
ENG
Motegi
And in the end he always wins... Marc Marquez who started from behind with a perfect race, and thanks to the mistake of Dovizioso, at the end brings home game, set and match.
We said Dovizioso to the ground after a very high level race. Who gains from the fall are Crutchlow, with customers Honda, and Rins with Suzuki.
Valentino continues to be the best of Yamaha, the talent of the DOC is not even in discussion, and finish in 4th place.
But the incredible news is the 0 of @bubbolo21 that sees the advantage fall on a wild @green77, the cat @catgio, instead bypasses the "chicken" 🐓 @zipsardinia
The games are still open !!!
Phillip Island
Once the world championship has been filed, the all Italian fight for the second place, between Valentino and Dovizioso is still open. The cannibal will always be ready, however, to put other victories in his palmares.
Are we ready for this motoring weekend?
I remind you that there is also the Formula 1 GP in Mexico.
I finish the post with a sad note. 7 years ago, on October 23, Marco Simoncelli passed away. And after 7 years his memory is still strong in the hearts of the fans.
IMPORTANT
For all new players, I remind the rules:
Bets are accepted until 00.00 on Saturday (on Thursday we will publish the post with the ranking in the previous round and the presentation of the new race)
To take part you have to upvote manually 100% and the resteem is very welcome to increase the participants and the prizes to be won
Prizes, 3 total categories:
Single GP winners - 1st, 2nd and 3rd classified stage win respectively 30%, 20%, 10% of the STEEM net post (instant prize) as soon the post is payd.
Championship winner - First overall in the standings at the end of the championship win 20% of the remaining from the rounds.
World Champion - bet on the rider who will win the world championship 20% of the remaining from the rounds.
Call to all participants
@bubbolo21
@zipsardinia
@green77
@Ciuoto
@catgio
@miss-ste
@hollywood
@sarabelardo
@antorchajohnny
@dudithedoctor
@yocritico
@dolomitidreaming
@mad-runner
@cmoljoe
@franz54
@dianagomez
@lelluzzo
@sergioambro
@serialfiller
@bisec
@zakyrayyan
@neo-wiza
@raidford
@photo-moment
@hellenita
@dubydoo25
@shifaadi
@steemforez
@adimantong
@monopalla
@Pojo
dedicated to my "friend" Cheetah:
This a long term contest:
you can find my previuos post HERE,HERE and HERE and more...!