Poirot -la Serie- the Series (Ita-Eng)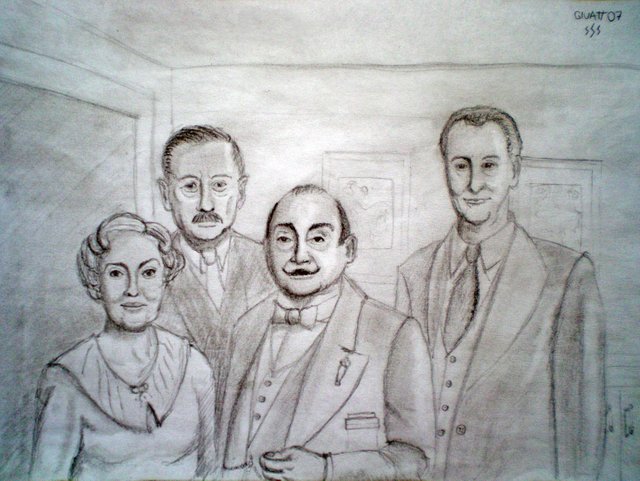 Here is a quick sketch of "Poirot", a British television series, which began in 1989 and ended in 2013, and which succeeded in the almost impossible mission of bringing on the small screen all the novels and short stories written by the queen of mystery stories, Agatha Christie , starring the small and extravagant Belgian investigator, Hercule Poirot.
The level of the actors is very high, especially David Suchet who, in the opinion of many, provides the best interpretation of Poirot of all time; the episodes run smoothly and with a great attention to details and scenes that bring us back to the years between the two world wars.
A bit of confusion, as in all the writings of Christie, is created with the large number of characters in the stories: this is a trick to make it harder to guess who the culprit is.
If you are passionate about mystery stories, I recommend watching a few episodes of the series.
Thanks for your time and 'till next time.
Images of the author.

Ecco uno schizzo veloce di "Poirot", una serie televisiva britannica, iniziata nel 1989 e terminata nel 2013, e che è riuscita nella missione quasi impossibile di portare sul piccolo schermo tutti i romanzi e le storie brevi scritte dalla regina del giallo, Agatha Christie, con protagonista il piccolo e stravagante investigatore belga, Hercule Poirot.
Il livello degli attori è molto alto, sopratutto David Suchet che, a parere di molti, fornisce la migliore interpretazione di Poirot di tutti tempi; le puntate scorrono con velocità e l'attenzione ai particolari e alle scenografie ci riportano indietro agli anni tra le due guerre mondiali.
Un po' di confusione, come in tutti gli scritti della Christie, si crea con il numero elevato di protagonisti nelle storie: questo è un escamotage per rendere più difficile indovinare chi è il colpevole.
Se siete appassionati di gialli vi consiglio di guardare qualche puntata della serie.
Grazie dell'attenzione e alla prossima.
Immagini di proprietà dell'autore