F1Steem Race 19 Contest - Mexico - Mexico City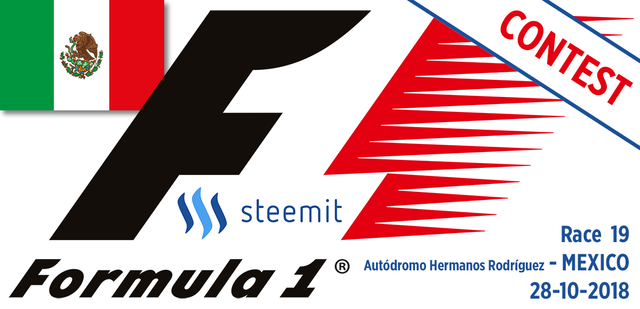 | GP | 1° | 2° | 3° |
| --- | --- | --- | --- |
| Mexico | - | - | - |
| USA | Raikkonen | Verstappen | Hamilton |
| Japan | Hamilton | Bottas | Verstappen |
| Russia | Hamilton | Bottas | Vettel |
| Singapore | Hamilton | Verstappen | Vettel |
| Italy | Hamilton | Raikkonen | Bottas |
| Belgium | Vettel | Hamilton | Verstappen |
| Hungary | Hamilton | Vettel | Raikkonen |
| Germany | Hamilton | Bottas | Raikkonen |
| Great Britain | Vettel | Hamilton | Raikkonen |
| Austria | Verstappen | Raikkonen | Vettel |
| France | Hamilton | Verstappen | Raikkonen |
| Canada | Vettel | Bottas | Verstappen |
| Monaco | Ricciardo | Vettel | Hamilton |
| Spain | Hamilton | Bottas | Verstappen |
| Azerbaijan | Hamilton | Raikkonen | Perez |
| China | Ricciardo | Bottas | Raikkonen |
| Barhain | Vettel | Bottas | Hamilton |
| Australia | Vettel | Hamilton | Raikkonen |

GP del Messico, Città del Messico
Continua la serie delle gare in terra americana, e senza sosta il prossimo weekend saremo in Messico.
Circuito corto, ma con due rettilinei molt veloci. Qui le RedBull sono sempre andate molto bene.
La gara sarà a pannaggio dei "soliti sei" ormai: Mercedes, Ferrari e RedBull. Da vedere però chi sarà il primo sotto la bandiera a scacchi! Se Lewis Hamilton chiuderà finalmente questa stagione vincendo il campionato o se Sebastian Vettel riuscirà nell'impresa di rimontare. Oltre a loro due gli altri non staranno a guardare e cercheranno di vincere.
Da noi in europa sarà sera, e quindi in molti avremo tempo praticamente tutto il weekend per effettuare il nostro pronostico. Cercando di vincere premi e punti di questo primo campionato/contest su Steemit, nelle ultime gare.
---
Regolamento del concorso
Dovete upvotare il post manualmente almeno al 50%.
Resteem non obbligatorio, ma ovviamente può aiutare a far aumentare il valore del post portando nuovi concorrenti.
Si raccolgono qui, commentando, i pronostici per i primi tre classificati. Ad esempio 1. Vettel - 2. Alonso - 3. Verstappen.
Potete votare fino alla partenza della gara. L'orario verrà controllato anche attraverso GinaBot su Discord e SteemWorld.
Vengono assegnati 3 punti a chi indovina il primo classificato, 2 al secondo, 1 al terzo. La somma dei punti, farà la classifica dei vincitori, che eventualmente si divideranno i premi: 30% - 20% - 10% del valore del post in SBD al momento del pagamento, dopo 7 giorni.
Ricordo inoltre, per chi non lo avesse ancora fatto, di esprimere una scelta per il Campione del mondo a fine stagione. In caso di pari merito, chi avrà scommesso prima sarà più in alto in classifica.
Aspetto i vostri commenti e pronostici.
In bocca al lupo a tutti!

Mexican GP, Mexico City
Continue the series of races on American soil, and without stopping the next weekend we will be in Mexico.
Short circuit, but with two straights very fast. Here the RedBulls have always gone very well.
The race will be a "restricted job" for the usual teams: Mercedes, Ferrari and RedBull. We have to wait to see, however, who will be the first under the checkered flag! Will Lewis Hamilton finally close this season by winning the championship? Will Sebastian Vettel catch up his opponent? In addition to them, the others will not watch and will try to win.
Here in Europe the race will be in the evening, so we will have almost the whole weekend to make our prediction. These are the last races to try to win prizes and points for this first championship / contest on Steemit.
---
Rules of our contest
Manual upvote at least at 50% needed.
Resteem not mandatory, but could increase the post value bringing new players.
You have to make your choice here in a comment, for example: For example: 1. Vettel - 2. Alonso - 3. Verstappen.
The limit for voting is until the start of the race. I'll do a check using Ginabot on Discord and SteemWorld.
Who get the 1st position will raise 3 point, 2nd place 2 point, 3rd place 1 point. The sum of the points will make the ranking. The ones in the same position will divide the prizes: 30% - 20% - 10% of the final value of the post in SBD at the moment of the payment, after 7 days.
I remember you to choose your World Champion at the end of season. This time, in case of dead heat, who made the choice first will be upper in he chart.
I'm waiting for your comments and your choices.
Gook luck to all!

General Ranking

Immagini CC0 con diritti di modifica
CC0 Image labeled for reuse with modification