F1Steem Race 20 Contest - Brazil - After the Race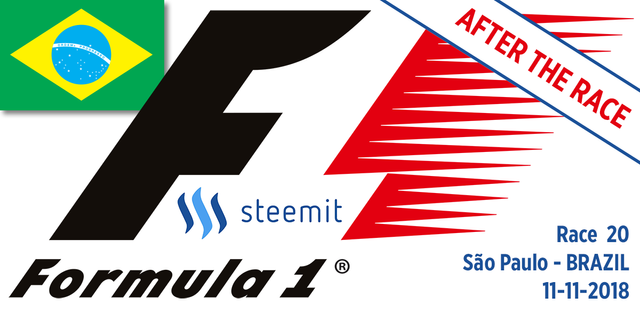 | GP | 1° | 2° | 3° |
| --- | --- | --- | --- |
| Brazil | Hamilton | Verstappen | Raikkonen |
| Mexico | Verstappen | Vettel | Raikkonen |
| USA | Raikkonen | Verstappen | Hamilton |
| Japan | Hamilton | Bottas | Verstappen |
| Russia | Hamilton | Bottas | Vettel |
| Singapore | Hamilton | Verstappen | Vettel |
| Italy | Hamilton | Raikkonen | Bottas |
| Belgium | Vettel | Hamilton | Verstappen |
| Hungary | Hamilton | Vettel | Raikkonen |
| Germany | Hamilton | Bottas | Raikkonen |
| Great Britain | Vettel | Hamilton | Raikkonen |
| Austria | Verstappen | Raikkonen | Vettel |
| France | Hamilton | Verstappen | Raikkonen |
| Canada | Vettel | Bottas | Verstappen |
| Monaco | Ricciardo | Vettel | Hamilton |
| Spain | Hamilton | Bottas | Verstappen |
| Azerbaijan | Hamilton | Raikkonen | Perez |
| China | Ricciardo | Bottas | Raikkonen |
| Barhain | Vettel | Bottas | Hamilton |
| Australia | Vettel | Hamilton | Raikkonen |

Dopogara GP del Brasile, Interlagos
Grande gara, non scontata come poteva sembrare.
Hamilton ha vinto per l'ennesima volta, ma io direi che l'ha persa Verstappen. "Persa" a seguito di un contatto con Ocon, doppiato, mentre era in testa alla gara.
Persa non del tutto in quanto è riuscito ad arrivare ugualmente al secondo posto! Con una gara oculata, come al suo solito, Raikkonen riesce ad arrivare al terzo gradino del podio.
Bene Ricciardo con la seconda RedBull, bene anche Bottas con la seconda Mercedes. Sottotono, come sta capitando ormai da qualche gara, Vettel con l'altra Ferrari, che finisce solamente sesto. La classifica di finale di questa gara porta la Mercedes a vincere il campionato costruttori anche quest'anno.
La classifica degli "altri" vede nuovamente una buona prestazione con il settimo posto di Leclerc su Sauber-AlfaRomeo, che il prossimo anno prenderà il posto di Raikkonen alla guida di una Ferrari.
Vi aspetto tra due settimane per l'ultima gara di questa stagione, ad Abu Dhabi, con cui concluderemo anche il nostro campionato qui su Steemit e decreteremo il vincitore.
---
Passiamo ora al nostro concorso
Ringrazio come sempre tutti per la partecipazione anche a questo penultimo contest.
Guardiamo la tabella dei risultati dei nostri pronostici: controllando la percentuale di upvote vediamo che @isabel23011 e @lovetaxi005 si sono dimenticati l'upvote e @barbadosso ha votato solamente al 40%. Male per i due che perdono i 3 punti che avrebbero guadagnato.
Per il resto, si è dimostrato anche in questo caso un facile pronostico per molti. Vediamo nel dettaglio:
Tre concorrenti centrano primo e terzo posto, per loro 30% /3;
in cinque indovinano il vincitore, ma solamente in tre si spartiscono il premio: 20% /3;
due concorrenti invece si spartiscono il terzo premio: 10% /2;
@bubbolo21 resiste in vetta, ma alcuni concorrenti scalano posizioni

After the Race Japan Grand Prix, Suzuka
Great race, not obvious as it could seem.
Hamilton has won again, but we could say that Verstappen lost it. "Lost" due to a contact with Ocon, dubbed, while he was leading the race.
He didn't lost everything because he finished in the second place! With a sensible race, as usual, Raikkonen get the third place of the podium.
Good race for Ricciardo with the second RedBull, good performance also for Bottas with the second Mercedes. Undertone, as is now happening by few races, Vettel with the other Ferrari, which ends only sixth. The final classification of this race brings Mercedes to win the constructors' championship again.
The ranking of the "others" again sees a good performance with the seventh place of Leclerc on Sauber-AlfaRomeo, which next year will take the place of Raikkonen driving a Ferrari.
I wait for you in two weeks for the last race of this season, in Abu Dhabi, with which we will also finish our championship here on Steemit and we will decree the winner.
---
Let's talk about our contest
I always thank everyone for participating in this penultimate contest of the year.
We look at the table of results of our predictions: checking the percentage of upvote we see that @isabel23011 and @lovetaxi005 have forgotten the upvote and @barbadosso has voted only 40%. Bad for the two who lose the 3 points they would have earned.
For the rest, in this case too it has proved to be an easy prediction for many. Let's see in detail:
Three competitors hit first and third place, for them 30% /3;
Five players guess the winner, but only in three they share the prize: 20% /3;
Two guy instead share the third prize: 10% /2;
@bubbolo21 resists at the top, but some competitors climb positions

Brazilian GP Contest Results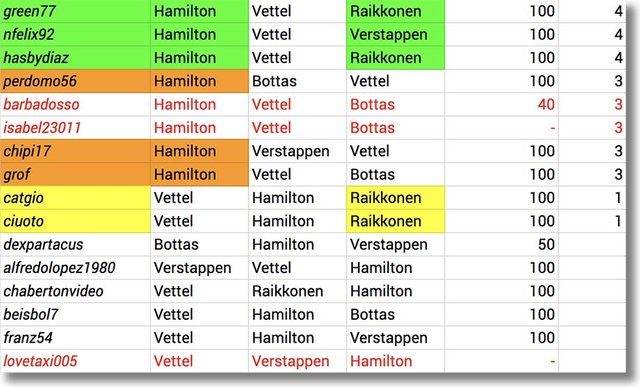 General Ranking

Immagini CC0 con diritti di modifica
CC0 Image labeled for reuse with modification