F1Steem Race 20 Contest - Brazil - Interlagos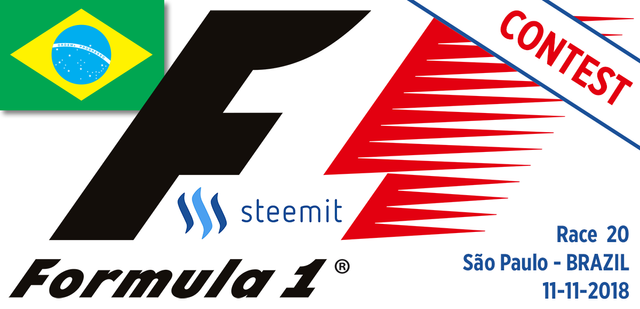 | GP | 1° | 2° | 3° |
| --- | --- | --- | --- |
| Brazil | - | - | - |
| Mexico | Verstappen | Vettel | Raikkonen |
| USA | Raikkonen | Verstappen | Hamilton |
| Japan | Hamilton | Bottas | Verstappen |
| Russia | Hamilton | Bottas | Vettel |
| Singapore | Hamilton | Verstappen | Vettel |
| Italy | Hamilton | Raikkonen | Bottas |
| Belgium | Vettel | Hamilton | Verstappen |
| Hungary | Hamilton | Vettel | Raikkonen |
| Germany | Hamilton | Bottas | Raikkonen |
| Great Britain | Vettel | Hamilton | Raikkonen |
| Austria | Verstappen | Raikkonen | Vettel |
| France | Hamilton | Verstappen | Raikkonen |
| Canada | Vettel | Bottas | Verstappen |
| Monaco | Ricciardo | Vettel | Hamilton |
| Spain | Hamilton | Bottas | Verstappen |
| Azerbaijan | Hamilton | Raikkonen | Perez |
| China | Ricciardo | Bottas | Raikkonen |
| Barhain | Vettel | Bottas | Hamilton |
| Australia | Vettel | Hamilton | Raikkonen |

Recap GP del Messico
Innanzitutto mi devo scusare per non aver fatto il post dopo gara del GP del Messico, sono arrivato un pò lungo con i tempi e i troppi impegni.
Con questo post riassumo la classifica e annuncio i vincitori della scorsa gara, e lo utilizziamo anche per i pronostici della prossima.
Di Hamilton che ha vinto il suo quarto titolo mondiale piloti, ormai lo sapete tutti.
Anche arrivando in quarta posizione, i punti guadagnati gli son bastati per avere il vantaggio matematico su Vettel.
La classifica costruttori è ancora aperta, ma anche qui il risultato finale sembra abbastanza scontato.
Passando al nostro contest, per il GP del Messico potete vedere i vincitori nella solita tabella riportata sotto:
@vibeof100monkeys e @hasbydiaz hanno centrato le prime due posizioni, quindi per loro il premio del 30% /2;
Quattro concorrenti hanno indovinato solamente il primo posto, per loro 20% /4;
Nessun altro ha ottenuto risultati.
In fondo la nostra classifica aggiornata con gli ultimi punteggi.
---
GP del Brasile, Interlagos
Siamo questa settimana in Brasile, per la penultima gara del campionato.
Circuito di Interlagos, storico, si corre qui da molti anni ormai, e i piloti conoscono la pista molto bene.
Classifica piloti ormai archiviata, le squadre si giocano gli ultimi punti per il campionato costruttori. Mercedes in vantaggio, Ferrari e RedBull ad inseguire.
Le squadre di secondo piano, anche se per pochi punti, saranno sempre agguerrite e combattive.
Il nostro concorso invece è ancora molto combattuto, soprattutto nelle prime posizioni, dove i distacchi sono di pochi punti.
Riuscirà @bubbolo21 a vincere o verrà raggiunto e superato dai suoi inseguitori? Dovremo aspettare ancora due gare per scoprirlo!
Come sempre vi aspetto numerosi.
Partecipate anche solo per vincere il premio della singola gara!
---
Regolamento del concorso
Dovete upvotare il post manualmente almeno al 50%.
Resteem non obbligatorio, ma ovviamente può aiutare a far aumentare il valore del post portando nuovi concorrenti.
Si raccolgono qui, commentando, i pronostici per i primi tre classificati. Ad esempio 1. Vettel - 2. Alonso - 3. Verstappen.
Potete votare fino alla partenza della gara. L'orario verrà controllato anche attraverso GinaBot su Discord e SteemWorld.
Vengono assegnati 3 punti a chi indovina il primo classificato, 2 al secondo, 1 al terzo. La somma dei punti, farà la classifica dei vincitori, che eventualmente si divideranno i premi: 30% - 20% - 10% del valore del post in SBD al momento del pagamento, dopo 7 giorni.
Ricordo inoltre, per chi non lo avesse ancora fatto, di esprimere una scelta per il Campione del mondo a fine stagione. In caso di pari merito, chi avrà scommesso prima sarà più in alto in classifica.
Aspetto i vostri commenti e pronostici.
In bocca al lupo a tutti!

Recap Mexican GP
First of all I have to apologize for not having made the post after the race of the Mexican GP, ​​I arrived a bit long with the times and too much work to do in office.
With this post I recap the ranking and announce the winners of the last race. I also use it for the new contest.
That Hamilton won his fourth world title in the drivers, now everyone knows it.
Even ending in fourth position, the points earned were enough to have the mathematical advantage on Vettel.
The constructors' classification is still open, but even here the final result seems quite obvious.
Going to our contest, for the GP of Mexico you can see the winners in the usual table below:
@vibeof100monkeys and @hasbydiaz hit the first two positions, so for them the 30% / 2 prize;
Four competitors only guessed the first place, for them 20% / 4;
No one else has achieved results.
At the bottom of our ranking updated with the latest scores.
---
Brazilian GP, Interlagos
We are this week in Brazil, for the penultimate round of the championship.
Interlagos is an historic circuit, F1 has been running here for many years now, and the drivers know the track very well.
Drivers championship now archived, the teams play the last points for the constructors' one. Mercedes in the lead, Ferrari and RedBull to chase.
Second-level teams, even if for a few points, will always be fierce and combative.
Our competition, on the other hand, is still heavily fought, especially in the first positions, where the gaps are few points.
Will he succeed @bubbolo21 to win or will he be reached and overtaken by his pursuers? We'll have to wait two more races to find out!
As always, I wait for you many.
Participate even just to win the single race prize!
---
Rules of our contest
Manual upvote at least at 50% needed.
Resteem not mandatory, but could increase the post value bringing new players.
You have to make your choice here in a comment, for example: For example: 1. Vettel - 2. Alonso - 3. Verstappen.
The limit for voting is until the start of the race. I'll do a check using Ginabot on Discord and SteemWorld.
Who get the 1st position will raise 3 point, 2nd place 2 point, 3rd place 1 point. The sum of the points will make the ranking. The ones in the same position will divide the prizes: 30% - 20% - 10% of the final value of the post in SBD at the moment of the payment, after 7 days.
I remember you to choose your World Champion at the end of season. This time, in case of dead heat, who made the choice first will be upper in he chart.
I'm waiting for your comments and your choices.
Gook luck to all!

Mexican GP Results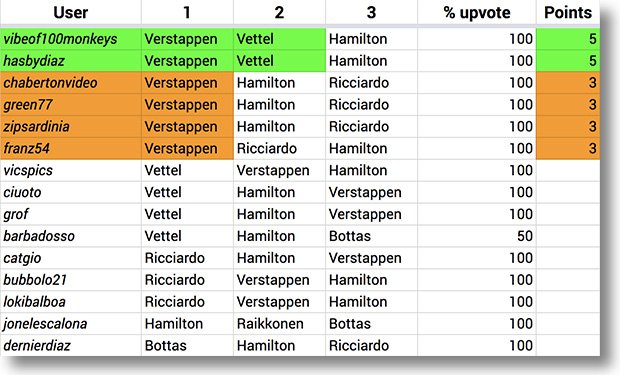 General Ranking

Immagini CC0 con diritti di modifica
CC0 Image labeled for reuse with modification