Iuno Decentralized Banking as Service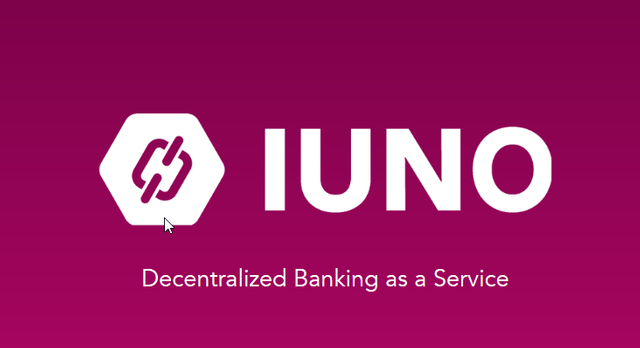 IUNO the new bank that will revolutionize the world!
Today the banking system is such that it only favors the rich, if your bank account is well stocked, the fees charged by the bank are low by cons if you are poor bankers charge very high fees which is unfair for the same service.
In addition, many people do not have banking access which creates a lot of problems.
Iuno wants to change that and offer banking access to everyone to the poor and the rich with reasonable fees.
The system relies on the blockchain so that transactions are listed and secured between the different parties.
With Iuno you will have access to a credit card and you can pay different services for which it is not possible to pay with VISA or Mastercard, for example Cannabis. Yet this market is huge, Canada has just legalized it.
Iuno will offer many services such as payments, deposits, transfers, transfers, transfers, savings, money market, investments, loans or credit cards. Bred everything you can expect from a bank. Iuno will verify the identity with an application such as Civic, a blockchain-based digital identity system that allows individuals and businesses to truly own, control and manage their digital identity and interact securely in the digital world . Iuno is also committed to money laundering.
Iuno will create a token indexed on a Fiat currency to ensure the stability of cryptocurrency which is very important.
The IUNO token holders will see their fees reduced by 50%, it is also important to know that Iuno will not charge any transaction fees according to the whitepaper.
Iuno does not have the easy task facing the current banking system that we all know and that is well established, In addition, the current bank do not like competition from newcomers but over time people learn more about news technologies. Lower transaction fees and faster transactions will accelerate change and in 10 years the system will have changed a lot. We saw it with mobile phones, Initially it was a small market and today landlines have virtually disappeared. I was born in 1978, 40 years ago and internet did not exist. In the 2000s, there was the explosion of the internet and today billions of people have access to it. In a few decades the world has changed.
Providing banking access to the world will encourage exchanges between all the people of the planet and ultimately it will help reduce the misery in the world, for this reason I encourage people to turn to new technologies and projects such as Iuno.
The founders of Iuno are forward-thinking visionaries turned to new technologies, they enjoy broad skills in the field for these reasons I think the project may be a great success.
To change the world, to make it evolve so that it is more just for everyone, is in short my feeling about this project. In life you can go through events or try to change things, that's what Iuno is trying to do!

Visit website https://iuno.io/
Whitepaper https://s3.amazonaws.com/iuno/iuno-whitepaper.pdf
BountyOx mckormick212