JAHMFEST JAHMWHITELIST UPDATE AND GENERAL CURATION GUIDELINES
THIS @JAHM.WHITELIST UPDATE IS SO EXCITING I DON'T WANT TO STOP TYPING IN CAPSLOCKS! But since the whitelist should disclude someone who writes like that, I'll stop. JAHMFEST planning and preparation is well underway, guests from Steem have started to announce their attendance and ReggaeSteem is about to release some News about an individual who is very influential on the Steem blockchain attending -er vacationing in Negril, Jamaica during the last weekend of June (26th to 28th).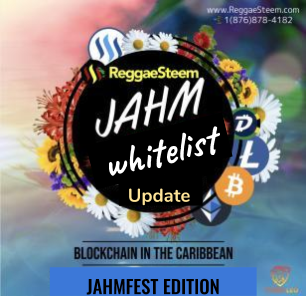 JAHMWhitelist will soon have 450,000 JAHM!

That's enough for some monster upvotes. Due to a few stakeholders having faith in the @jahm.whitelist to properly curate, they have entrusted JAHMWhitelist with some staked JAHM! This Jahm will be used to upvote posters for a number of reasons however quality and dedication to the community are the main reasons for some very Irie upvotes.
JAHMWhitelist went manual
In the last update I mentioned the JAHMWhitelist went manual. We also discussed ways to make a better post that will attract more upvotes. That's still the case and the only people who will be automatically voted for are content creators and people who eat, sleep and breathe reggae culture.
Emphasis on Newcomers, Engagers & Stackers
ReggaeSteem is a growing community and we have to engage and welcome newcomers. Understandably they may not be as skilled with blogging as those who have been on Steem for a while and we want to give them a helping hand. People who are staking JAHM and are likely to go to the Caribbean Islands are also a focus here, we want to help them achieve their travel aspirations. That's really what JAHM is all about IMO.
TLDR: Engage, post quality and keep staking JAHM to earn Irie Upvotes!
Stay Posted for some exciting news
Richie Campbell - I Feel Amazing
---
Posted via ReggaeSteem | Reggae Culture Rewarded