Update on Joan Xie Qiong's leukemia treatment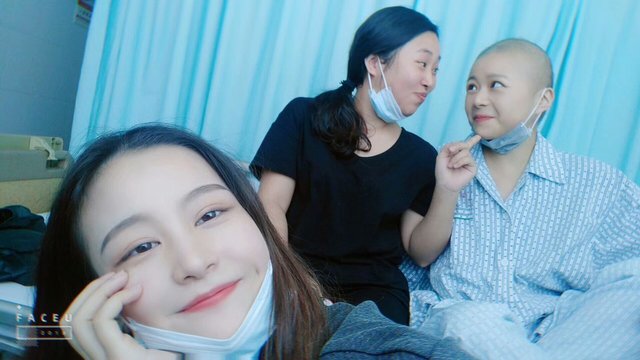 Joan Xie Qiong (right) with her friends SanSan (left) and Ivy Zhang (foreground)
Since I posted my appeal two days ago, we have managed to raise another 45,000 yuan ($6,530) toward Joan Xie Qiong's medical expenses. Additionally, my family and friends have sent via PayPal $183 (about 1,260 yuan) to me, which I have immediately forwarded to Joan's best friend, Ivy Zhang (in the foreground in the photo above).
The hospital in Guangzhou has tentatively scheduled the bone marrow transplant for Thursday. Ivy says there are still many preparations and tests to make, so the operation may occur on another day.
By way of some background, in case you've not read my earlier post about Joan, she is the third member of her small family to be diagnosed with leukemia. Both her older sister and their father died of the disease when Joan was much younger. After she graduated from Jishou University, where she and Ivy were both my students, Joan went to work in Shenzhen as the sole support of her mom. But, several months ago, Joan was also diagnosed with leukemia and has been in treatment ever since.
A earlier crowdfunding campaign in China met its goal of 300,000 RMB, but the second campaign is less than a third of the way toward its goal of 1,000,000 yuan. As of this update, the total stands at 291,459 yuan ($43,000) -- up from 245,000 just two days ago. Joan and her mom will still need funds to pay for medical care after the bone marrow transplant, so please keep those donations coming!
Particular thanks go to Darcy, Shannon, Jeanne and Sarah for their PayPal transfers to me, and to James M, who sent his remaining WeChat wallet balance of 600 RMB directly to Joan. James also taught Joan and Ivy at Jishou University.
Those donation addresses again are:
Ivy Zhang 张鑫君 [email protected]
John Wheaton [email protected]
Cryptocurrencies:
Bitcoin -- 1PSTrbwFSdwxAtHR2ZNmKufs2oyr5ZouCL
Litecoin -- LKUCsR7L2f1rPUPHzs4qWmEf2NT8acJZTA
XEM -- NCVQND-T2ZXIO-6EVE2U-5R3UVF-VDVKWA-PXLIZ7-Q2ND
Bitshares -- wheat-dogg
Please include a memo stating the funds are for Joan Xie. Thank you again!
Posted from my blog with SteemPress : http://www.wheatdogg.com/2018/11/04/update-on-joan-xie-qiongs-leukemia-treatment/