Cryptocurrencies are changing the world and by looking at the current trends, it seems what is yet to come is even bigger than what we've already witness.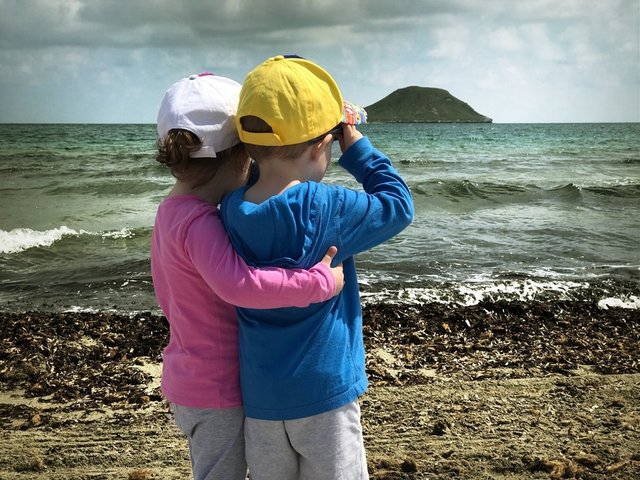 The Markets For Empowerment!
Mutual Destruction Vs Cooperation
The primary reason I talk about cryptocurrencies is because I want to reduce violence in the world and to reduce violence we first need to reduce governments powers.
I want to reduce the initiation of violence in the world because the thing we all dread the most is someone initiating violence against us.
Governments are the biggest instigators of violence. Thus all individuals would benefit from freeing themselves from the threat governments pose.
The only way to reduce government's powers without the use of violence is to make the markets for freedom or markets for the empowerment of individuals the most lucrative and thus omnipotent markets.
Such markets will result in shifting wealth or value/power away from governments and redistributing this power to those who value freedom/self-empowerment the most.
Governments' Nemesis
Cryptocurrencies are just that, markets of freedom shifting power away from governments back into the hands of the individuals who use them. To anyone new to cryptocurrencies I recommend reading my previous post if they ever get confused by what the current post is discussing.
Cryptocurrencies' market cap or the total value of all cryptocurrencies currently rank them as the 48th largest company (by market cap) in the world and the 50th biggest economy (M3) in the world right between Argentina and Colombia. At the current rate, cryptocurrencies will become the company with the biggest market cap in less than a year and the biggest economy in less than 3 years.
The company with the biggest market cap is APPLE with $827B and the biggest M3 is China with $22T has of december 31 2016. [source: 1, 2]
Putting The Current Trends Into Perspective
Bitcoin which is the first cryptocurrency and the one with the largest market cap was worth 227$ each, exactly 2 years ago and is now worth 4,128$ today, an increase of 1,641%. 10,000$ worth of Bitcoin from 2 years ago is worth around 174,100$ of Bitcoin and 28,734$ of Bitcoin Cash.
Bitcoin Cash is a split from Bitcoin and anyone who owned Bitcoin on August 1st 2017 received the same amount of Bitcoin Cash then the amount of Bitcoin they own, i.e. if someone owned 42 Bitcoin then they received 42 Bitcoin Cash.
Anyone who had been looking at the trends 2 years ago could pretty much predict the prices of cryptocurrencies would go up quite substantially unless a black swan event would happened. I've been talking about those trends for 3 years now and back then I've put my money were my mouth was.
Understanding The Trends And Risks
The reasons why these trends will go on are detailed in my previous post.
The reasons can be summed up like this, cryptocurrencies are a better type of money than fiat currencies and this is generating incentives for people to mined/create cryptocurrencies or buy cryptocurrencies for those who can't mined them at an ever increasing price.
The incentives to mine cryptocurrencies, over buying them at a markup price, are leading to a growing competition and thus rising cost to create new cryptocurrencies. Those trends have been observed since cryptocurrencies very inception. This is also touched upon in the post I've just mentioned as well as what make cryptocurrencies fundamentally better than fiat currencies.
A lot of people could have achieved the kind of returned talked about above by maxing out some credit card for lack of better credit. Even better returned could be achieved with some altcoin. Altcoins are cryptocurrencies which aren't Bitcoin, alternatives to Bitcoin.
Cryptocurrencies are the best financial investments of all time by a long shot. I've provided links to this in another one of my post.
Cryptocurrencies will continue on their upward trends and people who invested in it will continue to profit from them in many ways. This is my opinion. Cryptocurrencies aren't risk free, nothing is.
Our Whole Life Is An Investment
Cryptocurrencies have changed my life for the better and I'm only one of many. They are economically sound and because of this will continue shifting wealth from those who hold national currencies to those who hold cryptocurrencies.
The wealthiest have an advantage when it comes to investing in cryptocurrencies because they can invest millions of dollars without any stress of losing any of their luxurious lifestyle.
It is thus much more important for less wealthy people to understand the potential profits associated with cryptocurrencies to be better able to managed their risks so as to not be too overly cautious about them and miss out on their benefits.
Most of what I've discussed in this post and previous 2 posts is unknown to most yet fundamentally drive so much of our lives.
All governments are powerful enough to take the life of any of their citizens, thus because no one is immuned from those governments' reach, there is no more logical actions for everyone to redistribute power away from governments to the individuals.
Let's work to make those fundamental truths that make everyone's life better more widely known. Let's make them more enjoyable, widespread and prevalant.
Cryptocurrencies are overtaking national currencies and I feel like these trends are pretty much unstoppable. Not everyone is currently benefiting from them directly but at some point everyone will. There's no need to wait. Learn more about them and all the ways they are profiting those who already use them.
Learning To Invest
The current post was suppose to be mostly about how to begin investing in cryptocurrencies and why it's probably better for people to spread their risks by investing in many of the top cryptocurrencies rather than highly concentrating all their investments into a very few cryptocurrencies and how this should be done taking into consideration the % of the market cap of each of these cryptocurrencies represent compared to the market cap of all cryptocurrencies. This can be seen here.
Also it was suppose to be about how spreading one's investment like this can lead to better return than solely investing in Bitcoin, the stats and possible strategies to maximized those investments with the less amount of effort possible.
This post followup to my previous one eventually come and will talk about even more than what I've already mentioned.
As an aside, I love to call crypto portfolio: "Blockfolio". There's also an app of the same name which give the total value of one's blockfolio and its real-time price fluctuation. I love this app.
Bitcoin Cash Thingy
Bitcoin Forked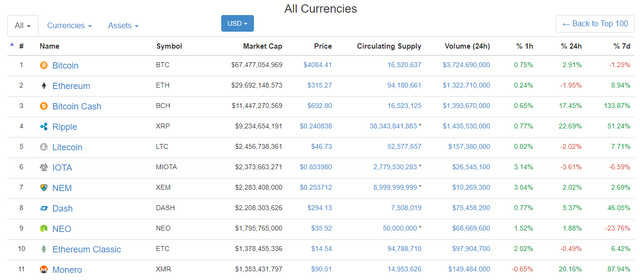 I felt like I had to push back my post about how to begin investing in cryptocurrencies after I've read this post on Bitcoin Cash entitled: "Chain Death Spiral - A Fatal Bitcoin Vulnerability".
Bitcoin Cash is what is called a fork of Bitcoin. It was initiated on August 1 2017 at 12:37 p.m. UTC at block height 478558. The block height is the number of blocks since the genesis block.
Bitcoin Cash is currently the cryptocurrencies with the third largest market cap.
My post won't touch much upon who is behind the development and funding of Bitcoin Cash or speculate on their intents. A little primer on Bitcoin Cash and some of the reasons why it came to be can be found here.
Since the the fork Bitcoin Cash has its own blockchain, nodes, miners, transactions and parameters/rules completely separated from Bitcoin itself. Prior to the fork everything was the same as Bitcoin so to speak. As I said, everyone who owned Bitcoin at that moment, received the same amount of Bitcoin Cash after the split which could be transacted just the same as Bitcoin but had a different value on the exchanges.
How to access those Bitcoin Cash safely can be found here.
The reasons why Bitcoin Cash was created is because some people saw some advantages in creating it. Those who created it wanted new rules/parameters.
The Chain Death Spiral
The main point of the article on the chain death spiral post is about an hypothetical event where Bitcoin lose a substantial amount of hashrate grinding block production to an halt or at less totally unprofitable before the next difficulty retarget happens thus incentivizing an ever growing numbers of miners to begin mining Bitcoin Cash.
Block production or mining is what make transacting Bitcoin possible if there is no block production then Bitcoin cannot be transacted anymore. When there is a backlog of transaction those who pay the highest transaction fees have their transactions managed first.
The hashrate is a unit used to calculate the mining power used to mine cryptocurrencies.
The so called chain death spiral cannot occur on Bitcoin Cash because Bitcoin Cash introduced a new parameter to its difficulty readjustment. This new parameter make it so that if producing the last 6 blocks took more than 12 hour, the difficulty is immediately decreased by 20%.
Predicting The Future
If a death spiral were to occur to Bitcoin it would most probably not occur in a flash and thus it is good to try to keep track of the different data which could indicate the likeliness of such a spiral to occur.
These facts are important to know for any crypto-investors, whether they hold Bitcoin or not. Because most altcoins are paired with Bitcoin on the exchanges, if Bitcoin loses value to Bitcoin Cash this could results to good or bad things for altcoins prices.
Possibly good things if people diversify a significant part their owning to altcoins rather than just going straight through Bitcoin Cash and possibly bad things if people start selling their Bitcoin mostly to buy Bitcoin Cash without much consideration to altcoin.
If a death spiral were to occur it would be huge. It wouldn't even have to halt Bitcoin mining totally, if most miners began to mine Bitcoin Cash rather then Bitcoin, the value would eventually shift away from Bitcoin to Bitcoin Cash.
Some Indicators
Let us look at some of those indicators. These are constantly fluctuating.
Bitcoin Leads
Price
Hashrate
Transaction Numbers
Bitcoin Cash Leads
Mining Profitability (not true anymore)
Speed Of Transactions
Lower Transactions Fees
Bitcoin Mining Profitability
Bitcoin Cash became more profitable to mine on August 17 due to difficulty readjustments and price rise though this isn't the case anymore. The difficulty readjustments and sudden hashrate jump had resulted in Bitcoin Cash blocks being found at a much faster rate than 1 every 10 minutes.
This can play a role for people looking to profit from the arbitrages between different cryptocurrencies and exchanges due to transaction being process faster on Bitcoin Cash.
The fact that a Bitcoin mining profitability become higher doesn't mean that everyone will instantaneously switch from mining one Bitcoin to the other. If the price remains the same, the more hashrate is being dedicated to mine a coin, the less profitable it becomes.
Miners who consider Bitcoin to be a better software or currency than Bitcoin Cash will probably be switching to mining Bitcoin Cash whenever its more profitable but sell their Bitcoin Cash mining reward to the highest bidders as soon as they receive those rewards. This will lower Bitcoin Cash mining profitability until some equilibrium is reached.
This Is What Peaceful Revolution Looks Like
In the end, the software with the biggest advantages should gain more investors and miners making it the most valuable of the 2.
Obviously developers from both parties have argued their solutions or software is the most logical one. The vast majority of longtime developers (coders) of the Bitcoin open source software are currently coding and supporting Bitcoin.
Ultimately I don't know which way it will go but I know there's a lot of money to be made for those who will predict it correctly. I prefer to go for the path that seems less risky instead of risking all on one coin.
Bitcoin Cash Distribution

Most of the Bitcoin Cash coins about 300K have been gobbled up by the top bracket of 121 addresses. [source]
One other interesting thing to note is that the wealth of Bitcoin Cash have concentrated further into the hands of the richest. The latest numbers are showing pretty much the same as the picture above is showing. Up-to-date stats can be viewed here.
Working Toward A Better World
Delegated Proof-Of-Stake
In my previous post, I've touched upon DPOS or delegated proof of work which is a new way for cryptocurrencies to create blocks. One of the main advantages DPOS have over POW mining (proof-of-work) coin like Bitcoin is the speed and efficacy at which they operate.
The fastest POW cryptocurrencies can currently process less than 100 transactions a second while using megawatts of electricity.
One of the fastest POW coin is Ethereum which produce a new block every 15 seconds or so. DPOS cryptocurrencies like Bitshares, Steem and soon to be EOS, produce blocks every 3 seconds or so, at a very small fraction of the energy costs and with current possibilities of doing hundreds of thousands of transactions a second.
Announcements have been made by @dantheman (here) and @eosio stating millions of transactions a seconds are to be expected in the near future and Steemit Inc have stated the same if somewhat indirectly here.
Currently Steem processes more than double the number of transactions Bitcoin does daily. [source 1, 2]
Just like cryptocurrencies have clear advantages over fiat currencies which make then undeniably better for most case situations, DPOS coin have some clear advantages over POW coins which make them able of many feats POW coins will most probably never be able to achieve due to some fundamental limits behind the technology.
Fundamental Changes Come From Within
For now the inherent mining incentives of POW coins with Bitcoin leading the way have given birth to the most lucrative industry of all-time bringing a lot of financial wealth for most people who invested so far.
The whole cryptospace have greatly benefited from this mining industry POW generated and I think it is fair to say DPOS and every advancements in this cryptospace is a benefit to everyone.
I don't think any cryptocurrencies is ultimately better than all of the other currencies all the time. Sometimes, even an informal IOU of some x amount of resources or x hours of labour can be superior to any cryptocurrency.
Cryptocurrency's whole history is very inspiring. We are currently witnessing humanity's biggest shift in power from governments to the individuals. This shift is benefiting everyone though its reach is not very obvious to most yet.
But crytptocurrencies are just a tool, a tool among many tools humans have created to influence the world to their liking. In the end, money is a tool human have created. The economy should serve humans, not the other way around and that's in part what cryptocurrencies are helping us reverse.
Governments are ruling like the allmighty on this planet. The situation humanity is in is either of their design or because of their lack of control to bring about a better world. It is the duty of each of us to create the world we long for but as long as governments rule nothing can ever fundamentally change and expecting anything from political promises and leaders is a real waste of energy.
"Since we can't know what knowledge will be most needed in the future, it is senseless to try to teach it in advance. Instead, we should try to turn out people who love learning so much and learn so well that they will be able to learn whatever must be learned." - John Holt
Voluntaryism
Voluntaryism is a philosophy which holds that all forms of human association should be voluntary.
Voluntaryism is what I'm looking to bring about no matter how challenging this is because all other options are clearly worst. I love this video. I think it's a nice tongue in cheek representation of what it looks like to be heading in the opposite direction of voluntaryism.
EOS T-Shirt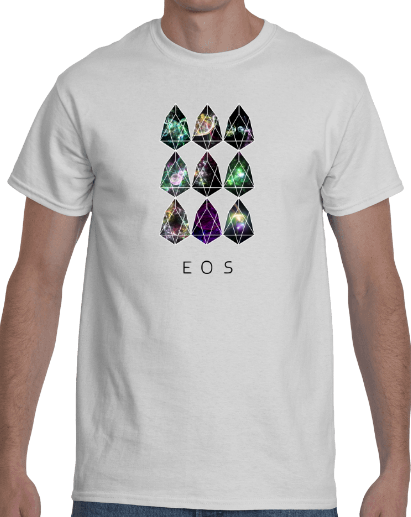 I bought this awesome t-shirt. I'm not sure but I think it gives some sort of superpowers and that's close enough for me.
One day the things we'll wear will all be made of sustainable materials, harvested, transformed, sewed, printed on and delivered by drones entirely built by 3D printers and paid by cryptocurrencies but for now the best place to get this shirt is to contact @rubenalexander and plus don't forget, it potentially give some superpowers.
There's currently nothing on the back of the shirt but if I were to buy another one I'd asked him if he could add the words "decentralize everything" on the back. He might be able to do it. He has many more awesome designs and Steem t-shirt too! Check them out here! Reply here to place an order.
Drawings
Two Steemians have drawn me this week and I must say I'm very flattered. Their drawings are simply mind-blowing. Support them if you'd love to see them do more of them.
Reading
The vast majority of what I read is coming from Steem but I still brows more than half a dozen subreddits daily and many dozens other websites. Here's the introduction of a very interesting post by @alkemix I've read this week. I particularly love the introduction but the whole post is awesome.
A total eclipse of the Sun is perhaps the greatest cosmic spectacle anyone can experience in their lifetime.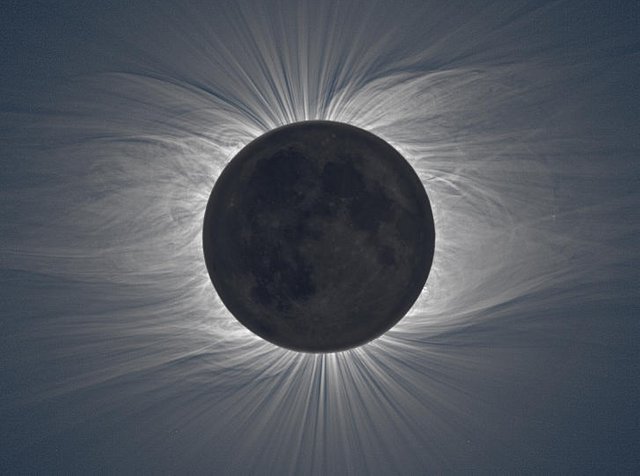 That is, of course, other than the great daily cosmic spectacle of the Sun rising, arching overhead and setting, with the attendant splays of colors, and of course the nighttime stellar masterpiece as its ruler the Moon ebbs and flows through its cycles. People hardly notice such magnificent gifts of Nature anymore.
I also really enjoyed watching two newly posted article about one of the biggest cryptocurrency mining farm. It has pictures and video and they are impressive.
A friend of mine also send me this post: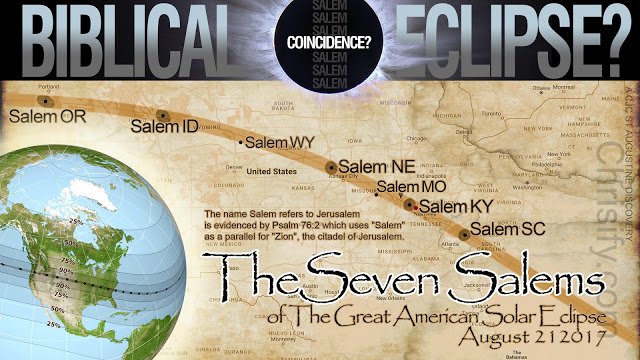 Video
After reading @jockey's first post on 911 I've randomly re-stumbled upon this thought provoking video.
This video and eclipse event reminded me of this even more thought provoking video.
The information contain in this video seems to demonstrate a celestial event pointed out in the Apocalypse that is about to occur on September 23rd 2017. Apocalypse, literally meaning an uncovering, is a disclosure of knowledge or revelation. [source: wikipedia]
I do not know why this celestial event seemed to have been pointed out and I don't pretend to know either.
I do not know why the bible was created and who are the human who created it and I don't pretend I do either but I know science has proven the old testament and Hebrew alphabet are full of very impressive scientific knowledge most people know nothing about.
The information contained in the video below is an excellent primer on the subject, uses the scientific method to demonstrate what it claims and of all the information contain in this post is probably the most fascinating.
Now that doesn't mean much about the upcoming celestial event but I found it interesting to share this video and spread this sadly obscured knowledge about our past heritage that a lot of our ancestors weren't as ignorant and senseless myth-believing persons as the current ruling elite/social engineers want us to believe but in fact were much more scientifically knowledgeable than most people realize today.
But this is an whole other topic in itself and probably warrant its own post.
The same friend who send me the eclipse related post also send me this video:
I don't know what everything mean and critical and rational thinking are my main guides in life but I try avoiding pretending to know what I don't know.
"I can't know what anything means in its totality as it has infinite depth. Sometimes we speak as if we can as it is a matter of convenience or habit." - Jake Kotze
Running
I've resume running or at least re-started doing more volume. Connect with me on Garmin Express. There's not much of my training there yet but I'll try to put all my future trainings. Results for most of my races can be found here.
Useful Bitcoin Cash Links
Still Skyrocketing!
Steem is a cryptocurrency. It allows for new feature Bitcoin and other cryptocurrencies don't have. Click here to learn more.
Steemit.com, which give access to the Steem Blockchain, is still quite small but its popularity is rocketing at a very impressive rate!
Share the fun by inviting your friends!

Approving My Witness!
Witness #51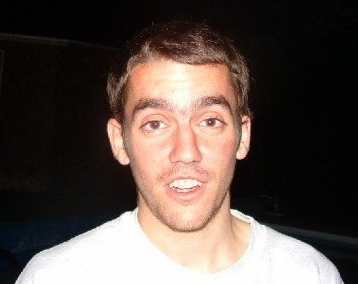 Would you consider voting for my witness to help us Steeming the world we all long for? https://steemit.com/~witnesses
Thank you for reading and for commenting! I read all comments!
Fun Quote
"For my birthday I got a humidifier and a de-humidifier...I put them in the same room and let them fight it out." - Steven Wright
Steemfest2
Win A Trip To Steemfest2 Contest by @stellabelle
Good To Know
I use Markdown Pad (free version) to create my posts and I recommend it to everyone.
How to align pictures.
Get On The Chats!
Not the private messages but in the chat rooms. These are some of the best places to makes some Steem friends.
Find Out More!
Steem 101
Some Of My Best Posts
My Latest Series
Shared On