Junca Cash - Exchanges and payments at ATMs, cards, wallet service.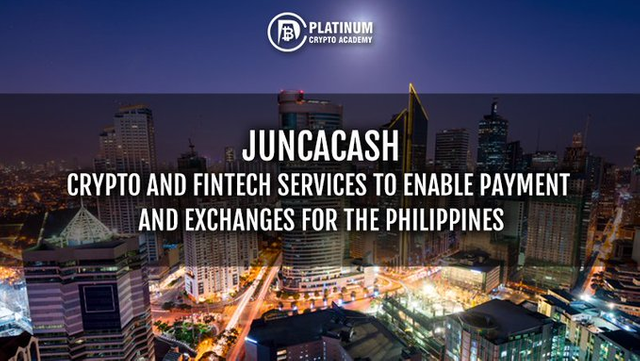 But before going any further, I want to tell you first about Cryptoqurrency or Blockchain Technology. Cryptocurrency was originally known as a payment system that allows people to be able to make transactions quickly, without third parties, transparently, securely, and anonymously. Satoshi who is the creator of Bitcoin, makes Bitcoin beat the centralized financial system that is prone to manipulation and controlled by one party. With the growth and development of the Crypto or blockchain ecosystem, a number of alternative investment options have emerged, and have proven to be more efficient and profitable investment tools than traditional financial returns. Innovative projects are consistently emerging in the crypto industry with high return investments and continuous trends, such as Junca Cash is one of the projects that will attract large market investments. So, don't waste this golden opportunity.
What is Junca Cash?
Junca Cash is a native currency of the upcoming Junca Platform, a blockchain project designed to develop the Asian economy. The launch of the Junca Platform's financial app is scheduled for 2022, which gives investors the opportunity to purchase tokens at the best price, expecting to make big profits in the offing. According to the team, the market will be expanded in the future with the listing on tier 1 exchanges.
JCC aims to provide cross-border remittance, settlement, and educational support. Junca Global Group of Company has signed MOU (Memorandum of Understanding) with Acts-OFW aimed at obtaining a 30% share of its cross-border remittances," the team stated.
junca Cash has a big difference from another crypto asset like a Bitcoin. It's a critical way to fit the Philippines economy because it has many useful logistics, based on local needs.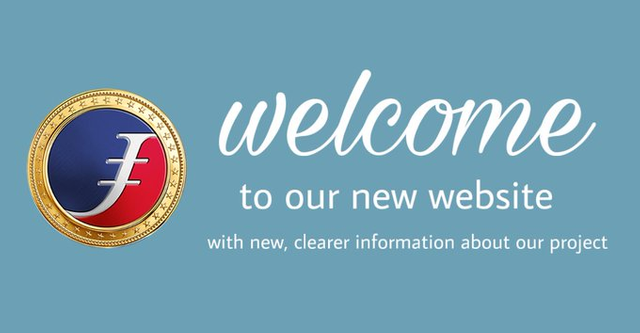 Use case of junca Cash will provide features stated below;
Settlement
Domestic remittance
Special benefits at all junca Group member stores and franchise stores
Donations to funds and scholarship, etc.
International remittances for Overseas Filipino Workers (OFW)
Foreign currency exchange
Exchange of crypto asset and fiat
ATM (International and domestic remittance,Withdrawal, Deposit)
The junca platform project will utilize Blockchain technology, which is expected to undergo fundamental reforms and innovations in payments, currency, finance, etc., to make the economy and distribution in the Asian region smoother.
In addition, with the aim of developing human resources in Asia that show a smooth movement, we will encourage efforts to further increase the value of human resources, such as establishing educational institutions, vocational training schools, and scholarship systems.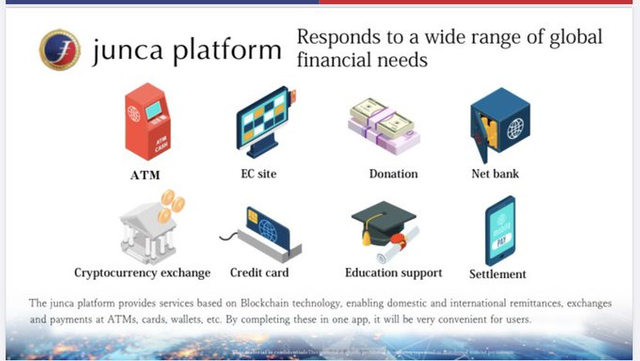 Details Of Junca Platform
The junca platform provides fintech and crypto services to enable domestic and overseas remittances, exchanges and payments at ATMs, cards, wallet services, etc., and realizes lower fees.
We are thinking this is going to be a big step toward enriching the lives of people in Asia, including the Philippines.
ATM : You can use the app to control and manage your deposits and withdrawals. No need to insert your card as the app works with the ATM. This is a new era of security, functionality and ease of use.
EC site : You will be able to shop and pay at shopping sites provided by juncagroup and other shopping sites partnered by juncaplatform.
Donation : Users can donate to programs that help people around the world that juncaplatform sympathizes with. You can participate on the spot by using the app.
Internet bank : You can perform operations such as money transfers, transfers and balance enquiries on the app, which you used to do at your bank's ATM. You will be able to accept legal tender for banking services and make deposits and withdrawals in the same app.
Crypto currency exchange : This app is juncaplatform's own exchange for trading BTC and other major cryptocurrencies. The jcc will be the base currency of the exchange.The exchange will also issue staple coins linked to the filibin pen.
Credit card : This credit card is issued to users of juncaplatform.It can be used in any shop in the world.You will be able to manage your card and history on the app.
Education support : You will be able to get help with your tuition fees to attend a vocational training school in South East Asia on our app. (We also do the opening of vocational training schools)
Settlement : This is a cashless store payment system for juncaplatform users.The system will be available in many shops in the future.
Where To Buy Juncacash?
You can buy juncacash from exchanges or from membergroup directly.
List of exchanges available for purchase
P2pb2b : Account Registration
Coinsbit : Account Registration
From the link below, you can download JCC Wallet.
Google Play : https://play.google.com/store/apps/details?id=com.junca.app
App Store : https://apps.apple.com/jp/app/jcc-wallet/id1546244747?l=en
For More information Juna Cash Project:
Website : https://junca-cash.world/
Whitepaper : https://junca-cash.world/junca_platform_WP.pdf
Twitter : https://twitter.com/JCC78549683
Telegram : https://t.me/juncafangroup
Facebook : https://www.facebook.com/juncacash
Author
Proof Of Authentication: https://bitcointalk.org/index.php?topic=5372429.msg58509845#msg58509845
Azbit registration Email: [email protected]
JCC Address On Azbit : 0xAc90f49256f67Fc6651338D08354fa2D1C7fC43A
-Telegam : @Ratih999