Steempeak User Guide: Chapter 1 - The Top menu Bar
2/20/20
Top Menu Navigation
Welcome to my attempt at a User Guide for Steempeak. I will try to keep it simple and the presentation easy to follow. hopefully a professional user guide creator will take and run this all the way through. I will begin with a break down of the
Top Menu Bar:
#1. The Steempeak logo

The Steempeak logo will open your feed if you are on your profile page. If you are viewing a friends profile page it will still open your feed if you are logged into steempeak, if you are not logged in then it will open the steempeak main page.
If you are on a feed page or not logged in then the Logo will take you to Steempeak home page. So if you need to access the steempeak home page click on the logo when you are on your My Feed page. You can quickly return to your feed page from the Steempeak main page by once again clicking on the steempeak Logo.
#2. The Feed drop down.
When you click feed you are given the option of what feed of yours you want open.

The Following Feed is the one that will show you what the individuals you follow have posted recently.
The communities feed will show you what has been posted in the communities that you follow.
The Favorites Feed I have not explored nor created a favorites list yet, but recent post would be shown here.
My List Feed: Steempeak allows users along with a favorite list to create other list of things, groups or individuals to follow in a more personalized feed.
As I spend more time using and exploring Steempeak, I hope to be able to include instructions on Personal Feed creations
#3 Explore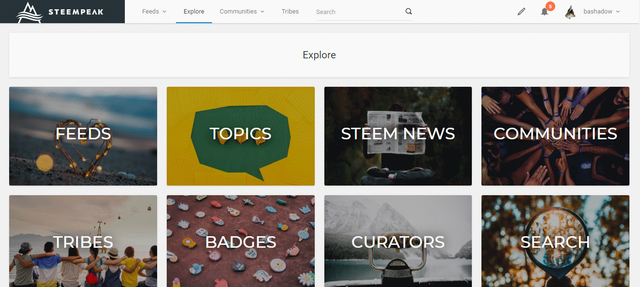 Quick easy access points to feeds and information. Who knows perhaps one day there will be a User Guide Link there.
#4 Communities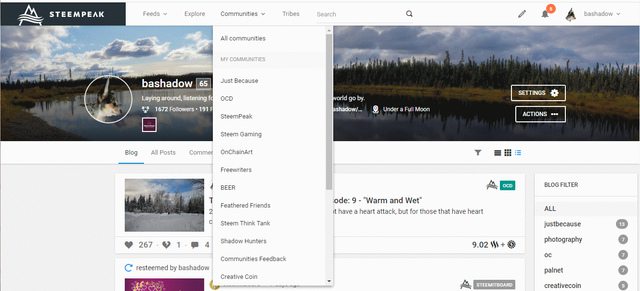 Quick access links to all communities, and to those that you follow. Opens up their Community Home Page to allow you to view and/or create post. All the Community pages have Who they are, a description, rules and who the team members are.
#5. Tribes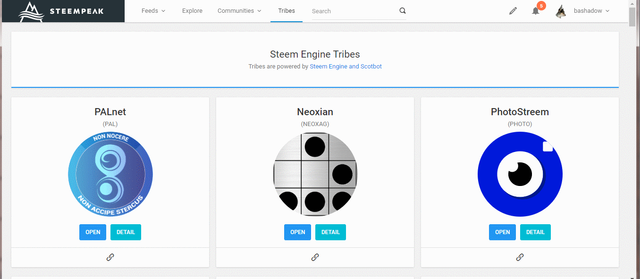 Current listing and quick access links to Steem Engine Tribes and tokens.
#6.Search

Filterable search function for the Steem Block Chain. Example would be you like basket weaving and basketball, so are curious about all the users that might have basket as the start of their user name, very simple tool to find out.
#7 The All Mighty Pen Icon

Here is where you would create your post. You can save a draft, work on two or more post at once, and schedule post Here is what the draft section looks like.

I started a second post to show a little of the flexibility,

As you can see I have two post in the draft section, one I am working and one I just quickly started to show the draft save function. All of this will be covered more completely in a hopefully future guide post update
#8. Notifications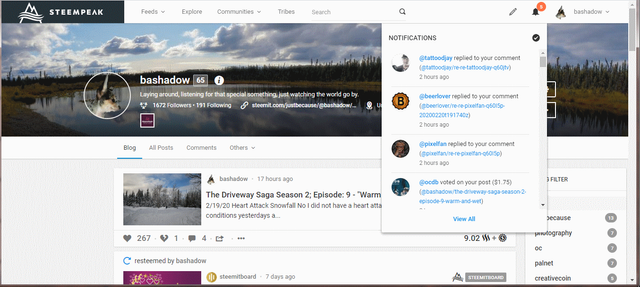 Almost everything that happened while you you were away in one easy to find place.
#9 You and your menu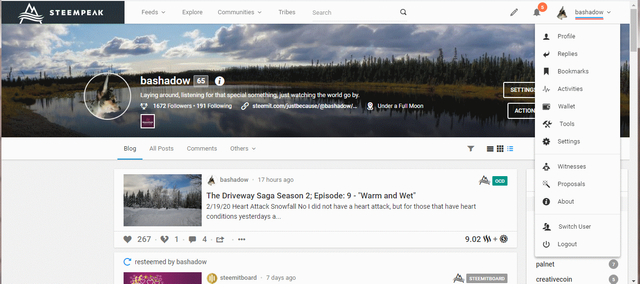 Here is where you will find links and menu items to manage your account/'s. There is a lot of things that are useful there and will have a separate section in a future user guide I am sure.

As time passes, and I become more familiar with steempeak, I will be trying to continue with new sections and more complete break downs to create a more complete user guide. As I mentioned at the beginning I am not a "professional user guide creator",