How we held our son's Naming Ceremony
When our baby was 4 months, we arranged a naming ceremony at our home and garden. In Norway literally everyone does have some kind of ceremony to welcome their newborn into the world. Most people do it in the form of a Christening at the church, and then they rent a space to hold a celebration afterwards, with dinner and cakes. In Norway it is not common with baby showers, we prefer to celebrate after the baby is really here ;)

As you might expect, I'm no fan of doing things in a conventional way, so we decided to make our own kind of ceremony, something which would feel right for us. We wanted to have the event out in nature, but it was late in the year (mid September), which means it is quite cold, and often rainy. Our garden seemed the safest option, so we planned a grand garden party (with a party tent). Unfortunaly the weather forecast let us know it would be the worst weather ever, cold and with lots and lots of rain and wind. So we decided to also be able to be indoors. Luckily for us, usually only the nearest family is invited to such an event, if not we would not have space for all.

Because of the weather I did not go through with my big plans of decorating the garden in all manner of ways. Also had to keep it more simple than planned, because let's face it, it is hard to get extraordinary things done when you have a baby wanting your attention 24/7. I'm proud I managed to do as much as I did!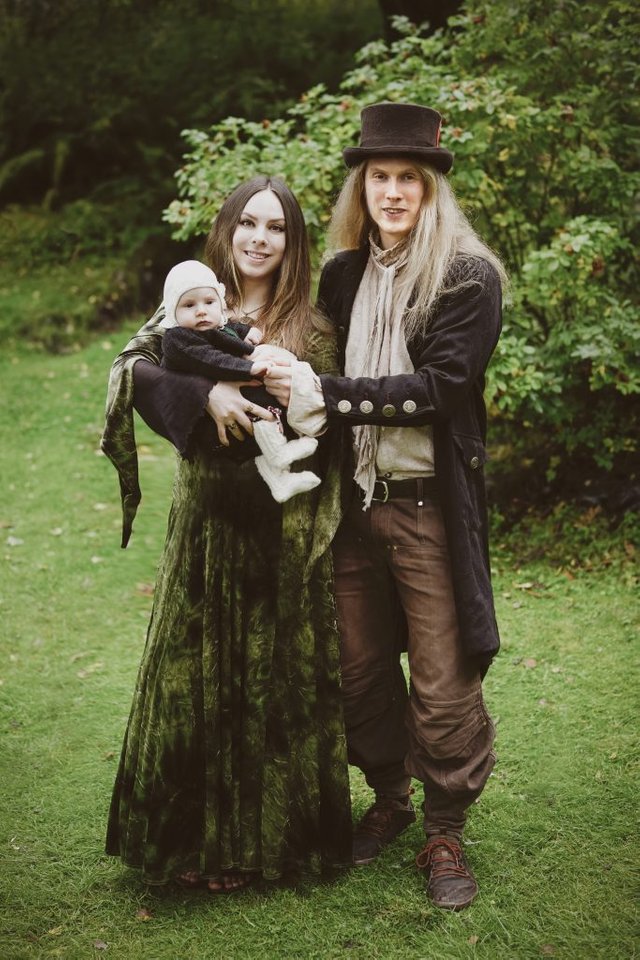 When all the guests had arrived, we held a ceremony in the garden. Luckily the weather cleared up for a while! Everyone would be welcome to say some words for the baby, sing a song, do a blessing or a prayer. It included things like officially naming your baby and declarations of promises and commitments from parents and other significant members of the family. Appointment of godparents/guideparents. The meaning behind the name given. You can also include other readings, and music. You can decide to focus on your connection with God or the creating force behind this all, or not. It is no easy task to please both atheists and religious family members, but I think it all went well, and we kept it all quite down to earth, easy and natural. Some people hire a person to hold the ceremony, like a priest or a Humanist celebrant, but for us it didn't feel right to invite a stranger.

Did you know that literally any culture all over the world, in all times, have had some kind of ceremony or ritual to welcome their young ones into the community? With great variations of what is done of course, but then again, many things are quite alike! Infant baptism is never mentioned in the Bible, but has been common in various ancient cultures, as a form of cleansing ritual. So baptising your baby is a very pagan thing to do!
According to Old Norse tradition, a newborn was fully viable and no longer abandonable after nine nights of life. On the tenth day, the child was given a name at a ceremony where he or she became a legal member of the family and eligible to inherit. The Old Norse term for the naming ceremony (nafnfest) is apparantly"vatni ausa", "to sprinkle with water."
I wish more people did more conscious decisions and did things more wholeheartedly, I think everything we do should feel meaningful and authentic. It doesn't have to be spectacular or extraordinary, but you should feel it in your hearts, the inherent rightness in what you do.

We invited our baby's grandparents and great grandparents, uncles, aunts and cousins, in total we were only 16 people. After spending some time in the garden, we all went inside to feast. We served moose stew with an abundance of our self-grown shiitake mushrooms, and with juniper berries and lingonberries from the local forest. And then there were cakes and sweets and snacks for the rest of the day.

By hosting it all at our own place, and making all the food ourself from scratch, we saved a lot of money, and ensured a cozy, comfy and natural athmosphere. I'm just really happy about how it all turned out.
After the ceremony we took some pictures. Our baby was a bit tired at this point, hehe! But I'm very pleased that we managed to capture ourselves and some of our family, it is a rare occasion indeed when both sides of our family come together.
But what is actually the name of our child, you might think? He's got a unique name which probably nobody else in this world has. That's why I've decided to protect his privacy by not writing his name officially. I don't mind you knowing it, but I must ask to please respect our decision and not writing it down anywhere. We might occasionally use a nickname or a short version of it to address him. So for those of you who are curious, I will reveal his name in some of these pictures :)
His name means "he who is of the forest" and it is in the elven language his dad created many many years ago, consisting of thousands of words and full grammar.
I think he is the most magical and wondrous father and I'm in awe! <3
Our baby was wearing a bunad, a Norwegian folk costume knitted by his Great Grandma.

My grandma, dad, mom... His dad and his step-mom.
Ruben's siblings, nephew and Grandma
My brother, mom, dad and grandma... To the left: my baby with his Great Grandma's <3 Unfortunately all the other Great Grandparents are gone, and it makes me sad just thinking about it.
We ordered a marzipan cake with his name. And then I made two sugarfree healthy cakes, a raw blueberry cake and a sweet potato chocolate cake. I'm not proud of how they look, but it was insanely hard to find the time and I risked both my health and sanity, lol! Speaking as someone with a baby which hardly let me go to the toilet or make myself some breakfast ;) And the hundreds of other things I had to do. Luckily I was not the only one who brought cakes.
I had a playlist going on inside our house, basically playing music box versions of the Zelda soundtrack, which I found here. I made the playlist before the baby was born, I imagined I'd put it on while he was sleeping or just laying around being a cute little baby. Expectation < Reality... haha!
Had brought out a lot of party flags which hung in all the rooms as well as in the garden.
Baby was nursing, then he fell asleep for quite some time, while we all chatted, ate cakes and opened his gifts.
The gift table, it's common to give baby clothes, books, silver and money.
I put white tablecloths on all the tables. Felt very grown-up! ;)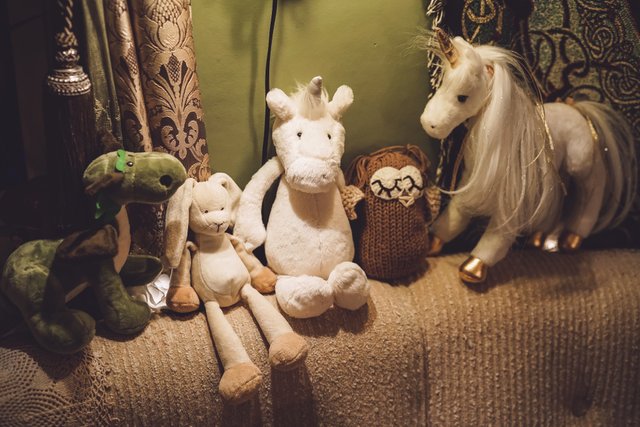 Some of our baby's stuffed animals :) Dragons, owls, bunnies, unicorns!
I translated/made an interpretation of this poem for our baby to be part of the ceremony. I think it is beautiful.
Now I'm curious to know, what kind of ceremony do you have in your part of the world? Would you ever choose something unusual, or do you prefer tradition? I think tradition can be a wonderful thing as well.
---
Posted from my blog with SteemPress : http://www.voiceofnature.earth/how-we-held-our-sons-naming-ceremony/
---