KingSwap – A Decentralized Exchange that Wants to Beat Uniswap in the Competition

Competition is now becoming the order of the day in the crypto industry following the proliferation of different crypto assets. Since each of those assets promises better opportunities than the others do, it goes to show that competition will always be in place.
Now, KingSwap has been launched to be a (DEX) that provides better trading opportunities while resolving some of the problems tenable in its competitor – Uniswap.
In this article, you will learn about some of the reasons why you have to consider trading your favourite digital assets on KingSwap instead of on other sister Decentralized Exchange (DEXs).
THE KINGSWAP ADVANTAGE
In this section of the article, we will look at some of the upsides and impressive opportunities that only the KingSwap Decentralized Exchange can provide.
Note that some of those features may be present in other cryptocurrency trading platforms (like Uniswap), but KingSwap wants to make them more effective.
A FORK OF UNISWAP
The disposition of this project, KingSwap to resolve some of the challenges in Uniswap is mainly because it was designed to be a fork of Uniswap. By that, it wants to improve on some of the downsides and loopholes that Uniswap traders have serially complained about.
So, if you are an active trader of Decentralized Finance (Defi) assets, get your funds ready to enjoy the amazing offers that KingSwap has to offer you.
Here are some of the ways that KingSwap wants to create a better DEX that will beat both Uniswap and others in the same field:
1 AUTONOMOUS COMMUNITY GOVERNANCE
Decentralized Exchanges (DEXs) will show their decentralized nature when they have autonomy. The autonomy herein implies that traders and other users can actively be a part of the major decision-making processes in the ecosystem. Uniswap is yet to have that feature, and that is where KingSwap beats it.
Via the Decentralized Autonomous Organization (DAO) it uses, KingSwap now creates an opportunity for Defi traders to be actively involved in the governance of the ecosystem.
2- ISSUANCE OF NON-FUNGIBLE TOKENS
KingSwap also went the extra mile of introducing Non-Fungible Tokens (NFTs) that will provide an opening for the tokenization of anything. These types of tokens are highly preferred over Fungible Tokens because they avail a medium for the tokenization of any item that is possibly going into extinction.
3 PASSIVE INCOME VIA LIQUIDITY POOL
It is no news that liquidity is one of the factors that push the growth of Decentralized Exchanges (DEXs). Also, such pools need to create an avenue for traders to make some money by the side.
As an active DeFi trader and investor on KingSwap, you stand a chance to benefit from the passive income opportunities in the liquidity pool. The idea is that you can stake your Non-Fungible Tokens (NFTs) or other DeFi assets so you can generate passive income.
KINGSWAP REAL-WORLD USE CASE
There are several dimensions to what KingSwap can achieve as a decentralized exchange and liquidity pool that wants to beat the features offered by Uniswap.
For one, Uniswap users and the Defi community in general will take more interest in Decentralized Finance (DeFi) considering how KingSwap is reinventing the industry.
By and large, KingSwap signals a new dawn in the Defi industry.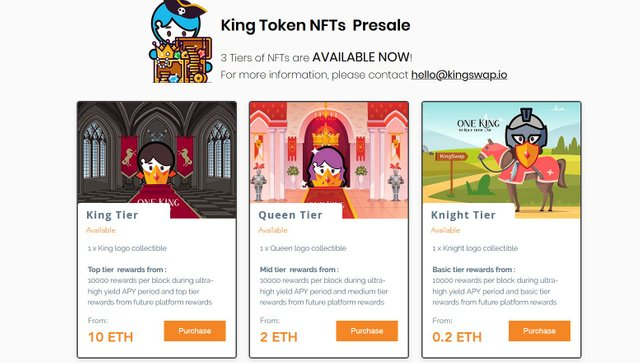 CONCLUSION
KingSwap presents greater opportunities for Decentralized Finance (DeFi) traders and investors. Earning a passive income, increase speed of transactions and issuance of Non-Fungible Tokens (NFTs) are some of the advantages you will derive from trading on the platform.
What do you like about KingSwap, and would you like to trade your favourite Defi assets on it?
USEFUL LINKS
Website: https://kingswap.io/
Twitter: https://twitter.com/defi_kingswap
Discord: https://discord.com/invite/fD2DrJY
Github: https://github.com/KingLuigy/KingSwap
LinkedIn: https://www.linkedin.com/company/kingswap
Telegram: https://t.me/kingswap
AUTHORS DETAILS
Bitcointalk Username- Devotea
Bitcointalk Profile link- https://bitcointalk.org/index.php?action=profile;u=2767689;sa=summary