(Bilingual) MARHABAN YA RAMADAN
Asrizal Nur Art Society Association welcomed the holy month of Ramadan with the launch of anthology of religious poetry 101 poets of the allied country (Indonesia, Malaysia, Brunei, and Singapore). Taking place at Asnur Art House, Tanah Baru, Depok, on May 13, 2018 from 14:00 pm until sunset, a number of poets were present and recited poetry. They include: Jose Rizal Manua, Lily Siti Multatuliana Sutaniskandar, Ade Novi, Yahya Andi Saputra, Iman Sembada, Jimmy Johansyah, Budhi Setyawan, Rinidiyanti Ayahbi, Eddy Pramduane, Raden Mas Sudarmono, and host Asrizal Nur - to name a few.
Poetry may be the most appropriate expression to welcome the coming of Ramadan, because poetry is written from the heart. Every Muslim poet has the human instinct to return to the essence of "fitri". An eleven-month life odyssey that enables one to be out of control, unsteady in faith, for undergoing various interacting events with other individuals, the month of Ramadan becomes a kind of oasis for breaks and self-introspection. In addition to the silence in the silence of prayer, also born in the form of poetry, such as confession and hope that is spoken.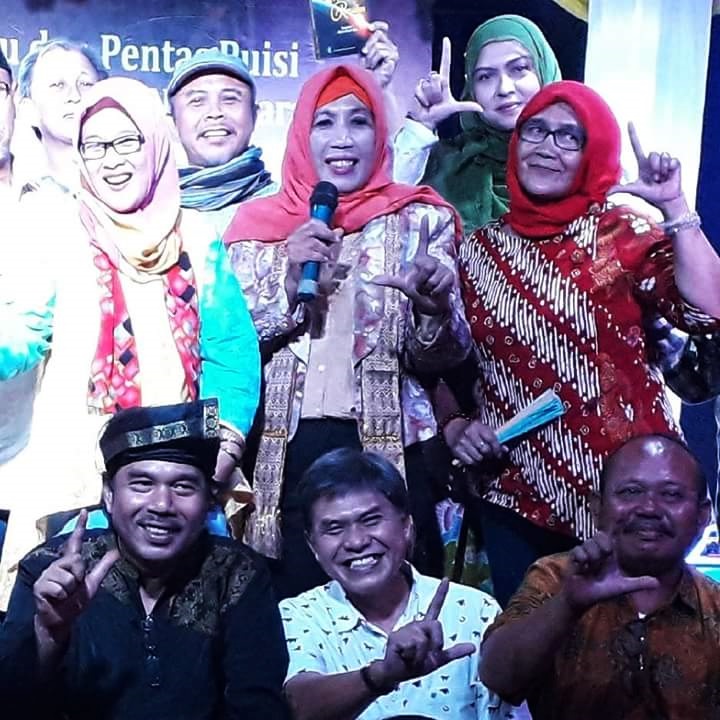 . The poets - photograph by committee
The book of poetry entitled Marhaban Ya Ramadhan which collects about 300 poems is a positive example for poets. In addition to storing poetry in documentation that many people can read, these poems are a reflection of the personal life that always reminds the poet to continue to istiqomah to live the balance of life.
Every poet present gets 3 books as proof number, then reads one or two of his poems, and takes a picture together. On that occasion, I read a poem entitled "Ink Poem", I show it here.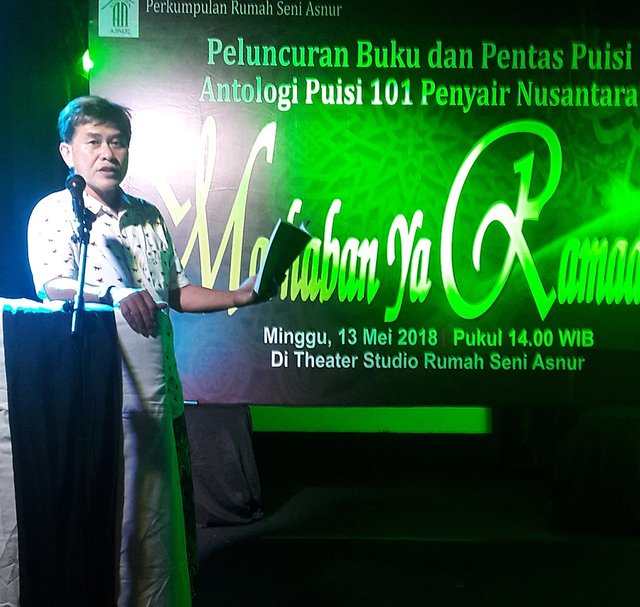 . Kef reads poem - photograph by Endah
POEM INK
Like ink: the ocean keeps the secret of kalam
Perhaps he is the one who always writes every incident on Earth,
list of residents of all times, arrival and departure schedules
creature by creature, the amount of air-water-fire needs
from Adam to Dajjal, archives of all unfinished cases,
until the universe is back to normal: murca and clear
Like ink: blood keeps secret kalam
Since being shed on behalf of coitus, birth,
murder, and centuries-old inter-state war.
History is murky, sacrifice was melted.
Until no cell remains from the smallest part of life
Let's look hard at our index finger:
Could he be a pen that desires to dismantle
every secret and extend the dispute?
"Why do you put a human on Earth, that only
will bring bloodshed upon each other?"
"I am all-knowing what I do."
Be silent ...
In the silence of tahajud, we begin to learn love
Among the hungry fasts, we are learning about patience
In the middle of a festive holiday, we have learned about togetherness.
If our faith is able to testify
Indeed we learn since swimming in the womb
On a personal promise to God
(Jakarta, 2017)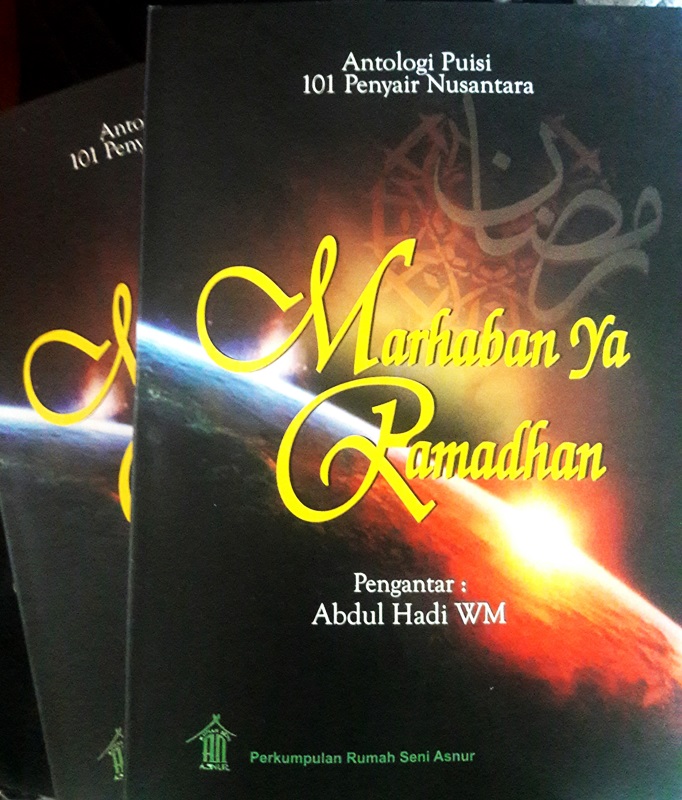 Anthology of Religion Poems - photograph by Kef
Friends of the Muslims. May we all enter the month of fasting with the accompaniment of the worship of poetry and Godbless us.
RAMADAN DIBUKA DENGAN PUISI
Perkumpulan Rumah Seni Asrizal Nur menyambut bulan suci Ramadan dengan peluncuran antologi puisi religius 101 penyair negeri serumpun (Indonesia, Malaysia, Brunei, dan Singapuira). Berlangsung di Rumah Seni Asnur, Tanah Baru, Depok, pada 13 Mei 2018 sejak puku 14:00 hingga tiba magrib, sejumlah penyair hadir dan membacakan puisi. Mereka antara lain: Jose Rizal Manua, Lily Siti Multatuliana Sutaniskandar, Ade Novi, Yahya Andi Saputra, Iman Sembada, Jimmy Johansyah, Budhi Setyawan, Rinidiyanti Ayahbi, Eddy Pramduane, Raden Mas Sudarmono, dan tuan rumah Asrizal Nur – untuk menyebut beberapa nama.
Puisi mungkin ekspresi yang paling tepat untuk menyambut kedatangan Ramadan, karena puisi ditulis dari hati. Setiap penyair muslim memiliki naluri insaniah untuk kembali kepada hakiki kefitrian. Pengembaraan hidup sepanjang sebelas bulan yang memungkinkan seseorang lepas kendali, tergoyah iman, karena menjalani berbagai peristiwa penuh interaksi dengan pribadi-pribadi lain, bulan Ramadan menjadi semacam oase untuk rehat dan introspeksi diri. Selain yang senyap dalam keheningan doa, terlahir pula dalam bentuk puisi, seperti pengakuan dosa dan harapan yang diucapkan.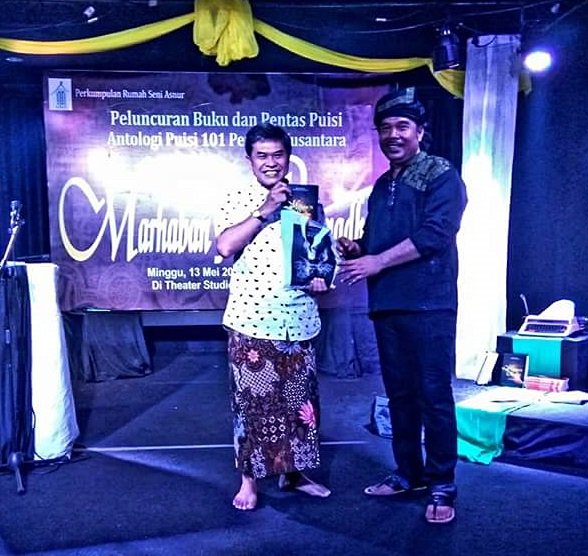 Handover the book - photograph by Rini
Buku puisi bertajuk Marhaban Ya Ramadhan yang menghimpun sekitar 300 puisi ini menjadi contoh positif bagi para penyair. Selain menyimpan puisi dalam dokumentasi yang bisa dibaca banyak orang, sajak-sajak itu merupakan refleksi kehidupan personal yang selalu mengingatkan penyairnya untuk terus istiqomah menjalankan keseimbangan hidup.
Setiap penyair yang hadir mendapatkan 3 buku sebagai nomor bukti, kemudian membacakan satu-dua puisinya, dan berfoto bersama. Pada kesempatan itu, saya membacakan sebuah puisi berjudul "Sajak Tinta", saya tampilkan di sini.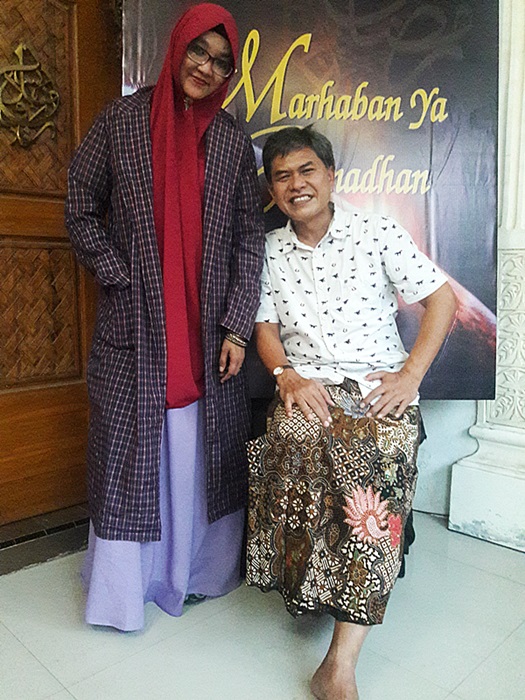 Kef and Rini - photograph by Endah
SAJAK TINTA
Seperti tinta: lautan menyimpan rahasia kalam
Boleh jadi, dialah yang selalu menuliskan setiap kejadian di Bumi,
daftar penghuni seluruh zaman, jadwal kedatangan dan keberangkatan
makhluk demi makhluk, jumlah kebutuhan udara-air-api
sejak Adam sampai Dajjal, arsip semua kasus yang tak selesai,
hingga alam raya ini kembali seperti semula: murca dan jernih
Seperti tinta: darah pun menyimpan rahasia kalam
Sejak diteteskan atas nama persetubuhan, kelahiran,
pembunuhan, dan perang antar-bangsa berabad-abad.
Sejarah pun keruh, pengorbanan pun luluh.
Sampai tak dijumpai lagi sisa sel dari bagian kehidupan terkecil
Mari tatap dengan sungguh-sungguh jari telunjuk kita:
Mungkinkah ia menjadi pena yang berhasrat membongkar
setiap rahasia dan memperpanjang sengketa?
"Mengapa Kautempatkan manusia di Bumi, yang hanya
akan menghadirkan pertumpahan darah atas sesamanya?"
"Aku Mahatahu atas apa yang Aku kerjakan."
Diamlah…
Dalam sunyi tahajud, kita mulai belajar kecintaan
Di antara lapar puasa, kita sedang belajar tentang kesabaran
Di tengah meriah hari raya, kita telah belajar tentang kebersamaan
Jika iman kita sanggup bersaksi
Sesungguhnya kita belajar sejak berenang dalam kandungan
Atas janji pribadi terhadap Tuhan
(Jakarta, 2017)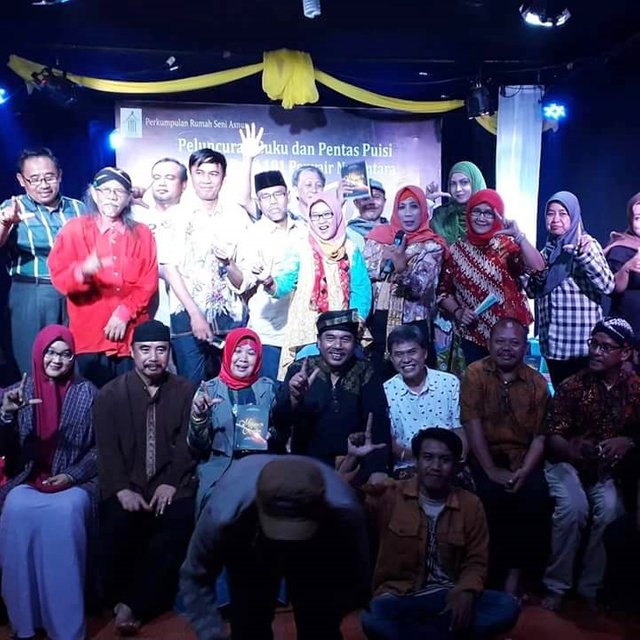 . Together - photograph by committee
Teman-teman kaum muslimin. Semoga kita semua memasuki bulan ibadah puasa dengan iringan ibadah puisi dalam kelimpahan rahmat Tuhan.
(Kef)