Ends with Ice Cream
On Sunday, April 1st, 2018, three Scenario Classes were met together. The teacher is only one, from beginning to end, namely: Mas Nadjib Kartapati. He is a senior writer from a village in the "hinterland" of Pati, Central Java. After the knowledge, even fluent, about the writing of scenarios, want his knowledge is not owned alone. So since 5 years ago opened a free class on how to write the correct script for the movie, both television and cinema.
The meeting was initiated by Lalily Lanisy who also as the host, offering a place for pickling gathering. Fortunately, Laily student of the second generation (in between the first and third batches), the smartest student (according to the teacher), and rich. A frequently repeated story is: every class meeting on Saturdays during the second batch of classes, provided snacks, luncheon lunches, food souvenirs. While in the experience of the first generation (which moved places) and the third generation at Mas Nadjib's house (previously at Mbak Wita's house), the students brought a snack (potluck).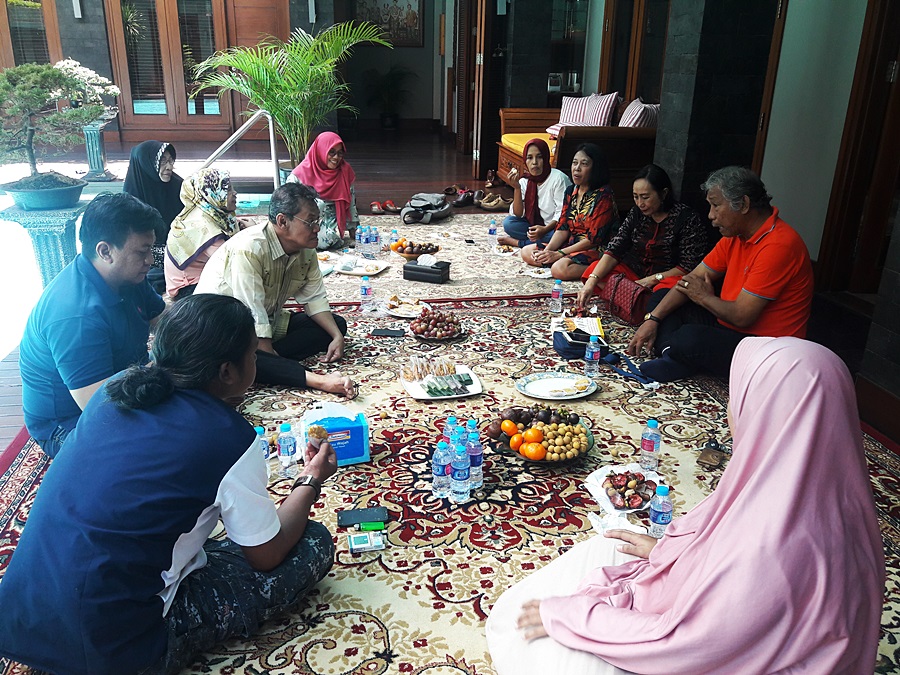 gathering - photograph by Kef
At first many of us gave confirmation to attend. But in fact, on April 1st, that "only" gathered 12 people. "Let's take it easy, okay," Laily responded. Yes indeed our gathering took place with ease. We got to know each other informally, but the third generation was asked by master to tell about ourself. The four of us (Rohmah Sugiarti, Warin Umy, me, and Bang Saut Poltak Tambunan), presented the biodata with different versions of each other. While telling the story, we always take cake and fruit. Want to know anything? Sausage Solo, kue lapis, talam, tahu-isi, lemper, kue lumpur, and nagasari mutiara. Citrus, longan, salak, mangosteen, and grape. By the pool we seat, sharing stories.
No theories are presented, no discussion of duties, no criticism and bully, but the scenarios are discussed from the funny side and finally we know each other: even the short stories writers like Lila Fitrialy, Kurnia Effendi, Palris Jaya (unable to attend), Saut Poltak Tambunan stuttering makes a good scenario.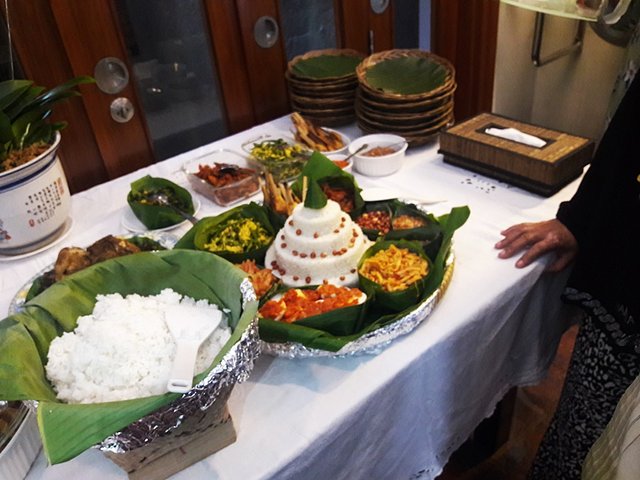 kudapan - photograph by Kef
Joining Magda, Laily's husband, adds a fresh atmosphere. He also marked the start of lunch. Want to know what the menu is? Balinese rice similar to rijstaffel equipped with fresh betutu chicken and Balinese rujak. Plus Malang meatballs with complete content. Finish: ice cream when more "deep" conversation takes place. Called deeper because it's getting into family issues and close friends out there. Even separately I talked about an essay poetry scandal with Ade from Pasar Buku Sastra who worked on interviews of a number of important persons.
Ends with ice cream? Not really so, because when the hailing rain is the reason to chat in the sofa room, we feel at home until 15.30. And from the beginning (at 10 am) to the farewell, Warin Umy's camera was recording incessantly. We became a free model with a spatial setting that was instagramable.
True as expected, we who attended the gathering got blessings from the Dapur Puri. Not quite satisfied with it, we do "plastic surgery". What was left on the plate moved to our plastic. What did Mas Nadjib say before he left? "We make this kind of event again before Ramadan?"
This is an addictive name!
Berakhir dengan Es Krim
Syahdan, pada sebuah hari Minggu 1 April 2018, tiga angkatan Kelas Skenario dipertemukan. Gurunya hanya satu, dari awal hingga akhir, yakni: Mas Nadjib Kartapati. Dia seorang penulis senior dari sebuah desa di "pedalaman" Pati, Jawa Tengah. Setelah berilmu, bahkan fasih, mengenai penulisan skenario, ingin pengetahuannya tidak dimiliki sendiri. Maka sejak 5 tahun yang lalu membuka kelas gratis mengenai cara menulis skrip yang benar untuk film, baik televisi maupun layar bioskop.
Pertemuan yang digagas oleh Lalily Lanisy yang sekaligus sebagai tuan rumah, menawarkan tempat untuk acar gathering. Serbapas: Laily murid angkatan kedua (di tengah antara angkatan pertama dan ketiga), murid paling pintar (menurut sang guru), dan paling berada. Sebuah cerita yang kerap diulang adalah: setiap pertemuan kelas di hari Sabtu selama masa kursus angkatan kedua, disediakan konsumsi camilan, dijamu makan siang, pulangnya diberkati (maksudnya dibawakan oleh-oleh makanan). Sementara pada pengalaman angkatan pertama (yang berpindah-pindah tempat) dan angkatan ketiga di rumah Mas Nadjib (sebelumnya di rumah Mbak Wita), para murid membawa bekal camilan alias potluck.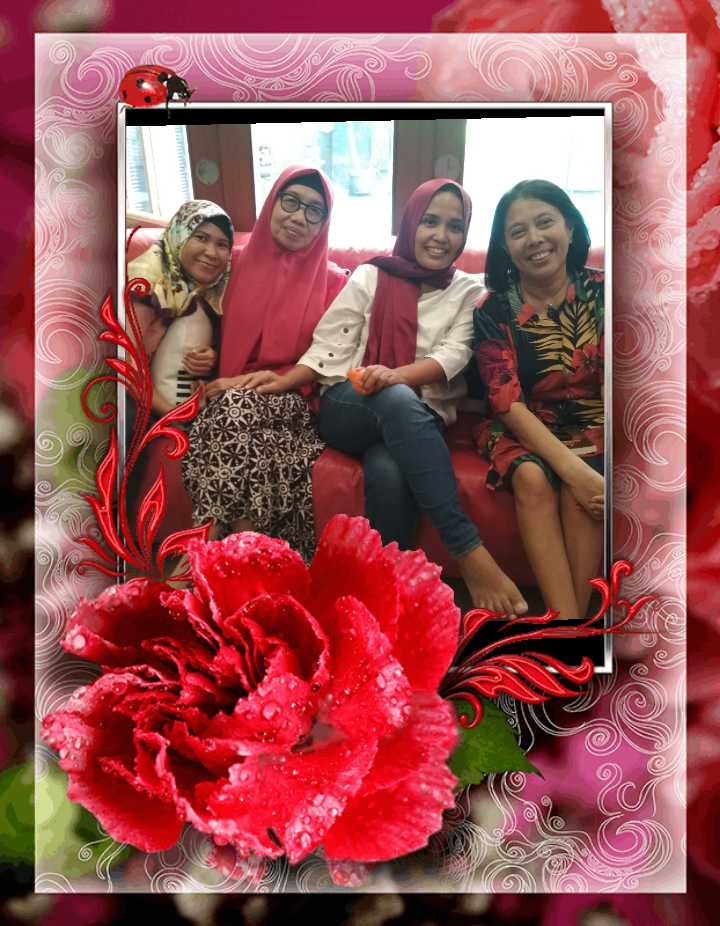 The women - photograph by Warin
Semula banyak di antara kami memberi konfirmasi hadir. Namun kenyataannya, pada 1 April itu "hanya" berhimpun 12 orang. "Kita bawa santai saja, tak apa-apa," begitu Laily menanggapi. Ya memang berkumpulnya kami itu berlangsung dengan santai. Kami saling berkenalan antarangkatan secara informal, namun angkatan ketiga diminta Pak Guru untuk menceritakan tentang diri masing-masing. Kami berempat (Rohmah Sugiarti, Warin Umy, saya, dan Bang Saut Poltak Tambunan), menyampaikan biodata dengan versi yang berbeda satu sama lain. Sembari bercerita, kue dan buah tak kunjung lepas dari comotan tangan kami. Mau tahu apa saja? Sosis solo, kue lapis, talam, tahu isi, lemper, kue lumpur, dan nagasari mutiara. Jeruk, kelengkeng, salak, manggis, dan anggur. Di tepi kolam renang kami lesehan, berbagi cerita.
Tidak ada teori disampaikan, tidak ada pembahasan tugas, tidak ada kritik dan bully, tetapi soal skenario dibahas dari sisi yang lucu dan akhirnya kami saling tahu: bahkan para cerpenis macam Lila Fitrialy, Kurnia Effendi, Palris Jaya (berhalangan hadir), Saut Poltak Tambunan gagap membuat skenario yang baik.
Bergabungnya Magda, suami Laily, menambah segar suasana. Ia juga menandai dimulainya makan siang. Ingin tahu apa menunya? Nasi Bali yang mirip rijstaffel dilengkapi ayam betutu dan rujak Bali yang segar. Ditambah bakso Malang dengan konten yang lengkap. Diakhiri: es krim saat perbincangan yang lebih "mendalam" berlangsung. Disebut lebih mendalam karena sudah masuk ke isu-isu keluarga dan teman-teman karib di luar sana. Bahkan secara terpisah saya membincang soal skandal puisi esai dengan Ade dari Pasar Buku Sastra yang menggarap video wawancara sejumlah tokoh.
Berakhir dengan es krim? Tidak sungguh-sungguh demikian, sebab ketika hujan yang menderas menjadi alasan untuk mengobrol di ruang sofa, kami betah hingga pukul 15.30. Dan sejak awal (pukul 10 pagi) hingga pamitan, kamera Warin Umy merekam tak henti-henti. Kami menjadi model gratis dengan latar ruang yang memang instagramable.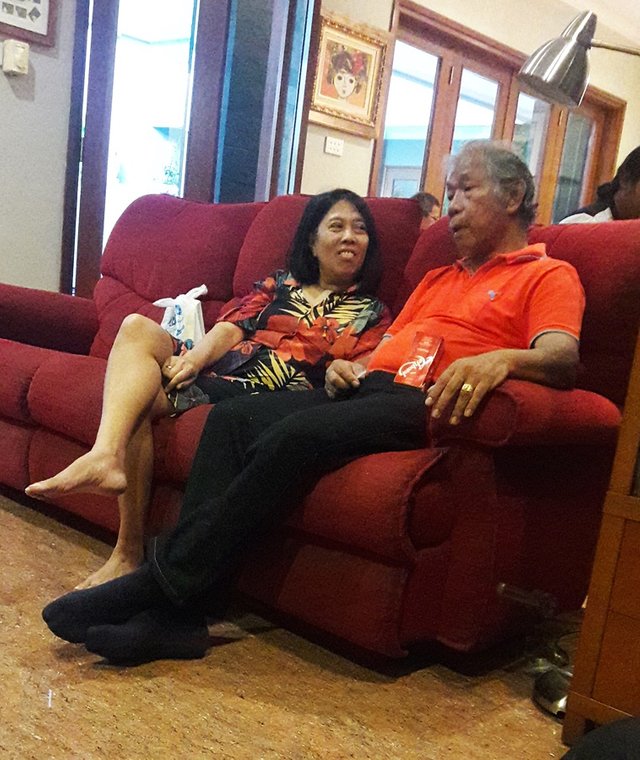 Laily with Saut - photograph by Kef
Benar sesuai yang diharapkan, kami yang hadir dalam gathering itu mendapat berkat dari dapur puri. Tak cukup puas dengan itu, kami melakukan "operasi plastik". Apa yang tersisa di piring hidangan berpindah ke plastik tentengan kami. Coba apa yang diujarkan Mas Nadjib menjelang pulang? "Kita bikin acara seperti ini lagi menjelang Ramadan ya?"
Ini mah namanya ketagihan!
Kef – 2 April 2018