POEMS of RAMADAN – episode 1
In the first six days of Ramadan fasting, these are my six poems that are published every day on social media. For me, this is a kind of reflection on the results of contemplasion or sensation from time to time throughout fasting.
THIS
This is my hectic chest with anger
Split with your moonlight crescent
It's my dark eyes of prejudice
lift up with your pointed beak hilal
This is my foot that often misguided step
Slash with your sharp moon
1 Ramadan 1439 H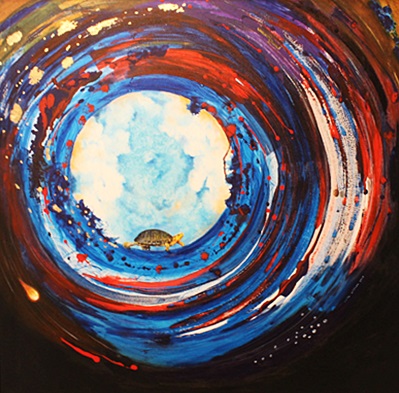 Menapak Jejak - painting of Erik Wiliean
WHEN
When back filling gongs
Empty vacant space
Vain
When traveling every light point
The place to reach is inevitable
He promised
When draining the mud from the kufr valley
Awareness is faded
With age
When weighing which is more bright:
Hungry that rised stars?
Or the glare of being drunk full?
2 Ramadan 1439 H
THAT
Missed from memory:
Question a baduy to the Prophet
"Is God so close that
in praying just whisper it?
Is God so far away that
to pray need to cry out?"
What we almost forget:
God's answer without intermediaries
"Yes, indeed I am close."
Without preceding introductory sentences
"Tell them, O Muhammad."
What we continue to do:
Takbir blasted to kill
all humanity within us
Until only left
demon soul
Now what do we want?
3 Ramadan 1439 H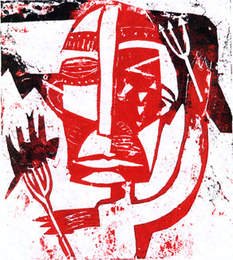 The Devil - from sergiosandino
RIGHT
Right in front of your eyes, me
rebellious. It's right
as you think:
I am the coward!
Right around your house, me
betrayed. No need to argue:
a little point of my ungai particles
always rightly recorded.
Just as you say, the way
home was wide and open.
When do I sincerely go through it?
4 Ramadan 1439 H
FOR
To wipe away the sin of the bottom of the well,
so easy for you.
I may be a black thread that is
want to be knitted into white satin.
I may be the point of the tilapia
want to gather in the clear of the tirta.
I'm probably a maja grain
infiltrate into the middle broth.
I may be a discordant notation
ventured into the score.
To pretend aulia with
face always wet prayer, so
easy for you to find:
Lie.
5 Ramadan 1439 H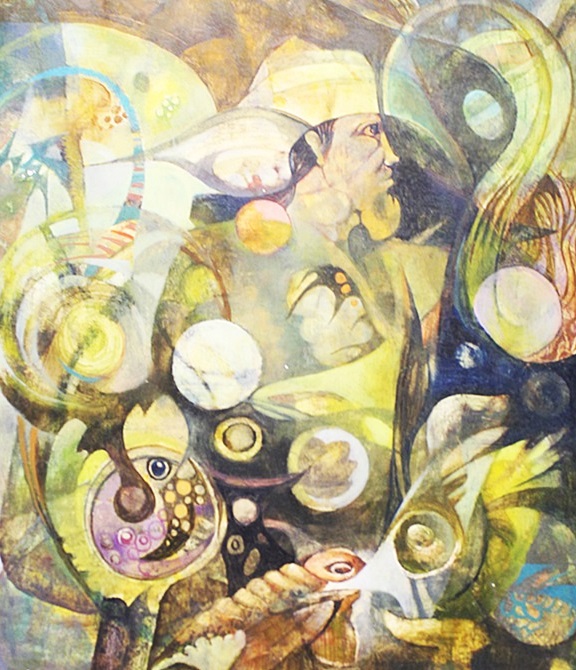 Painting of Genevieve Couteau (1925-2013)
SEEKING
Looking for the never lost
Or I disappear did not want to be searched
Looking for who is already in the grip
Anytime realized, soon forget it
Looking for the elapsed time
Then again wasted all the time
Seeking You by way of avoiding
Could it be that You wait patiently?
6 Ramadan 1639 H
See you all on the second episode. Regards