Mount Rainier National Park Washington - Reflection Lakes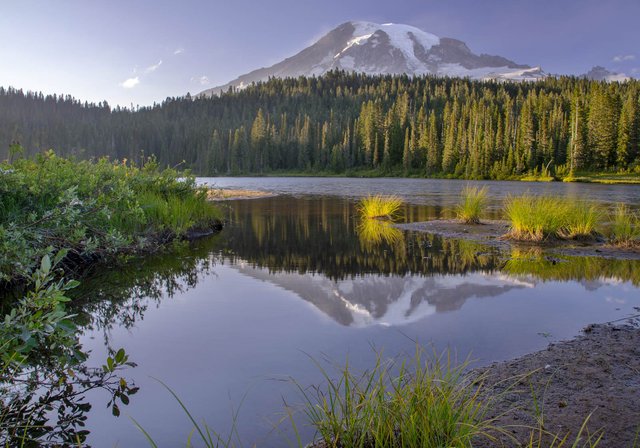 I started visiting Mt. Rainier National Park the minute I moved to the Pacific Northwest. However, I initially didn't photograph or visit Reflection Lakes. Not because I did not want to because I wasn't even aware of it. Imagine that! One of the most iconic spots to photograph in the park and I wasn't even aware of it.
I often found myself exploring the Paradise area from the southern approach and not venturing beyond. When I took the northern approach via the Chinook Pass, I found myself photographing Tipsoo Lake instead. It never really even crossed my mind to complete the loop around the National Park.
One day last fall, I decided to drive from north to south from Chinook Pass. From there I took the detour towards Paradise on Stevens Canyon Road. Lo and behold, there's a pristine meadow full of wild mountain blueberries. There lie two lakes that seemingly frame Mount Rainier on its reflections. It is with luck this particular day that peaks are clear of clouds. I couldn't wait to get off my car and explore the area.
There is a parking lot, and I would imagine this place would be crawling with visitors in the Summer when the meadows are blanketed with wild-flowers. I hadn't visited the area during peak bloom because the entire Pacific Northwest was engulfed in smoke from massive wildfires - there was a week where the visibility was only 2o feet! Perhaps on another summer, I'll get a chance to photograph the famed wildflowers, but I'm happy to take a few autumn frames as chance would give me.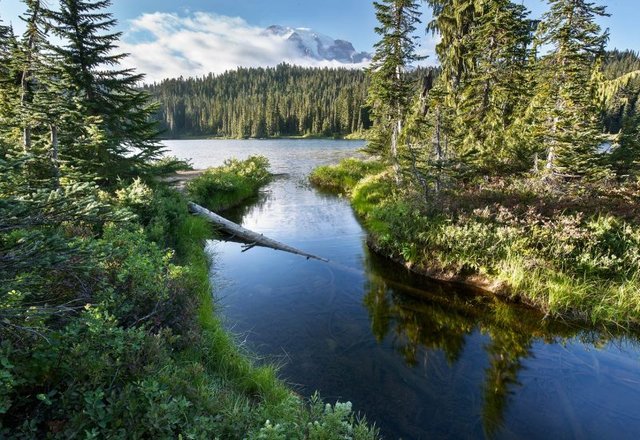 A flowing into Reflection Lake
Several marked signs point to several trails in the area with Pinnacle or Plummer Peak. But I was content to meander around in and out around the Wonderland Trail which offers fantastic views of the lakes and Mount Rainier. Besides, I was also busy harvesting the many blueberries growing wild along the lakes.
There are several varieties of these berries too and you'll get your hands full within minutes of picking them. You'll also stain your fingers and tongue as these berries are very dark. Bear in mind, you'll need a permit to pick these berries in the State of Washington under the Free Use Berry Permit. The berries harvested under this permit are for personal consumption only. The best time to go here for berries is during September.

Why You Should Visit
Picking berries, though fun, wasn't my primary purpose for visiting Reflection Lakes. I was there to take photos, but while waiting for the eventual sunset, I had time to scout the area for photographic locations and harvest berries. It's easy to see why many photographers come back again and again at different seasons to this location. Colorful autumn leaves, insane wildflower blooms, random wild animals, the soaring volcanic peak of Mount Rainier, and pristine alpine lakes.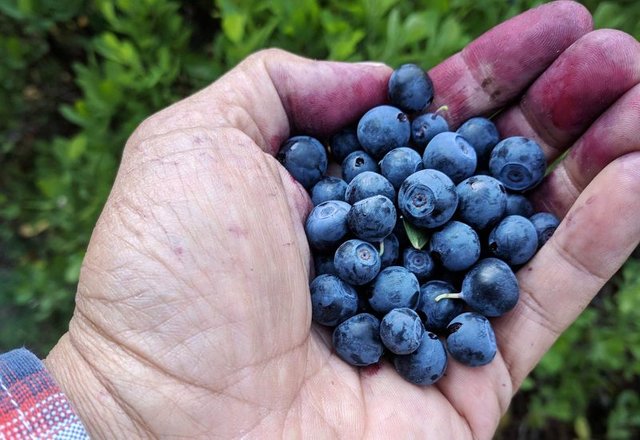 Wild Blueberries in Rainier National Park
At the parking lot, you'll see a marker that talks a little about the history of Reflection Lakes. There was once commercial activity in the area with a store and a business for boat rentals. The lakes were also stocked with Trout for recreational fishing. It would have been normal to see people wading and swimming in the lakes during this period. Today, however, the lakes are under repair in the hopes to bring it back to its natural splendor. It is not uncommon to see signs that warn you to stay on trails and not step on any fragile under repair meadows.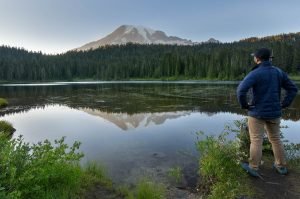 Overlooking Reflection Lake
Hiking the loop trail allows you to see the Tatoosh Range with its jagged peaks that reminded me of the Minarets in the Eastern Sierras in California. Louise Lake can also be seen below with the Stevens Canyon Road winding its way at the top of the lake. At this time in mid-September, you can still look at some wildflowers in bloom, though it's already way past its peak. Still, the faraway views of the surrounding ridges and valleys provide more than plenty for sore eyes.
There are reports of bear sightings in the

---
Posted from my blog with SteemPress : https://www.alwayswanderlust.com/reflection-lakes/
---

Share Your Instagram|Youtube|Twitter to Steem! Share2Steem

Fight me on Steem Monsters! SteemMonsters