MEDIATION IN A PERSONAL INJURY CASE - CHAPTERS FOUR, FIVE, SIX, AND SEVEN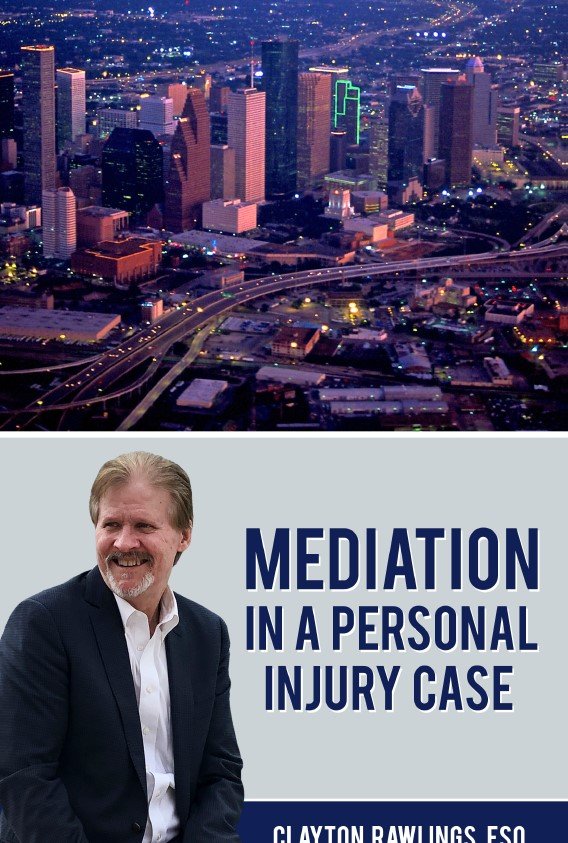 CHAPTER 4
HOW DO YOU DETERMINE WHETHER TO MEDIATE OR TAKE A PERSONAL INJURY CASE TO TRIAL?
In the modern era, it should be assumed that all cases will eventually wind up in mediation. Some courts issue docket control orders that require mediation prior to trial, and in other courts, mediation will be required once it is clear that the parties are intent on trying the case. Mediation has a high success rate, so it is a process that is almost always utilized by the courts. Whether or not a particular case is right for mediation is almost irrelevant; like it or not, mediation will have to occur at some point in a case. If mediation fails, then the case will be tried.
If a case contains an overwhelming number of liability facts and serious injuries, then mediation can take place at any time. One thing is certain: when a trial is close, all sides will have a "gut check" and their real numbers will be known. If trial is a year away, then neither party will be under any real pressure and may posture, since there will be no "wolf at the door." I try to schedule mediation when trial is less than 90 days away so both sides are forced to make an honest appraisal.
Factors That Determine Whether Or Not Mediation Is The Best Route To Take In A Personal Injury Case
Since mediation is voluntary, and a final outcome cannot be forced on either party, I personally believe that all cases are appropriate for mediation. If the plaintiff is not offered sufficient funds to settle a case, then they always have the option of walking away. Even if mediation fails, it should not be seen as a waste of time. It allows the plaintiff to learn about the defendant's case. It is an opportunity to look at their evidence, observe their style of argument and level of persuasiveness. You now have a good idea of how they will present their case in court. There have been plenty of times when the other side—having seen how prepared and determined we were—wound up offering significantly more than the initial offer.
 
CHAPTER 5
IS MEDIATION EVER
COURT-ORDERED?
Mediation is often court-ordered, but that usually isn't necessary because both parties can and often do agree to go to mediation without a court order. I do not mention mediation early on if it is not court-ordered, because inexperienced or old school attorneys will take that as a sign of weakness. It is a ridiculous conclusion to draw from a lawyer's willingness to meet before a neutral party in order to find common ground. Unfortunately, not all lawyers are created equal. If my opponent mentions mediation first, I am very quick to support the idea, and will praise them for taking the initiative to determine whether or not the case can be resolved outside of a trial. Rubbing someone's nose in it when they are offering an olive branch is counterproductive and in some ways just downright stupid. Amateurs are afraid of being perceived as weak, so they are hesitant to ever take an initiative. For that reason, if my opponent takes the initiative, I am not going to posture and act as though they are weak. Rather, I am going to support his or her coming forward in that way, because there is nothing to lose by going to mediation. If the case gets settled, then that will have been the client's decision, and if it does not get settled, there is still the option of trial.
What Steps Are Taken In The Mediation Process?
Once both sides have agreed to or been ordered to mediate, the first order of business is to find and agree upon a mediator. The mediator's staff will be contacted and an open date for mediation that works for everyone involved will be obtained. Each side is required to pay half of the fee for mediation in order to ensure that the mediator is neutral; if one side were to pay the entire cost of mediation, then to some degree the mediator is beholden to that party.
Depending upon the complexity of a case, mediation can last anywhere from about four hours to a full day. It will begin with a joint session involving all of the parties being in the same room. The mediator will explain the process and obtain a commitment from both sides to negotiate in good faith. Then, the plaintiff's counsel will present his or her opening. After that, the defense counsel will have the opportunity to present their side. The plaintiff and the defense are then allowed to present a rebuttal, if they have one. If it occurs at all, the rebuttal stage is typically very short. I only engage in rebuttal if I have an extremely strong response to something stated by the defense counsel.
Once the joint session is complete, the parties will be in separate rooms for the remainder of the mediation. The mediator will spend the rest of the day shuttling back and forth in an attempt to get the parties to agree to a certain amount in order to settle the case. If an agreement is reached, then it is reduced to writing and signed by all parties and their lawyers. In Texas, this is called a Rule 11 agreement. Once signed and filed with the court, it is binding on all parties.
 
CHAPTER 6
DOES EVERYONE SIGN A CONFIDENTIALITY AGREEMENT
IN MEDIATION?
All mediations in Texas are confidential, and no mediator may be called as a witness concerning any communication shared with them during the mediation. Depending upon what the parties agree to, the settlement itself may or may not be confidential.
Why Is Confidentiality So Important?
The written agreement at the end of the mediation is critical, because it ensures that no matter what has been said, and no matter what people believe the settlement to be, the written Rule 11 is controlling in every respect. For that reason, I caution lawyers to not hurry the Rule 11. It is typically drawn up at the end of the day when everyone is tired and ready to go home. Since the agreement is controlling, it is critical to not let one's guard down and to ensure that it is accurate; the case may end up depending on it.
I once settled a case for one million dollars and reduced it to a Rule 11 agreement that was signed by both sides and the attorneys. The insurance carrier (who will remain nameless for the purposes of this book) completely refused to pay, fired the lawyer who tendered the one million dollars at mediation, and hired new lawyers. Part of the agreement in mediation was that if there were post-settlement disputes, both sides would reappear with the original mediator before proceeding with litigation. We returned to the same mediator, who was not only a good one, but also happened to be a retired judge. The mediation began by the original defense attorney announcing to everyone in the joint session that he had authority to settle that case for one million dollars at the original mediation, and he tendered the million dollars. If called as a witness in future litigation, that would be his testimony.
After the joint session, we went into separate rooms and mediation continued for four hours with them offering less than half a million dollars. For four hours, we told them we would not compromise one dollar on the settlement amount. Eventually, the new lawyers gave up and re-offered one million dollars. We entered a second Rule 11 agreement for one million dollars, which was signed by everyone and ultimately paid. To this day we do not know what happened. This should be a warning to everyone. Get a good Rule 11 signed by all parties and their lawyers before anyone leaves mediation.
 
CHAPTER 7
WHO IS PRESENT DURING MEDIATION?
Present at mediation will be the mediator, the plaintiff or plaintiffs, the plaintiff's attorney, the defendant or defendants, the defense attorney, the insurance adjuster, and any other interested party allowed to be present by agreement. If the plaintiff is a minor, then their parents would be present to speak on their behalf. Outsiders never have the right to attend mediation, but occasionally grandparents or a close personal friend of the plaintiff will be allowed to attend if the defense agrees. (I have never had the defense refuse). If a family member or family friend attends mediation, then they must abide by the same rules as the litigants, which includes signing a confidentiality agreement so that they are held to the same standard as the parties.
Are Mediation Hearings Recorded?
Mediations are not subject to recording of any kind, be it audio or video. In Texas, mediation is absolutely confidential; if it weren't, the lawyers would be focused on litigation tactics rather than on having a sincere dialogue, which would subvert the entire concept of mediation.