LEARN AND EARN CONTEST ENTRY:Z- ZIZIPHUS FRUIT
Zizyphus is a shrub or small tree. It is also known as Chinese date, ber, Chinee apple, jujube, Indian plum, Regi pandu, Indian jujube, and masau, is a tropical fruit tree species belonging to the family Rhamnaceae.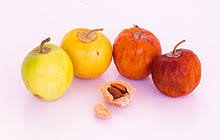 Image Source
    BENEFITS OF ZIZIPHUS FRUIT 

It is used as food and to make medicine.

It is used for improving muscular strength and weight.
3.It is used for preventing liver and bladder diseases and stress ulcers, and as a sedative etc.
Am so happy that am able to follow up with this contest down to the end, though I didn't start with letter A.
Thanks to @emjoe for hosting this contest, am looking forward for more contest.
@emjoe thanks for your encouragement and support, it has really helped me to keep steeming no matter what. Words will fail me to express my gratitude. I wish you more SBD and STEEM 😂 😂
The contest ends here.