Character by Imitation.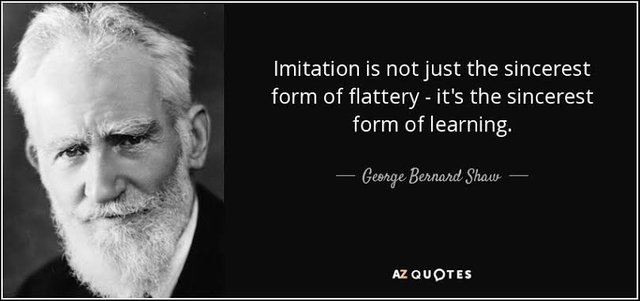 [Image source: AZ Quotes]
I know what the title reads. It says character by imitation and I know a lot of people might be wondering why one should even consider that. For one, imitating something or someone simply brands you a copy or a phony of that original. You're faking it, and it's not always a good feeling when you get caught out.
Well, have you heard about the phrase "Fake it till you make it"? Forget the negative buzz that comes with it, there's probably something good about imitating something you want to be like.
Everything in life has principles by which you have to adhere to in order to succeed. The most successful individual is simply the person who has mastered the skills needed for adhering to the rules. Take football for example, and you'd hear top football names such as Ronaldo de Lima, Ronaldinho, Luis Figo, Kaka and the likes. These guys did amazingly well, so much that while growing up, every sport-loving kids must have imagined what life would be walking in their shoes. I wasn't an exception.
So those are your characters, your models. The people you aspire to be like someday. Forget hero worship, somehow, in order to be like Ronaldinho, you have to play like Ronaldinho. You cannot have it both ways.
To be like Babe Ruth, you gotta hit the home runs like he did. To be likened to Roger Federer someday, you gotta hit the court ball the right way he does.
The difference between starry-eyed hero worship and thoughtfully emulating a role model is that for the later, one is able to distinguish between good characters that are worthy of emulation and the bad ones that would not make us so good. Granted, even your role models don't get to be perfect. So it's in your best interest to not follow blindly.
With this in mind, you'll be able to imitate the good things from your role model unto perfection. You won't just be a senseless fanboy who roots for everything they say or do. Rather, you'll be better because you're imitating just the stiff that makes them loved and respected.
Compare yourself to the people who are successful in your chosen field of play. Does it match or add up? Do you need to do more? Are you following the principles of success the right way? Are your goals getting beat everytime? Are your horizons broadening? Etc etc...
By imitating the best, you realize exactly how they've been able to develop and keep at what they do, and in the end, you increase your own performance!
Fake it better. Till you win.