Singapore Stories - Are You Ready for 100?
Hello Steemians! It has been a while since I last posted something about Singapore. Recently, I came across the "Ready for 100?" survey which was conducted by The Economist and commissioned by Prudential. The survey is conducted on Singaporeans to understand how ready we are to live to an age of 100. Based on official data from SingStat, Singaporeans have a life expectancy of 83.1 years old. And if one can live to the age of 65, it is expected that the person can live on for another 20 years.
I headed over to SingStat, downloaded some data and plotted a chart as below.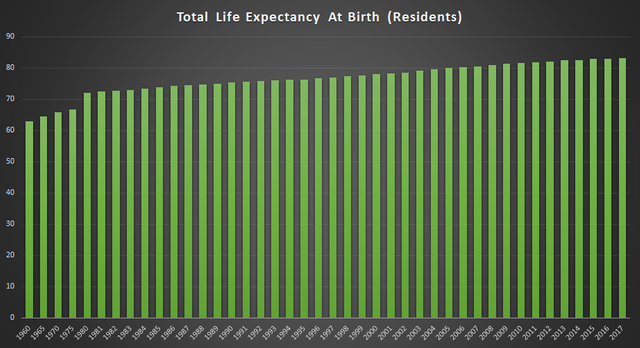 As you can see, we are clearly on a rising trend. In fact, since 1981, Singaporeans' life expectancy is growing at an average of 0.38% annually. If we continue this trend, our life expectancy will be 100 by the year 2066! Therefore, it is a foreseeable future to have considerable number of centenarians on the streets of Singapore. But how ready are Singaporeans for this future? The "Ready for 100?" survey studies Singaporeans' readiness in 4 different factors, Relationships, Health & Wellness, Financials and Careers. After reading the report, I will like to share my thoughts and ask myself how ready am I for 100.
---
The Relationships Factor
Below is an infographic on the Relationships factor.
The study found that Singaporeans are very family-oriented. We draw strengths from our immediate family and spend the most time with them. However, at the same time, we also inevitably inherit the stress from the caretaking responsibilities for our immediate family members. Apart from family, friends are also our very important to us.
---
The Health & Wellness Factor
Below is the infographic for the Health & Wellness factor.
The study found that although we want to live healthy, we are finding it difficult to change our diet and habits to achieve it. I think there are a couple of reasons why.
First, we are too bogged down by work and family commitments. Having to work in the day and then return home at night to attend to family matters cause us to be physically and mentally drained by the end of the day. While we can still force ourselves to workout, the truth is, the temptation to just lie down on the bed and do nothing is too great.
Second, food is our life. There are many good food in Singapore and eating is a social activity. When we reach home with our families, we eat. When we meet friends, we eat. Personally, I try to keep a diet small or no dinner. However, it is really difficult to do so when I am meeting friends or having a family dinner.
---
The Financial Factor
Here is the infographic for Financial factor.
We are very diligent savers, however, most of us still expect to rely on salaries to survive after age 62. This is a really dangerous mindset and it doesn't help with the fact that Singapore has a relatively high cost of living. The cost of living is not going to get lower in the future. Coupled with inflation, savings from our salary is not going to be enough in my opinion. Everyone should invest wisely and not just save money into bank deposits with negligible interest returns. Consider a diverse investment portfolios of stocks, bonds, commodities and cryptocurrencies to build your retirement fund.
---
The Career Factor
Finally, below is the infographic for the Career factor.
The career factor is somewhat related to the financial factor. If we are financially free, we will then be able to have more options when it comes to life after retirement (age 62). Unfortunately, I foresee that by the time it is common to live to age 100, it will be very likely that we have to work beyond 62. I cannot imagine everyone having enough to survive full 38 years by just working till 62 years old.
---
Conclusion
I am from the generation which the media coined as Xennials. We are the generation which is late in the Gen X and early in the millennial categories. We been through cassette tapes, downloading from Napster and listening through Spotify. In terms of family and financial planning, we are a generation which embraced the fact that we should not rely on our children to look after us. Yet we also understand that our parents do not think the same and they expect us to take care of them when they are old. As a result, I think we have the greatest stress when it comes to financial readiness. We not only have to accumulate wealth for ourselves, we also have to take care of our parents and children. It probably the reason why less people in my generation are willing to have children.
If you ask me if I am ready to live to 100, I will say I am not. I think the most important thing in life is my useful lifespan. By useful lifespan, I mean that I should be mobile and able to live my life fully. There is no point in artificially extending my life via technology and medicines when I am bedridden most of the time. Age is just a number, the most important thing, in my opinion, is how well I can live my life, how much impact I am bringing to the people around me and what can leave for the future generations.
Thanks for reading! If you like my article, do give me an upvote and a follow. Let me know your thoughts on this topic. Are you ready to live to 100? How different is the social situations in your country?
Projects/Services I am working on:
---
You can find me in these communities: