Nastar cake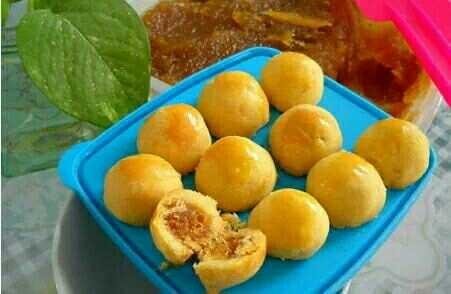 Ingredients:
Low protein flour 300 gram (roasted then strain)
Milk powder 2 tablespoons
2 boiled egg yolks
Butter 200 grams
Refined sugar 50 grams
Vanilla powder 1 pack
Pineapple jam (home made or ready to use)
do not forget to roast back the pineapple jam (if ready to use) so as not too thin and feels legit.
Egg yolks 1 egg
Sweetened condensed milk 3 tablespoons
3 tablespoons vegetable oil
How to make:
shake boiled egg yolks, refined sugar, and butter with a spiral wisk until well blended.
Enter the flour, milk powder, and vanilla, stirring slowly using a spatula.
Heat the teflon, then place the filter on top for 10 minutes.
for the dough nastar, give the pineapple jam inside, then the shape of a round or according to taste.
Smear the cutters with butter, then bake the nastar with very little fire. Cover with pan cover for 25 to 30 minutes.
at half-baked, open the lid of the pan and apply the spread, then close and wait until cooked.
Nastar ready to serve .