Rice crackers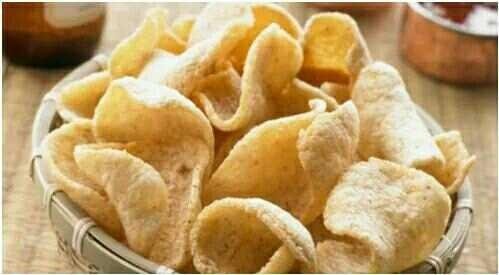 Ingredients :
3 tablespoons tapioca flour
100 ml of boiling hot water
Pour boiling water into tapioca flour and stir until thickened like glue.
Ingredients of Cracker Dough:
500 grams of warm rice
1 tsp salt (to taste)
1/4 tsp sugar
Ground spices:
1 tsp roasted coriander
3 cloves of garlic
How to make:
Put the dough mixture into the warm rice, add the finer spices, salt and sugar. Stir until smooth and knead the dough while kneading for rice slightly broken and crushed.
prepare a mold / baking sheet smeared cooking oil then the base of banana leaves / plastic ... basting cooking oil again so as not to sticky. Pour the batter of rice crackers into a baking dish, flatten and solidify. Steamed until ripe for about 1/2 hour.
Chill first.
cut rice crackers with sharp knives wrapped in plastic, the shape of the pieces according to taste, if the pieces of crackers are too thick, insert the pieces of crackers into the plastic and press with the fingers so that it becomes thinner. place the rice crackers that are still wet on the tray and drying in the sun.
After dry rice crackers can be stored in an airtight place