When Rains Disrupt Normal Life!
Mangalore is home and it has been so for nearly 25 years of my life. It's probably the best tier 2 city to live in India and I say this having travelled the length and breadth of the country. Well life is largely comfortable here and nothing much ever happens at a brisk pace.
In terms of population we're probably over 700,000 maybe even more now with a ton of immigration that has occurred in the past decade. This has brought it's own challenges but we're chugging along just fine.
We are on the coast with two main seasons: Summer and Rain. Well technically there's also a third winter season but the weather is just as warm as summer most of the time, so it hardly matters.
End of May is traditionally the onset of the rainy season. By June-July the rains are generally at their peak. Growing up it was nearly impossible to head out in the rains owing to their sheer intensity but we did it anyway. Schools and colleges would shut down intermittently. City was clean and all the water drained into the sea. With rampant concretisation, not so much anymore.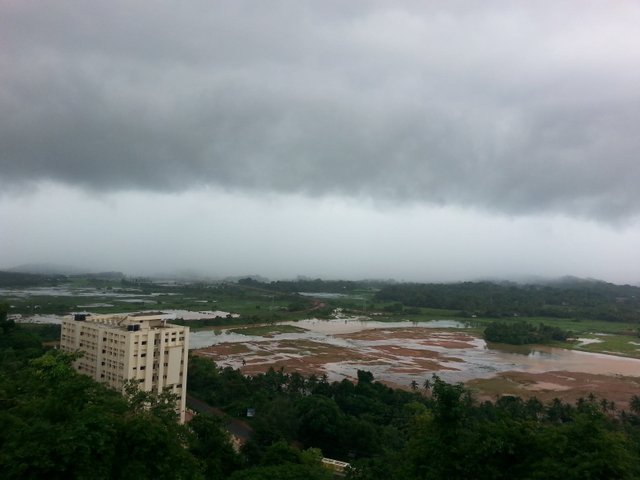 Mangalore in the rains! I guess I took this picture near the airport some years ago.
Mangalorean generally love rains. We look forward to it when the season changes and pray it doesn't get too harsh when it finally arrives. After all, this region receives the second highest rainfall (maybe it still does) in the country. Second only to Mawsynram which receives the highest rainfall in India.
Rains are the only respite to the heat here. Living in a coast city means that we get amazing seafood before and after the rains. The Arabian sea gets gets dangerous for fishing during the rains. But on the coastline some surfers take it to the sea when there's no downpour.
The biggest challenge that local authorities have is to maintain electricity supply around these times. In the nearly 3 decades spent living here, things haven't really changed much. Moment there's a hint of rainfall the local electricity board cuts the supply and then it's a dark night.
Last night it rained and they cut the power till evening today. My power back up in the house ran out of charge and so were all of my devices. It's 2018 and yet it seems like the early 90s when we had massive power cuts. Not a lot has changed in terms of the way power is supplied to the houses. I suppose this is an area that needs further innovation.
Ofcourse, the power is cut due to the high voltage in transformers and to avoid any short circuits etc. But, in nearly 30 years is there seems to be no real improvements in the technology to ensure uninterrupted supply of electricity during rains. Atleast not in the area I live.
As a tropical country it's understandable if there's disruptions due to trees falling over and what not but sometime there's a drizzle lasting 10 minutes and a power cut that lasts 5-8 hours. That's not really acceptable now is it?
All this in addition to the weekly powercut we have here. Unscheduled power cuts like this makes it hard to work out of a place like Mangalore. But this is quite common across the country. Atleast in smaller cities like Mangalore.
Cities like Mumbai are an exception in India where there's power supply 24/7.
Mangalore is generally a peaceful place to live but it's not the easiest to work out of if you are a digital-nomad so to speak who needs uninterrupted internet connection.
So, over the last 16-18 hrs I ran out of juice on the inverter which meant no internet, no charge on the phone, mac or my internet dongle. My fixed line internet stopped working as soon as they cut the power. There was no internet at my internet provider's local hub to keep our internet functioning.
Everything ran out of charge as I wasn't expecting the rain or the powercut. Inverter was already under full load and there was no way to charge my devices anymore. I wouldn't mind a Tesla powerwall at the point but I'm not a whale. So I'll just leave this thought here for the day I become one!
Well, It was a good break but it messed up my timeline for work. So, basically I'm spending my Saturday evening working. But thankfully, being self-employed means I can chill on a Monday morning.
Atleast, on the bright side there's no real danger of flooding or anything due to the rain and my home is intact. So, I guess life's pretty good all things considered.
What about you? Do you face similar issues in your cities? What strange things happen during seasonal changes in your town?
---
If you like my work kindly resteem it to your friends. You may also continue reading my recent posts which might interest you:
---