How to find Right opportunity ?
"In the right place at the right time", is not about a great gene pool; not an accident and not even a lucky star. It's about strategies and personality to find a right thing to do and do it properly. Finding a great opportunity is all about resorting a resource in your favor with a good plan and purpose. Success is not about luck, but about extend on which you grab and utilize the opportunities you get. There is not any proven fact and formulas in life that shall guide you to get a great opportunity, but there some logical point that might be of great help.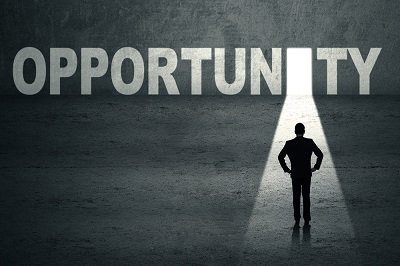 img src:https://bit.ly/2Lafr9n
1. Pay attention:
Stay alert, curious and grab as much as information you can. Listen to people, think about their intentions and values. Stay connected to people who might be of aid, use social media wisely, listen to news and read papers. These habits can actually forefend from missing the opportunity that might be of use.
2. Develop leadership:
Leadership is not always about standing on stage and giving lectures. Control the activities going in your life, usher the people in your favor, be the first one to take control over things you are connected to you and think before you follow other's command. Be commanding and imposing so that you would be the one to be noticed in the first place when the opportunities come nearby.
3. Think of impacts before you do:
The way you talk, the way to walk, the way you dress and the way you answer always makes the impact on the peoples around you. When you are with the mass that can guide you towards ameliorate opportunities show delicate behavior. Most importantly, build a solid personality of yourself and develop a self- respect.
4. Imagine opportunities everywhere you look
Opportunities are about bending and twisting ideas and trends that match your interests, in your favor. Develop a habit of eyeing the opportunities everywhere around you can get to you and never hesitate to take some risk. Something the immediate benefit might be harmful in long-term and vise-versa. Sometimes, you should also pick the opportunities that will benefit other people and they will support you in the future.
5. Choose your circle wisely:
The people living around you have a great impact on the things you do; so choose your friends wisely. Always be among a motivated group of people and the ones who can give you opportunities. Make sure the people you hang with will help you to do better instead of pushing your leg.
6. Make Decide
Never hesitate to take an opportunity set before you. Make a habit of trying new things and skills to do better things. Accept every opportunity that lay ahead of you. Sometimes you might not get enough time to think of it and in such case be quick with your decision. Never make a decision that you will regret in future.
Getting an opportunity is about dedication, inters, leadership and personality. And once you get them, don't be afraid to costume them and utilize in your favor. Success is not so far for people who know to take and utilize every opportunity around themselves.