Welcome to my English Country Wedding STEEMIT!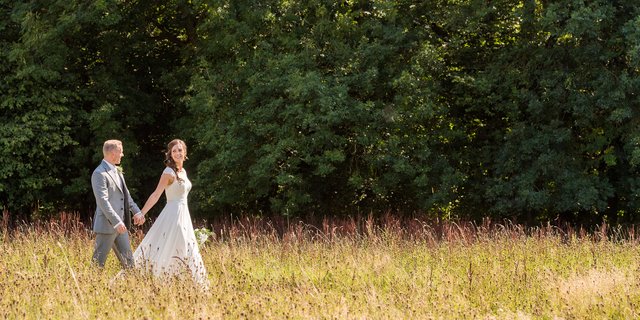 ---
The story of a beautiful wedding (mine)
Hello to my Steemit family!
It's been a very long time since I posted on here. As some of you will have seen from the very last post I made - I stopped posting because I got married and then went on honeymoon! By way of an apology for my long absence, I wanted to share my big day with you all. I've missed all of you a lot and I hope that you will read my post today and share my wedding day with me.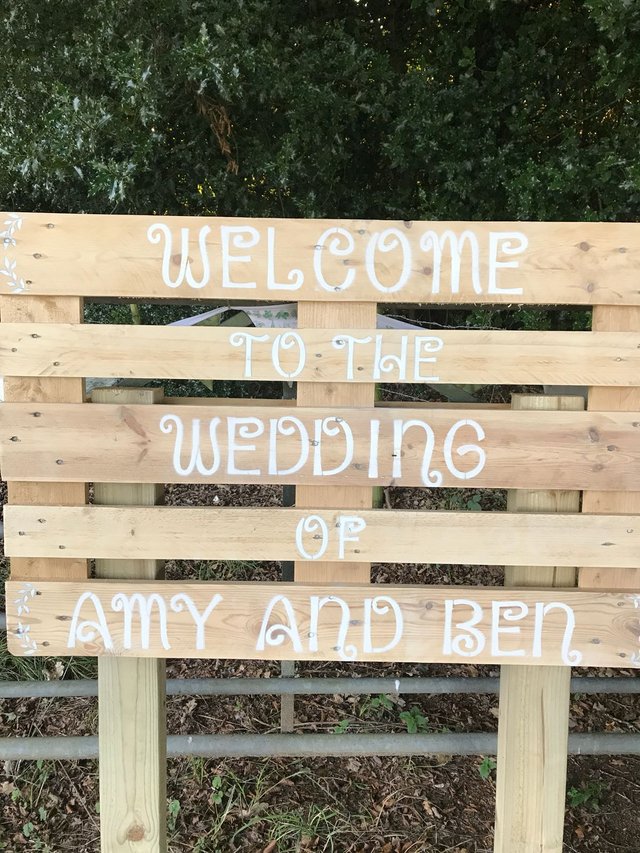 Where to even start! I suppose I start with our wedding theme. My beautiful wife Amy and I both love going camping, glamping and love the rustic look. So we set out to create a wedding day, a long with that theme. First things first was to find a venue. Weddings are big business and it's hard to keep expenses down. I thought perhaps we could do something in my godfather's woodland, and so the ideas began flowing.
Could we do an outdoor wedding in the woods? Scratch that, the English summer time isn't reliable enough for that!
Could we hire a marquee and have that set up for the day? Scratch that too... it just didn't feel right. We didn't want it to feel like a corporate event.
I jokingly said to Amy, shall we just have our wedding in some Yurts? For those who don't know, Yurts are traditional tents used mostly in Mongolia by the travelling tribes people. So well made are they, that they have become very popular with high end Glamping (glamorous camping) sites, and we've stayed in a few because of this! She laughed that there wouldn't be a Yurt big enough... but I got on Google and found Lizzie's Wedding Yurts!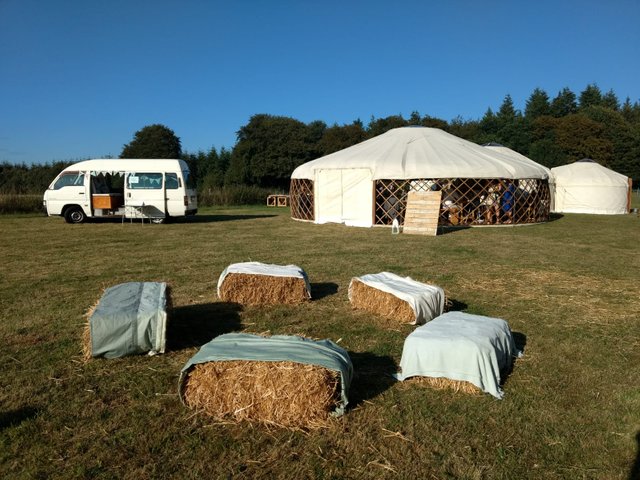 And so the theme was set - a yurty festival wedding with an English summer vibe. As you'll discover through your journey through our day with me, there were in fact four Yurts all joined together. One very large 36ft Yurt, one smaller 20ft Yurt and two 12ft Yurts. All connected together to make one awesome, beautiful, different wedding venue.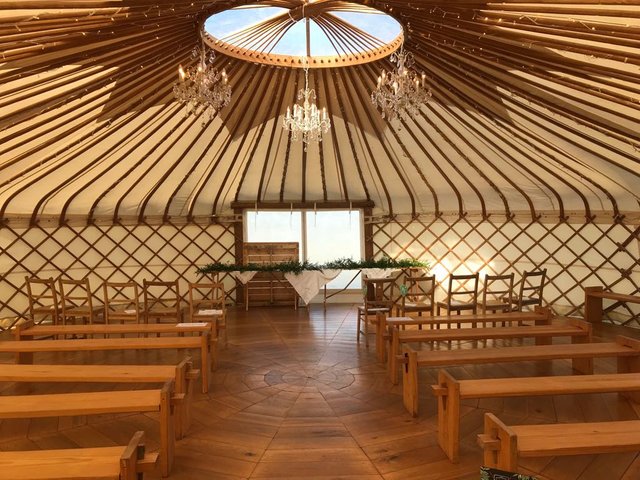 Inside the Yurts!
The photo to the right shows the large Yurt set up ready for the ceremony. This photo was actually taken the day before - on the day you'll see that we didn't have the white canvas sides on the Yurts because it was such a gorgeous warm day. This let the breeze come in and the views of the woodland around us. Inside this Yurt, we then also had the meal AND the dancing, as you will see!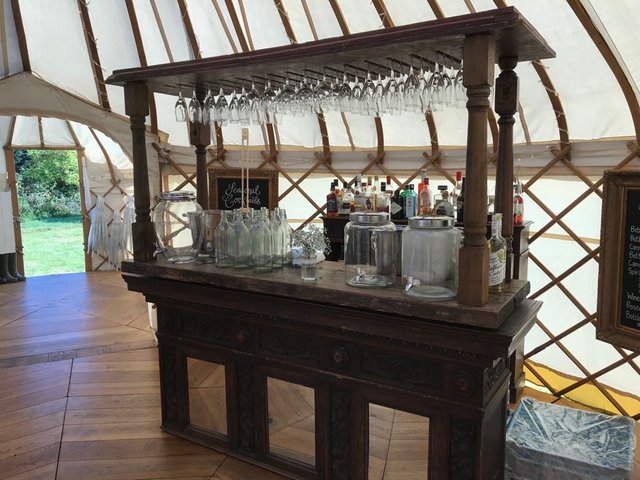 In the next smallest Yurt, attached to this main Yurt was the bar. Complete with a full range of alcohol and soft drinks it was an awesome place for our guests to hang out in between busting their moves on the dance floor. It was so funky and antique, we loved it. The barman was called Wherley and he was absolutely hilarious and even joined us on the dance floor half way through the night in between serving drinks! We were also very fortunate to have a lot of drinks bought for us so we tried many different cocktails!
Inside the other two Yurts we had a small log burner for later in the evening when it got cold, and a tea station to get teas and coffees in antique china! you can see one of those extra Yurts off to the left of the bar in the above picture.
A day of love, family, friends, sun and joy
---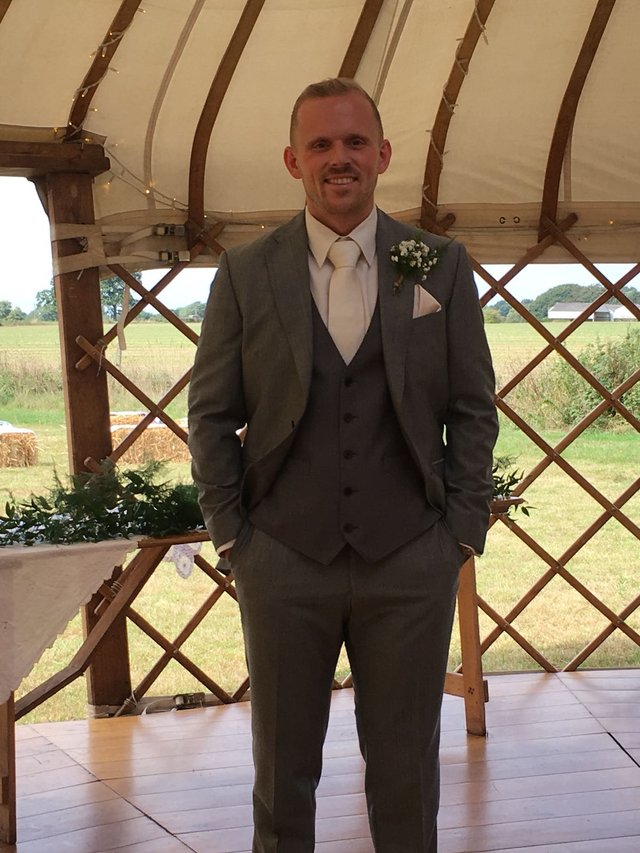 We are still waiting for our professional photos to come back, which will give a more complete view of each step of the day - you guys will see those as soon as we get them! So for now, the first photo I have of the day is me waiting at the alter, all suited and booted.
We had a very simple colour scheme - green and cream. So cream tie and cream pocket square with some green on the button hole was all I needed! This was probably taken twenty minutes before my bride arrived so I think I'm doing quite a good job at not looking nervous.
There are no photos of the ceremony because these photos I'm showing you today are just photos from friends and family and we asked that no-one use their phones or cameras during our ceremony so they could enjoy it fully with us! The photographer got lots of great photos though - you'll see! After the ceremony all of our friends and family went out into the beautiful English sunshine to enjoy some lawn games, welcome drinks and chatting while we went off for some photos with the photographer.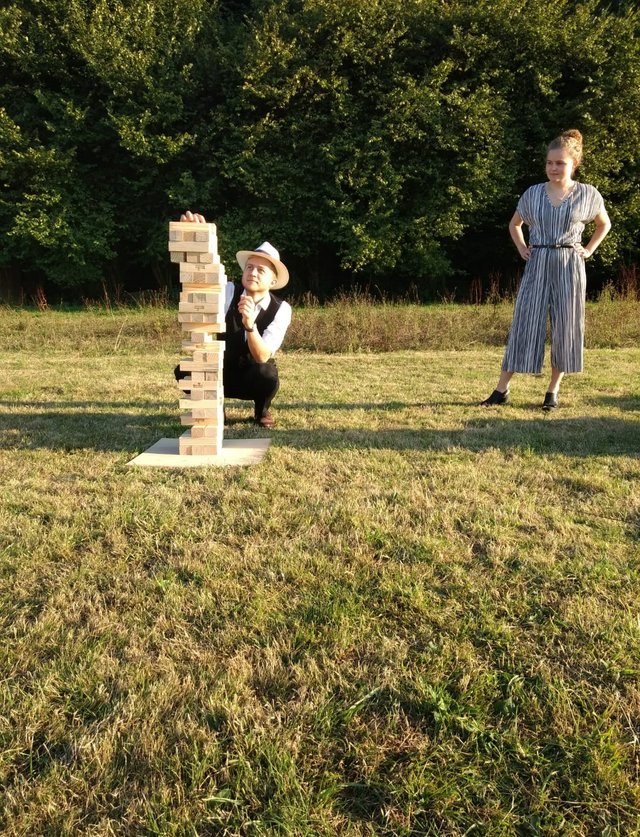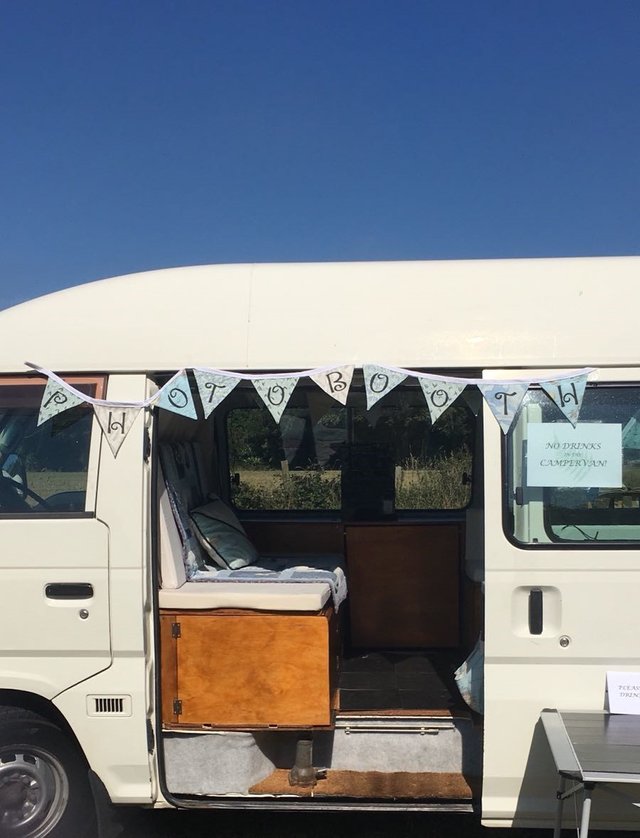 ---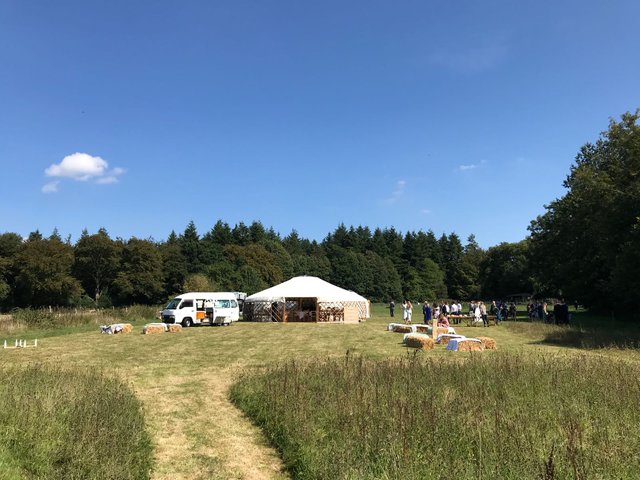 We set up lawn games, such as Giant Jenga, Giant Pass the Pigs and Hoop Toss! We also turned our campervan (see how we built it in my post HERE). Of course, everyone had welcome drinks. We went off and had a lot of professional photos during this time and it was lovely hearing all of the laughs and talking of all of our closest friends and family while we were doing it. We had about an hour and a half before we all went back into the main yurt to have our meal. The weather was completely on our side - look at the gorgeous blue skies!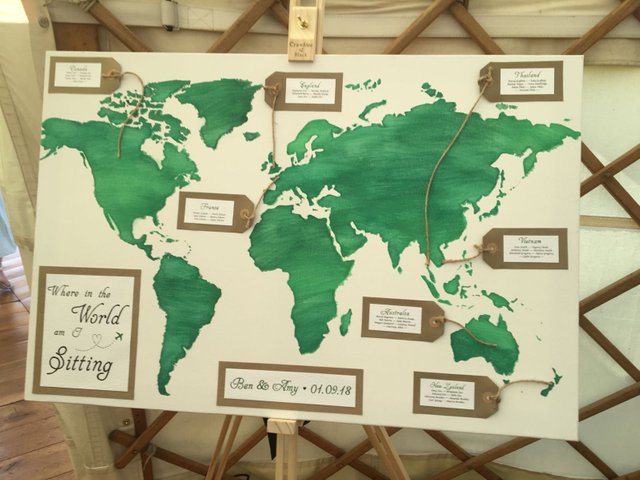 Amy and I love to travel so our seating plan was hand made by Amy with each table referring to a place in the world that we had visited together. We had tables for Canada, Vietnam, Australia, New Zealand, France, England and Thailand. The meal was beautiful with butchers boards for starter, roast lamb and salad for mains and Eaton mess and brownies for dessert. As you can see from the photo below the yurts set in the English countryside was such a beautiful setting for a wedding meal.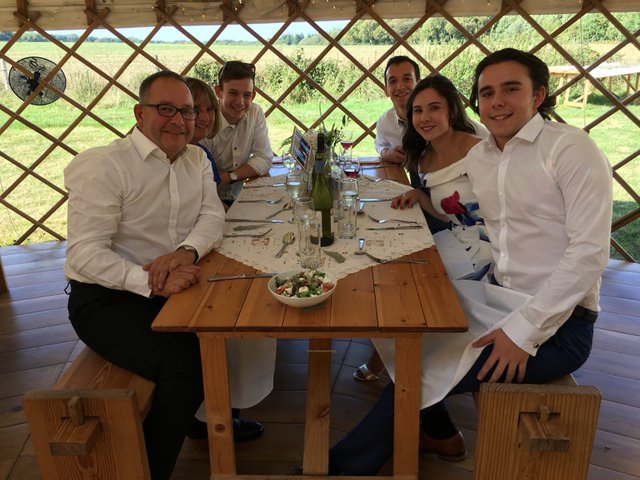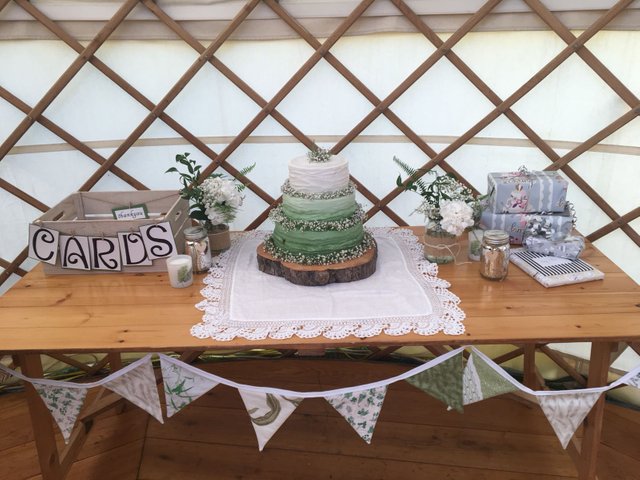 Amy's mother made the cake and it looked incredible! (and tasted it too)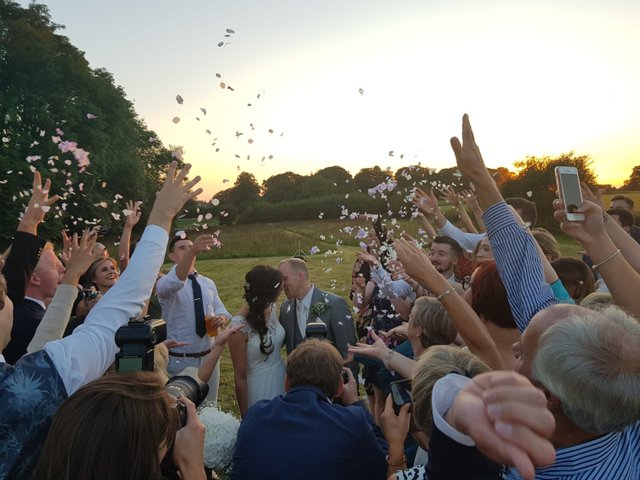 Got to get everyone throwing confetti during an English wedding, right?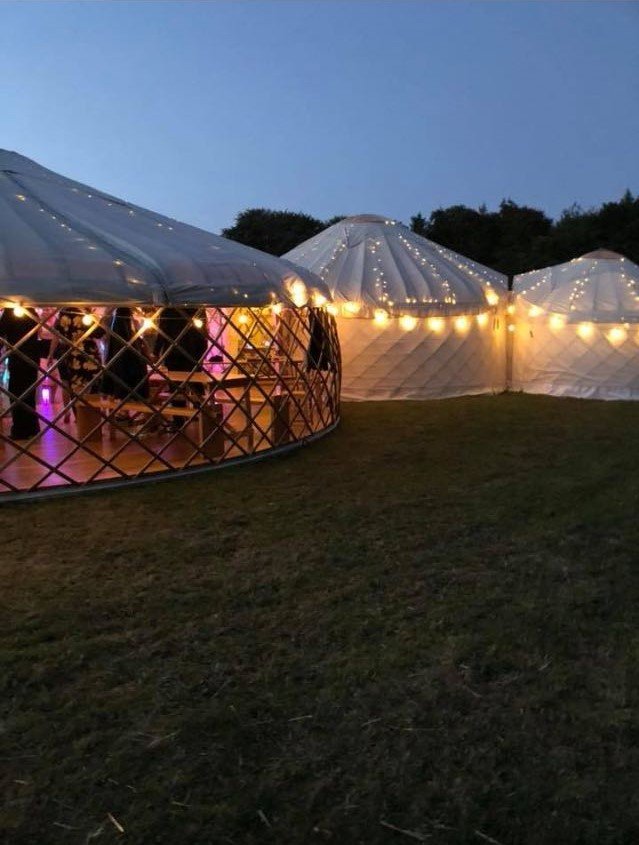 And so as the light began to fade, the yurts were turned into a fairy light lit dance floor. Beautiful from inside and out. As the sky turned red and then deep blue, the Yurts were lit up and the music started. We had a DJ who did the music for us, with all of our favourite tunes that we picked before.
I normally don't like dancing, feeling a bit awkward, but it's very hard to feel awkward when you're just surrounded by the closest people in your life. I had the best time! check out some of the photos of the Yurts below and some very blurred shorts from the dance floor!
The weather stayed pretty warm into the night but we also had a fire pit outside for people to sit around in the evening. If it got too cold you could always get up and dance!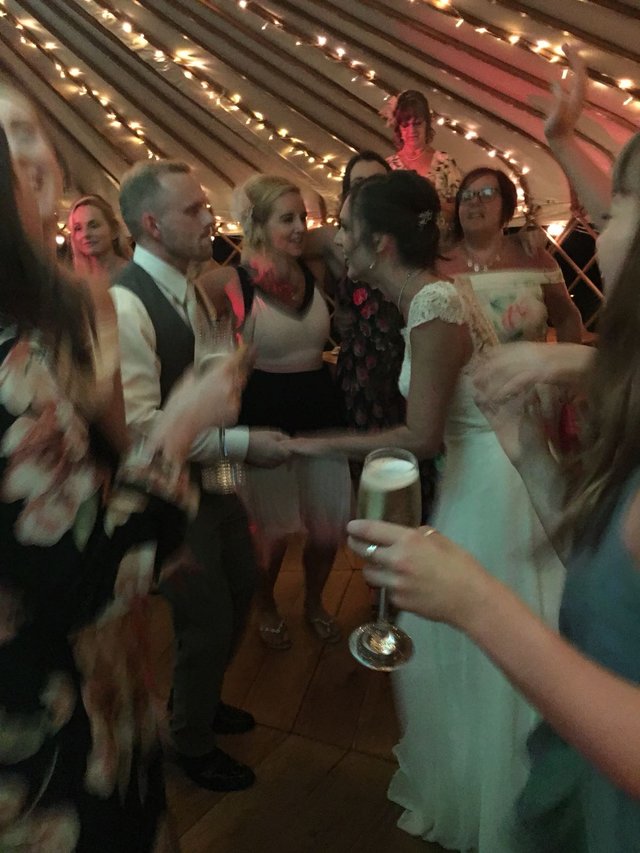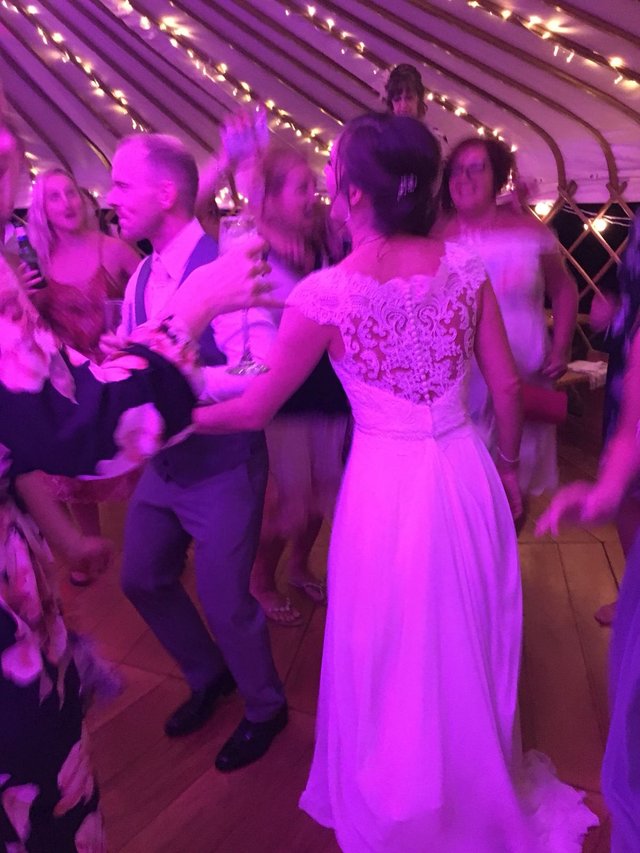 ---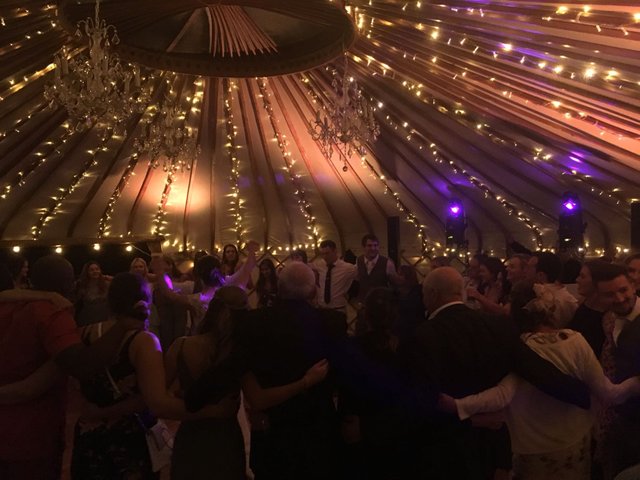 I hope you have enjoyed just a small part of my wedding day. I can't wait to share with you, my Steemit family, the professional shots that we had taken. We've already finalised them and the album but it will still be another week or so until they've been fully confirmed and edited finally.
I am so glad I could share a small part of this special day with you all. If you're new around here, hello!, it's great to have you here. I'm normally known for my health, food and life related posts so if you're in to any of that, then do give me a follow!
If you've enjoyed the post and want to give me a little wedding gift, please do vote for the post. I put my heart and soul into it and I hope you've enjoyed reading as much as I've enjoyed reliving the day with you. How does this wedding compare to yours or any you've been to recently?! Comment below!
Yours in health,
Ben