Car accident in Georgia in a rental car and I'm from Pennsylvania - advice and input requested
Spent the week in the Atlanta area last week. I rented a car through a lesser known company called Sixt. They provided great customer service for what it is worth. By default, they require you to rent with a credit card and automatically put the Liability Damage Waiver (LDW) option on your car and then will refund it if no damage happens to their car.
I think this sort of practice is kind of strange because I don't understand how an insurance option can fund things by refunding them if they are not used. It's good for the consumer though.
I end up getting into an auto accident for the first time in my life and I am 47. People tend to stop quickly in Georgia, go slow, go fast, it is a little more erratic than the New York/New Jersey/Pennsylvania style driving I am used to. In those areas, everyone goes quickly, stops quickly and there is no feeling of complacency. You have to be on guard and have no issue being that way. In Georgia, it seems people relax, then do panic stops when needed, even on a highway. This can be a bit alarming even for a well seasoned accident free driver from the Northeastern USA area.
I am near getting off an exit of a highway (route 400 for those who know the area), people are moving along just fine, then suddenly, everyone comes to dead stop in my lane. I was about to rear end the person in front of me, no question about it. I quickly hit the turn signal left, looked over to my left, saw space to change lanes while skidding to slow down and changed lanes. I accelerated quickly and was still doing about 35 MPH while all of this was happening. As I accelerated, the person now behind in the new lane ends up rear ending me while doing about 55 MPH and I was probably doing 40 MPH by then. When I was hit, I was moving already and was jolted forward. It was a similar feeling to a bumper car that was already moving and gets hit.
I had 4 occupants in my vehicle. Myself, my girlfriend, and my 2 teenage sons. No one was hurt in my car. The car behind me, who now rear ended me had their airbag deploy and said there was some minor burns from the powder of the air bag, but no injuries.
The rear end of my rental vehicle was wrecked.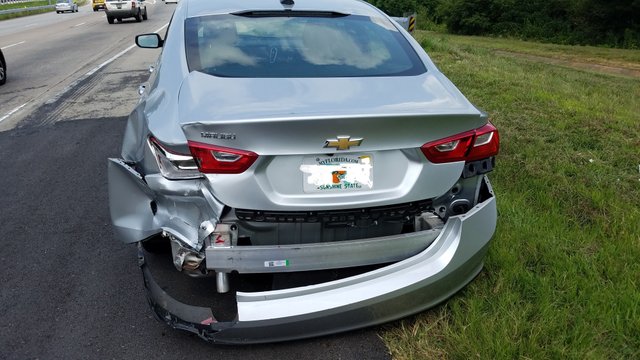 As you can see, it is pretty much the driver's side. I was moving over from a right lane to a center lane and then was hit about 5 seconds afterwards.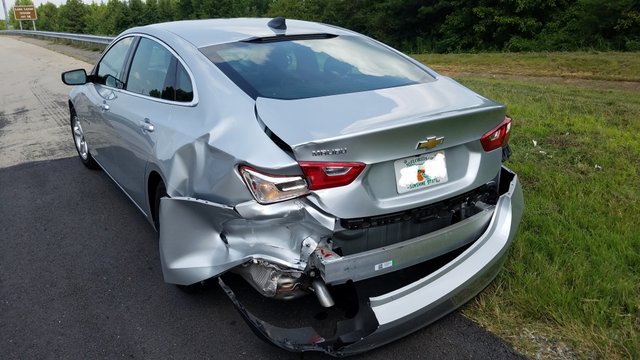 The Deputy Sheriff from Forsyth County arrived on scene. I was treated basically as if I was a criminal. I explained to him that I was avoiding a rear end collision, changed lanes and then was hit seconds later while moving. That was about all I was allowed to say. He also asked the occupants of my vehicle if they were injured. They requested ID from my girlfriend, but she didn't have it on her, as we were just returning from a rafting trip down the Chatahootchie River and she didn't want to bring stuff that might get ruined. He didn't seem too concerned about that, but did take down everyone's names and birthdays.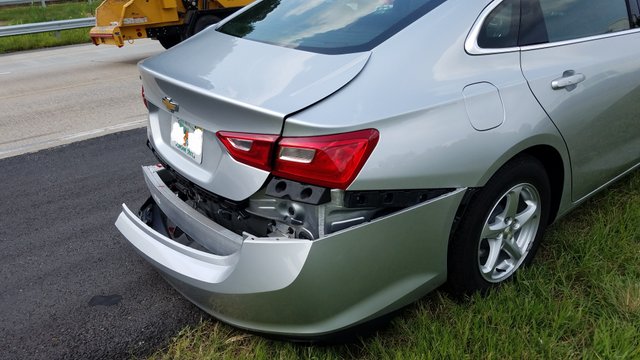 Somehow, I received a citation for Georgia state code 40-6-123, which is for a failure to signal and I was held at fault for the accident. This is despite the fact that all of the damage to my vehicle is to the rear end. The other car was a newer Honda Pilot which primarily had front damage to the driver's side bumper area, and of course the air bag deployment.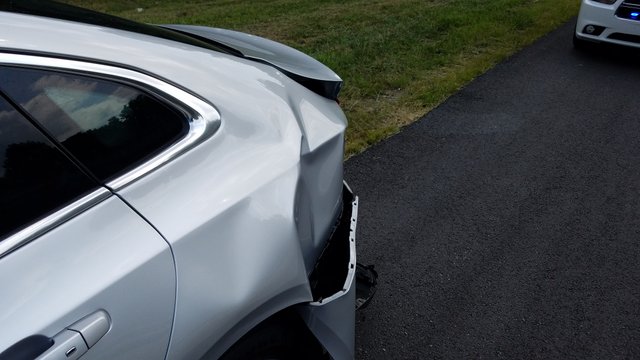 Now I have a multitude of issues to deal with after talking with the rental car company, my insurance and the rental car company's insurance. The other driver's insurance doesn't come into play apparently since the citation was issued placing me at fault, before I even have a court date, which isn't until October in Georgia. Please bear in mind that I live in Pennsylvania.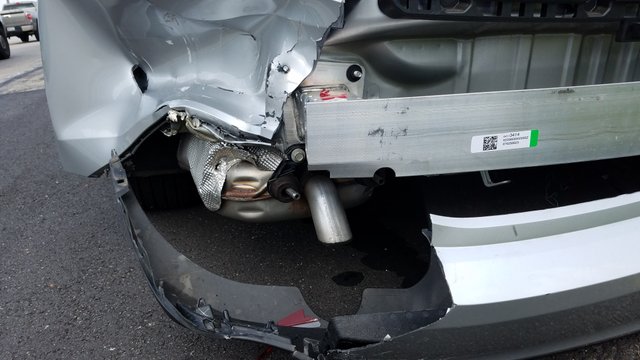 My questions go out to law enforcement officers, lawyers, insurance agents, frequent travelers that use rental cars, or anyone else with any sort of experience with this sort of thing. I think I was basically discriminated against based on geography and the fact that I had a rental car. This was not racism. This felt like a money jackpot settlement for the other party because I wasn't a local and the other party was and the Deputy was going to take care of their locals. The Deputy came back to me after 45 minutes of processing paperwork and talking to the other driver. He said that based on the testimony of the other driver and what I said, (which was basically what I wrote here up above) that I was driving erratically and "cut off" the other driver causing an instant impact when I changed lanes and that I did not signal.
He wrote the citation up simply saying "failure to signal". 40-6-123. I asked if we collided instantly, then why wouldn't the other car have damage on it's passenger side and not the driver's side in the front, like it does? He simply said that he didn't know. There is a whole sketch of the accident which is completely depicting the accident as it didn't happen. He also notes on the citation that there were no injuries. No ambulance came to the scene. Yet, on the police report, it states "Injuries: 1". Now the other driver is saying that they are injured and I don't know the extent of the injuries. The insurance company hasn't disclosed that to me yet.
From what I can see, I am in spot. According to internet research, Georgia is 1 of 5 states that do not share points with other state systems. If this were a speeding ticket, I would have no concern paying the ticket, pleading guilty and mailing them a check with no concern of my insurance going up. Instead, I had to involve my insurance company because I have liability issues with the other person's vehicle and health. My insurance is State Farm. I come to find that the other insurance company that I am dealing with is Nationwide and they are Sixt's (the rental car company) insurance. Even though, I have the LDW, they are still going after my insurance to pay for the damage to their car, despite my spending another $236 for 8 days of LDW. Keep in mind, that if this accident were not to have occurred, I would have paid only $265 for the whole week and had the LDW refunded.
I looked up what a Georgia 40-6-123 charge is worth. It is 3 points which likely won't transfer to the PA DMV, but my insurance company already knows about it, so my rates will go up without a doubt. The 2 charts I found show that the citation will cost a total of $194. I also thought I read in my declarations page that if I am renting a car, I am only covered for the rental car itself, not others property or injury. I have full tort good insurance and am surprised to read that. Maybe I am reading that wrong.
I also contacted a few local traffic lawyers in the Georgia area. Most of them want $750 to represent this. This hardly seems worth it if my insurance is already going to go up and I am already guilty before ever being prosecuted. The insurance companies told me they can start processing the claim long before the citation hearing date. The two have no bearing on each other. They go by the police report.
Any thoughts or comments on this about what I should or should not do?