How to delete any trace of you on the Internet
When surfing the internet, a lot of information is stored in your web browser as well as in the sites visited. Here are some steps to make to leave less traces or disappear completely from the Web.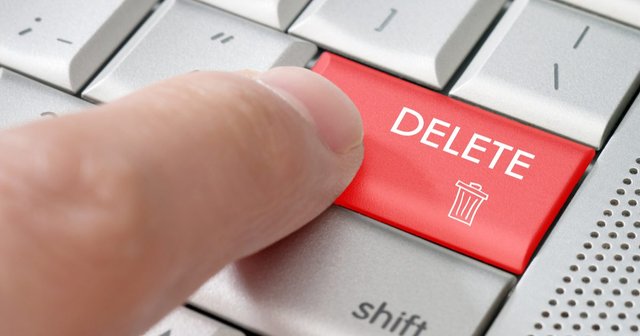 source image
Delete browsing history
To delete all actions performed on the Internet: visited sites, data entered, passwords ... first delete the Internet history. Be careful, this action will delete the passwords saved on your computer and cookies, which may disrupt your next browsing.
For Internet Explorer, go to Tools> Security> Delete Browsing History. Check the boxes that correspond to what you want to delete and click "Delete".
For Google Chrome go to the menu button (top right)> Tools> Clear browsing data and check "Clear browsing history" (if it is not checked by default).
In "Clear datings ...", choose the "From the beginning" option and click on "Clear navigation data".
For Firefox go to History> Delete Recent History> Details and check the delete options. Then, in "Delete Interval", select "All" then "Erase Now".
There is also a keyboard shortcut to quickly clear the browsing history. To do this, simply press the Ctrl + Shift + Delete keys simultaneously and delete the navigation data.
Adopt private browsing mode
Surfing the net incognito is possible! If you're using a work computer, cybercafe, or friend, switch to incognito mode so you do not leave information behind. Just press Ctrl + Shift + N for Google Chrome or Ctrl + Shift + P for Internet Explorer and Firefox at the same time.
Install security software
Make sure you have an antivirus and firewall to protect your computer and make sure to accept the update request quickly.
Quit social networks
An effective way to disappear from the Internet is to disable or erase its accounts on social networks: Facbook, Twitter, Instagram ... some photos or status will still circulate but the majority of data will be deleted. You can even download a copy of your information before leaving the social network. But beware, deleting your social network accounts will also disable your access to other sites on which you have registered with your Facebook account for example: Trip Advisor, your games applications, Pinterest, Candy Crush, Zynga Poker ...
Say goodbye to your old accounts
Remember to delete your old sites or blogs as well as accounts created on the forums or any other site.
Easily retrace all your old accounts using sites like Account Killer, Deseat me or Just Delete Me ... that will help you find all the sites you could have subscribed to and help you unsubscribe.
Disappear completely ... or almost
If you do not know how to do it, call Web cleaning professionals. These are agencies specializing in personal e-reputation.
To protect yourself on the Web and avoid having to erase your tracks on the Internet, have the right reflexes. Do not share content that could hurt your personal image, or that you may regret later. Do not share personal information. Use secure passwords with lowercase and uppercase letters, numbers, and punctuation. Do not surf on questionable sites. Look in the address bar of the site. If the URL starts with https, the site is safe.
It remains impossible to disappear completely from the Web but by following our advice you can remove as much information as possible.