FLEETING MOMENTS OF THE NEW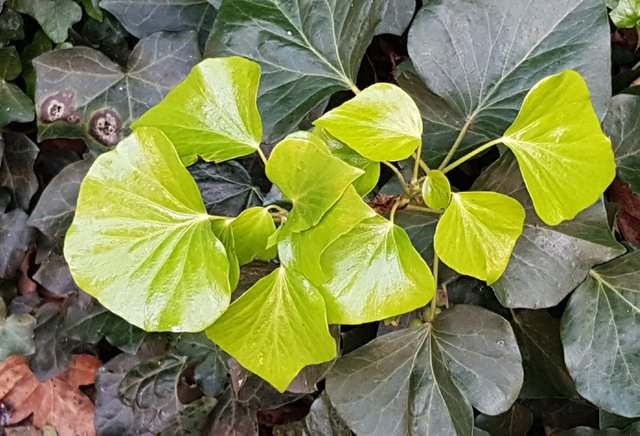 Standing at a local bus stop in Kingston recently, I happened to glance down and saw this sweet new ivy bursting from the growth of greenery by my feet. I immediately took a photo as I was impressed with the vibrant colour that seemed to illustrate that somehow, amongst all the gloom of the grey skies, there was Spring trying to get out.
Life is fleeting too, sometimes (if you're very lucky) you get to be of an age that remembers things that many others can't because you can count in decades. I a now at that age. I am fortunate that I have reasonably good health and taking my granddaughter's puppy Neo out for walks (or runs!) twice a week keeps me feeling fitter. I also learned of another secret and that I will reveal in another post.
We have a new nasty thing to deal with now and the Coronavirus is becoming more and more widespread, if I don't take care then as a "vulnerable" I could become infected just because I am of that certain age. Especially as I am carer for my husband who is of similar age and with so many ailments it's hard to keep up with his GP/hospital appointments and medications. Sometimes measuring out his meds for the week ahead, usually on a Sunday, including now my own (since I had Sepsis and survived in 2018) I tell him I feel like an Alchemist!
However, a born optimist, I am hopeful that containment will keep the virus at bay and that world politicians will wake up to getting testing, tracing, medications and hospital beds organised sooner rather than later. The uncertainty is dreadful and now we have"community spread" it's worse.
As am optimist there is always something around the corner that will be good, and I believe in goodness. I am reading the wonderful Iris Murdoch's book: "The Sovereignty of Good", which to my untrained mind is a bit of a hard slog and I have to re-read pages sometimes as it is taken from her papers on Philosophy.
I have read, and thoroughly enjoyed, all her novels and I only recently realised that the reason I believe in goodness is because she did. By osmosis if nothing else, I have taken on her philosophy and believe in it.
So we live in a world where Climate Change isn't taken seriously enough and that is a real worry. There are some movements to change things, but I am not sure if enough will be done in time before this planet (and we only have this one) just can't take any more. What are we leaving to our young?
I will stay optimistic, I joined Earth Day Network and something big is happening on the 23rd April. More on that when I know more. Meanwhlle just by recycling sensibly, walking rather than going by car, saving electricity etc we are at least participating in a movement that can bring change if enough people believe in it.
I'm back and will be in the mix soon, curating and posting, all I need is time!
Enjoy your day!