WHY I WRITE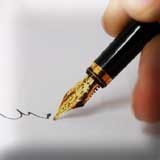 The other day, someone I'd recently met told me they wanted to be a writer. I told them "Just sit down and write" and they looked at me in amazement "but I can't write!" I said as long as you can read and write and know the basics of grammar and punctuation, all you have to do is put down your thoughts and from then on it will get easier.
When asked why I write, I answer that it's because I have to. I am fortunate in that I like to tell stories (as opposed to lies!) or weave tales that others may find interesting. I have had this ability since a child and especially when a teenager. When working in London in the 1960's I had a girlfriend who was from Sydney, Australia. We got on very well indeed and she told me about where she lived and it all seemed amazing.
Her family came first from the UK as many others did, and they lived in New South Wales near Manly Beach, and it is possibly one of the lovliest beaches in Australia. She told me about her father and especially her mother, who everyone called "Mumma T". She said she felt guilty that she didn't write to her mother as she should and asked me if I would write to her. This I did, and a friendship began that lasted for over several decades.
My girlfriend eventually went home to Australia and eventually married her fiancée, and possibly typically, she never wrote again. I had her mother tell me all her news and I sent love that way, a little disappointed, but really not surprised. A couple of years later I met another Australian girl and we got on like a house on fire, lots of laughter and interests and we had a lot of lovely times together before it was time for her to go home, a long way away.
I remember going down to Southampton to see the arrival of newcomers to the UK this was a regular occurance and for Australians a chance to see the world. Since many of their backgrounds were originated in the UK it was something they felt they had to do. From that day I got to know many Australians and have liked them all ever since.
I never did get to Australia, but even today I have friends who I am still in communication with. That second girlfriend and I stayed in touch until her untimely death from a heart attack. She was one of Australia's young athletes in her youth and fit all her life until a heart attack at 50. She died a few years later. We kept in touch all through the years, hearing about each other's families, and our own fortunes and woes. I will never forget either of those two lovely people and especially Mumma T.
So I suppose the letter writing was a precursor to my writing professionally years later. That came about because an ex editor of the New York post who lived in Athens where I lived at that time, and who was now the editor of an English language magazine, asked me to write him an article "on any subject you choose".
His thought was that if I could write as well as I spoke, then he'd like to read something I wrote. I was flattered and a little puzzled. The outcome was an article I entitled "Undercover story" and it was the history of underwear. I still have a copy. He said it was well researched and he found it interesting enough to publish it. I never stopped writing professionally after that, for him and for others.
The person whom I met recently said he would go on a creative writing course to hone the skills he would need. I said that was a good start, but if he wanted to write then he should sit down and write. I told him that if this was so, he wouldn't be able to stop himself writing. I consider myself lucky. Years ago I met a retired literary editor who wanted to see my work. I went to tea with her after she had read a couple of things she had asked me to send her in advance.
By the time I met her I already half decided what I really wanted to do. She had asked me what I wanted from my writing, perhaps fame? I said no I just wanted to carry on writing and earn money doing so. I had completed an anthology of my short stories. She told me that my writing was very visual and she recommended I should write screenplays.
That's exactly what I did. I ended up with fifteen copyrighted scripts and had gone through plenty of "how to's" and read books and attended seminars and joined the wonderful Indie movie organization "Raindance" in London, (on right now and I'm going to attend one of their screenings this very evening) then I went on to get my basic Director's certificate and that gave me a really good idea of how a director looks at a story.
I write something every day and I have a busy schedule, still working after the considered age of retirement and fortunately still enjoying it. Recalling the advice I received very early on from a travel writer, that I should write about things I know and then write whatever I fancied. Another good writer gave me a list of books I should read that would guide me in the craft of writing. I give the same book list to people who ask me today.
There is no real way that you can tell if you are a good or bad writer, does it matter? Only if you want to earn money from it. As long as I am interested in sitting down to write, then I do it. It isn't a choice, it's a compulsion. I really don't want fame but it is good to earn money at what you write. I decided long ago that if I made it by selling one of my many screenplays, then I would go into that full time. It hasn't happened so far, despite many false starts. Perhaps this will be the year.
So I am restarting my website and my stories will be on there among many other things because that's how my brain works, very muliti-faceted. It will also give me the opportunity to publish on there the writing of others who need s bit of a boost. It's also exciting to read what other writers think and especially when they are talented.
So the old mantra of the theatre industry comes to mind "bums on seats" and the only bum on any seat right now is mine and I still can't stop.