KasiaRecommends: Gustav Klimt. "All art is erotic." (# 2)
Dear Friends,
I am so glad that you have enjoyed my last post about Gustav Klimt. Some of you didn't know his works and it was the first occasion to come across it. Being able to spread a little bit of beauty on Steemit is a bliss!
As promised, today I'll continue the voyage through Klimt's life and heritage.
Gustav Klimt didn't write a journal, diary, neither had he made auto portraits. This is what he was claiming: "I have never painted a self-portrait. I am less interested in myself as a subject for a painting than I am in other people, above all women... There is nothing special about me. I am a painter who paints day after day from morning to night... Whoever wants to know something about me... ought to look carefully at my pictures."
The use of golden leafs made his art easily recognisable from other artists. The other unique feature of most of his paintings is that they are not three but two-dimensional, bringing to mind the Byzantine icons.
Although, as I have mentioned in my previous post, his work was judged by part of society as being obscene and pornographic, he became famous at the same time. Along the recognition came money, so Klimt didn't have to fight for commissions or patrons, on the contrary!
"The Kiss"
"The Kiss", painted in 19 07, is one of Klimt's most recognisable pieces, with almost iconic reputation.
This painting is very symbolistic. It's all about love, passion, and… erotic. Man is presented as strong and protecting, his gown is ornamented with squares and rectangles, which evokes and is associated with man's sexual organ. Woman is shown as delicate, soft, she welcomes the kiss with charm. Her robe, on the other hand, is flowery, filled with concentric circles and spirals, which can be seen as a symbol of feminine sexuality, and fertility. By some, she is also seen as a symbol of "mother nature".
"The Death and Life"
"The Death and Life" won the first prize at the world exhibition in Rome in 1911, something that, it is said, pleased Klimt much.
The masterpiece is divided into two separate fragments: Death occupies the left part, and Life the right one.
Death is depicted and the classic grim reaper, a grinning skull, covered in a dark robe covered with symbols. The main symbol we see covering Death is that of the cross. (…) we see life. We see a number of young women lying on a flower bed. We see a newly created life, a baby, lying in their arms. We see a muscular man holding one of the women and we see an older woman also lying in the middle of the group. The depiction thus covers people, young and old, with a focus on the adults in their best age. There is an over-representation of women in the painting which could refer to women as the source of all life. It could also reflect Klimt's preference for depiction women, preferably somewhat undressed.
source
"Portrait of Adele Bloch Bauer I"
Not my favourite, but I feel I cannot omit it because it is one of his most recognisable portraits, and became yet another icon of twentieth century's art.
This painting is almost completely covered with golden leafs, but somehow that doesn't make it overwhelming or tacky. The piece itself is not so profoundly symbolic like most of his work.
Some say that "Adele" owes its popularity to its intriguing story and scandals. Klimt was commissioned to paint the portrait by one of the Vienna's wealthiest industrialist. Later on, the family lost it when Austria was annexed by Nazis, and after the Second World War, the painting remained in Austria, open to public visitors. And it's here where the story gets exciting. Maria Altmann, the industrialist's niece, started a legal battle for its return against the Republic of Austria, which was widely criticized. After a lengthy trail, she won in 2006, and the judge obliged Austria Austria to return the masterpiece to the inheritress. Soon after that she has sell "Adele" for the stunning amount of money - 135 million US dollars, which, at that time was the highest price paid for a work of art at auction.
This exciting story was filmed in 2015 by Simon Curtis. The movie called "Woman in Gold" is definitely worth your time if you are, like me, a fan of Helen Mirren's talent, as she was cast to play Maria Altmann.
Landscapes
Klimt is not commonly associated with his paintings of landscapes, but he enjoyed them and made quite a significant amount.
These are the examples that I particularly appreciate: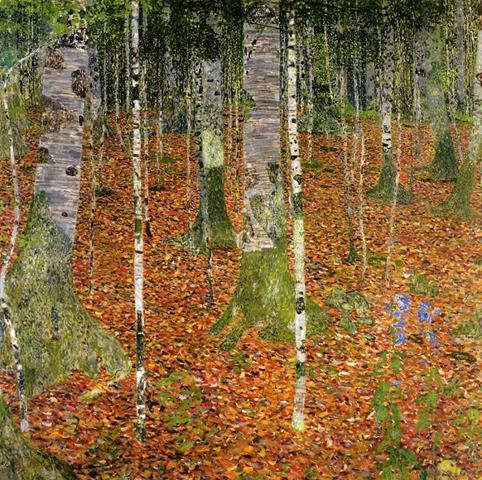 Beech Forest. Source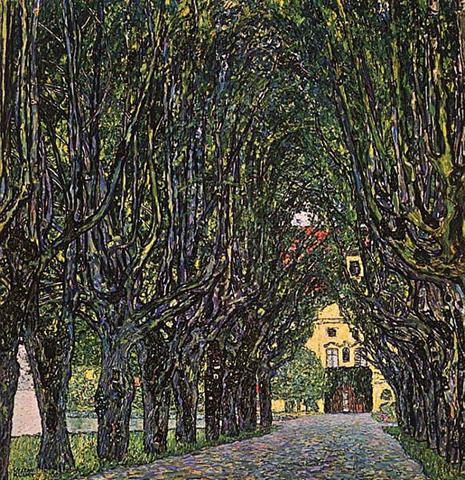 Avenue-of-Schloss-Kammer-Park. Source
Gustav Klimt died in 1918 at the age of 56 and was buried in Vienna, Austria
I hope you have enjoyed this walk through Gustav Klimt's life and art. :)
Sending joy!
Kasia
My latest recommendations: