Free WhatsApp Seminar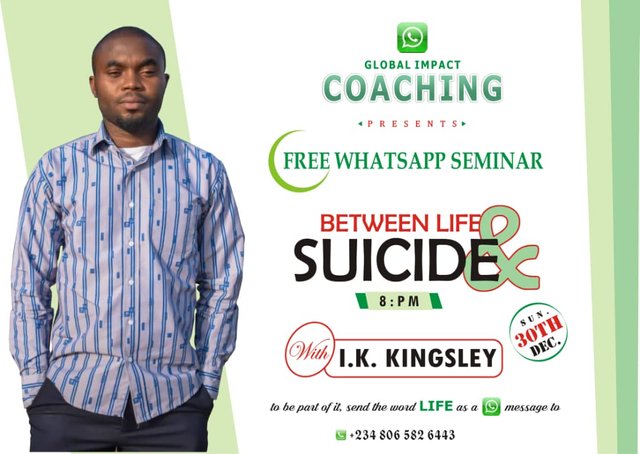 Hello. Few months ago, the Federal Government of Nigeria reported that about 40million Nigerians suffer from mental disorder.
Wait...don't get this wrong, some of such people still go about with suit and tie and wear beautiful make ups. So, what exactly are they talking about?
Thousands of people are slipping into depression on a daily basis and this is as a result of family or work stress and the economic condition of the times we are living in.
Worse so, as much as 5% of the entire population have attempted suicide and a significant number of them succeeded.
It's worrisome, but life long changes can be made. Thus, the need for this online program. In this online seminar, we will be taught;
How to manage your thoughts to prevent 'depressionistic' tendencies.
How to find meaning to life again after a failed relationship or marriage, lose of job, death of a loved one etc.
The scientific reason some suicide bombers fail to pull the plug to fulfill their mission.
The best options to life, instead of the suicide option.
Scientific reasons that prove the negative rise in suicide in teenagers and married people and how to curtail the ugly trend.
This seminar will hold on the 30th of December, 2018 at 8:00pm, live on WHATSAPP.
You can be a part of it by using one of the following options;
Send a WhatsApp message with the word LIFE to +2348065826443.
You can enter the WhatsApp group straight by clicking on the link below👇🏼
https://chat.whatsapp.com/BFuqWsERU1i2bZNVOoMPOW.
Or you can participate on Telegram by clicking on the link below👇🏼
https://t.me/joinchat/AAAAAFJ7NG0xm9uT1s3Hlg
Feel free to invite your friends. Its Free and coming straight to meet you at the comfort of where'er you may be.
Cheers
Kindly help resteem