Teach your child to be funny!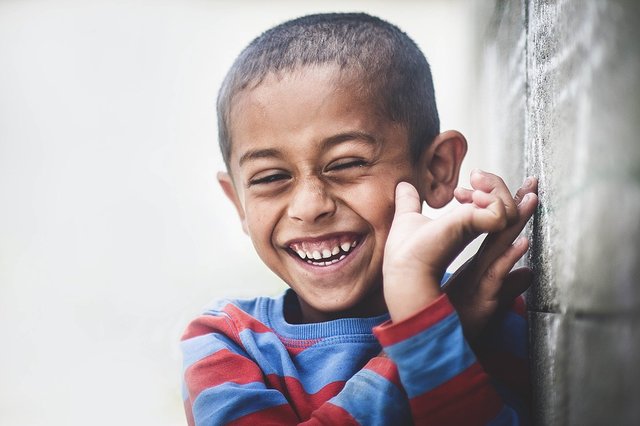 Children are like a sponge. They absorb any piece of information that circulates around them. Their curiosity knows no limitations. They are capable of learning a foreign language faster than adults, they adjust to change easier than their parents, they worry less about tomorrow and they are anchored in the present.
Usually children imitate the behaviour of those around them. Everything they say or do is influenced by what they have witnessed at home. If exposed to a healthy family behaviour where love, care, compassion and respect are taught as values, the child will be more mindful, caring and self-confident.
A child`s sense of humour is also shaped by his environment. When puns and jokes are share with kids from a young age and the child is encouraged to participate, his sense of humour will slowly develop. Many people tend to believe that humour is an innate trait although it is a learned quality.
Children like playing and having fun. Usually these activities involve laughter. Making them laugh is a great way to connect and create a strong bond.
You may have noticed that the only way to break the ice with your friends` kids is to make them laugh. Laughter breaks down the walls and allows them to establish a connection, eventually to build trust.
As the children grow, their sense of humour becomes more sophisticated. They go from simple silly jokes to more elaborated puns. Sarcasm and dark humour are no stranger to them, if that type of humour is used in the house.
Although their smart lines may make you laugh, you need to know where to draw the line as not everyone will get it. Some of their remarks may be interpreted as mean or disrespectful and they could get in trouble with their peers, teachers or others. Defining boundaries helps them understand when and where they can use their sense of humour.
Children exposed to a humour rich environment are more spontaneous and learn not to take themselves too seriously. Humour allows them to see the world through a different lens and to grasp unconventional ways of thinking.
Helping your child develop his sense of humour will pay off as it will help him integrate better in the society, make friends easier or even handle a bully in his school.
Spending quality family time, laughing at movies or playing with your child, encouraging his attempts of being funny are great ways to cultivate a good sense of humour. When you turn a negative event into a positive one by cracking a joke, you teach your child that any small catastrophe can be dealt with lightly, without being dramatic.
What about you? What do you do to help your child develop a good sense of humour? Are you a humour role model? Have you created your own family traditions? Do you have any silly family jokes or pleasures?

Drop me a line the comments section below if you like what you read!