You Gotta Be In It, To Win It!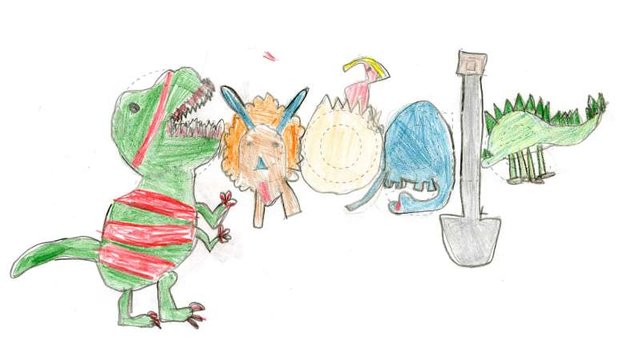 Anyone who has turned on a computer in their life has, in all likelihood, seen the differing homepages of Google.com. Here is a screenshot of today's Google homepage, educating us about the Summer Solstice 2018:

These different Google logo adaptations are educational vignettes about a particular event, person, date or thing that are usually fun and very interesting... not to mention educational. Part of this logo/education program is what they call "Doodle 4 Google" contest. This year is the 10th annual contest and garnered hundreds of thousands of entries, all competing for a shot of having their work displayed on Google's homepage for just one day. If you think about it, there are few other platforms that provide such a wide (globally, who hasn't heard of Google?), deep (about 3.5 billion searches are performed each day) and diverse (Google is translated into 149 different languages) audience exposure.
This year's contest winner is seven year old Sarah Gomez-Lane of Falls Church, Viginia. Her entry was the above image of dinosaurs arranged in profiles that emote letters that spell G-O-O-G-L-E (Although I can't say I can tell what the thing is that is supposed to be an "L". Looks like a shovel to me, but what do I know?). Her prize was $30,000 to go towards her college fund and her school is to receive $50,000 to help with "technology" purchases. Not bad for a second grader who made something with just a piece of paper and a few colored pencils on a rainy afternoon.
And that's my point. Is Sarah's drawing a masterpiece? Not that I'm an art expert, but my gut tells me no. No it is not. If my kid showed me a drawing like this would I think, "Oh. My. God! That's gotta be worth at least $50,000, maybe even $80,000! Let's send it to Google!"? No. I would not think that. To be honest, I'm still looking at Sarah's drawing and scratching my head in wonderment... and not without just a little jealousy.
But here's the thing. Sarah's mom had faith in her little girl. She probably didn't think at the time she would win, but she must have realized that Sarah had no chance to win if she didn't enter something. So, the googled dinosaur drawing with the weird "L" thing was it. Fingers crossed, with hockey-great Wayne Gretzky's sage advice on their lips "You miss 100% of the shots you never take.", they entered Sarah's drawing.
And to both of their credit, Sarah won! Entering was the first winning move, the true masterpiece of living. The money was just the icing. Sarah and her mom learned one of the most important lessons in life: You gotta be in it, to win it.
Congrats kiddo... you did good!
P.S. If there are any Google mucky mucks reading this, I've got some awesome stick figures that spell Google. I can let them go cheap, say $65K? Call me and we'll chat.
(Top image and story source: MSN