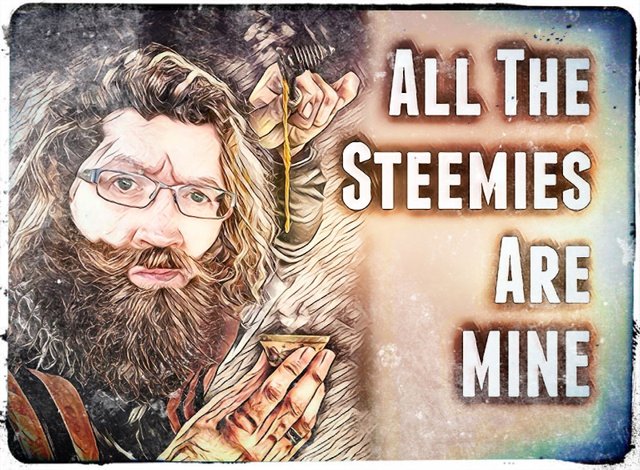 My phone pinged and reflexively I pulled it up and out of my deep lambs pocket and had a look.
Hot flaming shits?!
I gasped aloud, drawing no small number of disapproving glances, being, as I was, on the train.
It was a notification, just a simple one, one of those Gina bot things. The words were the things that had led me to gasp out loud.
meesterboom" was mentioned by @steemtorch in a post !
Exclaimed the notification proudly, almost as if steemtorch were a lady and she was proclaiming long and loud of the night of the long beef we had spent together.
I had heard of this steemtorch malarkey, heard of it but had never thought that anyone would be daft enough to throw it my way. Didn't they know that I had been working up to a heist of this magnitude for almost my entire life?
Were they unaware that in another life I was known as Raffles, the Gentleman Thief?
More fool them then.
This money was mine.
I would make off with it and concoct some outlandish excuse as to why I could not pass it on.
But what could my excuse be?
A wise old man once said to me that to defeat the game, one must first know how the game is played.
Deep words. Words it had taken me a lifetime to master. I knew that my first step should be to find out how this damned game worked. Only then could I set my phaser to stun as they say in the dark corners of some internet forums.
I clicked the link in the notification and quickly scanned the post that it led to.
---
Blah blah, blah blah...
@ryivhnn passed the torch on to @meesterboom
The torch contains 1030.0 STEEM
blah blah blah, pass it on blah blah blah...
---
There was a link in that post to another post with instructions.
I followed the trail and as I read the so-called rules to the game, a smile started to form on my face which spread and spread until my whole body was one big gaping mess of wet tongue and laughing teeth.
Oh, this was good. This was very good.
Almost straight away, I knew how to win.
I knew how to keep all those delicious steemies to myself and face no consequences.
Finally, the life I had always sought was within reach.
I smirked at the thought of being able to live like a King, maidens clad in cheap nylon and taffeta with pink Nikki Minaj wigs baking my gammon in their salt crust ovens.
I chuckled and it echoed sweetly through the now deserted train carriage.
I would keep all the steems by claiming that I couldn't read.
Simple.
If I can't read it, then how am I to know what it says?
Once again, I congratulated myself on my evil genius.
I transferred the Steems to my favourite villainous exchange and laughed aloud as I put my phone away in my pocket.
There was no point in keeping it out.
After all... I can't read.