Flashpoint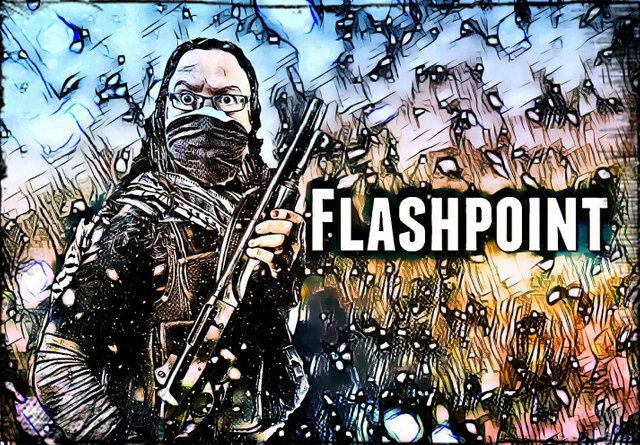 Excuse me, you've got two of the baby porridge?
A man with one vast eyebrow and thick glasses pointed at my basket and scowled as if looking down the toilet at a bog salmon.
We were in the baby food aisle. Around us, red-faced people were sweating and frantically shoving vast amounts of nonsense into their gigantic shopping trollies.
Armageddon had come.
I, on the other hand, was whistling a jaunty little tune, holding only a small handbasket to collect a few necessities. One of which was the baby porridge that prevents the Little Boom going boom.
I looked down at my little basket fondly, as if it were my first erection.
Yes, I do have two baby porridges. The little guy loves them.
I smiled in that long-suffering way that fathers do when they speak to other fathers who have been going through the same shit that they have all because they couldn't be arsed wearing a condom all those fraught years ago.
There are none left on the shelves.
Eyebrow said, with something of an accusing tone.
I looked to the now empty baby porridge section. He spoke the truth, I had nabbed the last two. I chuckled inwardly as that old saying ran through my mind - If you're not fast... you're last.
Somewhere nearby two women started shouting about cows.
Aye, hopefully they get some more in soon, eh? My wee guy goes through this like you wouldn't believe.
Again, I smiled. After all, the world should have more smiles. Especially with all the shit that is going on.
I noticed Eyebrow edge slightly closer to my basket. I had put it on the ground because I was too sophisticated a gentleman to be carrying a basket like an 18th-century washer-woman.
It's not really fair you taking all the porridge is it?
Eyebrow made a face at me as if he had burst into a room and caught me candling his wife's ears.
I always get two?
I said serenely.
Well, I don't think that's fair. You gonna give me one?!
He adopted a weird stance like he was a monkey with the runs trying to shit in a vase.
In a nearby aisle, something made a thud and a big splopping sound and a man shouted about calling the fucking cops.
Aha! Now I think I understood. This was like that video game, where society goes to shit and you have to make weapons out of anything available and kill your fellow man until you are the last one standing.
Or was that Highlander?
That would make Eyebrow the Kurgan then?
This was most unfortunate. Were we to be savages now? This was hardly gentlemanly. Perhaps I should offer him tickets to the theatre to cheer him up?
Eyebrow had reached my basket and was looking at me with a face that seemed to be made of equal parts corned beef and horse jizzum.
He tentatively stretched a hand toward one of my baby porridges...
Hmm. No theatre tickets for you, mateyfuckingchops.
If you touch my fucking basket I will fucking kill you.
Eyebrow froze mid porridge stretch then straightened up slowly.
Aye, alright, mate. Calm down.
He mumbled something about his wife killing him and huffed away down the aisle his shoulders bowed.
I nodded and picked up my basket.
We all have those wives.