She's An Apple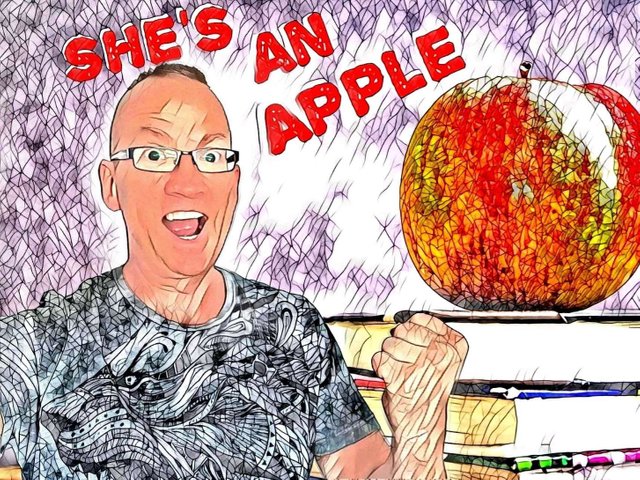 The little lady rolled around on the floor screaming her heart out.
Our house has been afflicted by the cold and everyone bar me was suffering from it. Well, I might have been suffering from it, it was hard to tell as I felt a bit foggy from the beers the night before.
As a result, the children were miserable.
This exhibited itself in different ways.
The little boom slept in a deep warm slumber for most of the day.
The little lady, on the other hand, demonstrated all that could be bad about 5-year-olds and had had about 17 different melt-downs and tantrums over the most innocuous of things.

This latest one was because I had asked her to eat over her plate.
This had led to the rolling around on the floor in a snot-faced mess screaming It's not fair.
I looked to the ceiling and sighed and then as if from nowhere started singing a song.

She's an Apple, She's an Apple, yeah. She's an Apple shes an Apple, she's an Apple oh yeah!
The little lady stopped roaring and screaming and looked at me from the floor in puzzlement. This was probably not in her top expected reactions.
What are you singing, Daddy?
Just a song from long ago, lass. She's an Apple! She's an Apple, yeah...
The little lady got up and grinned, hopping from foot to foot. She joined in.

We started singing loudly together swaying about holding hands. As we got more and more enthusiastic we pointed at each other and to ourselves.
You're an APPLE!
I'm an APPLE!
And on and on.
The good lady came in at this point, a smile coming to her face as she saw us singing and dancing together.
She began to join as I was pointing at her singing.
She's an Apple! She's an APPLE YEAH!
Suddenly her face screwed up like a Badger who has burnt the toast as the melody of the singing sunk in.

An Apple?
She mouthed quietly to me over the little lady's head.
You're an Apple!
I yodelled with great enthusiasm.
I pointed at the little lady.
She's an APPLE!! She's an APPLE!!!!
The good lady shimmied in closer.
Are you being funny? Do you mean Asshole? Like in that Dennis Leary song?
Oops... I've been rumbled.
if you don't know it, fast forward to the chorus 1.40