SPUD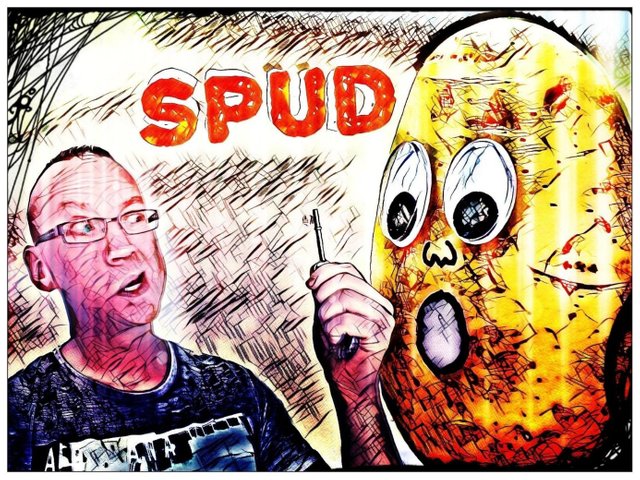 Did you power up some steem today, Daddy?
The little lady gazed at me with her big wide eyes.
What, are you fucking mad?
I shook my head and snorted like a bull scenting a finely vagina'd bullette.
But Daddy!? Today is SPUD!?!
She wailed.
SPUD!? You do know of course that a SPUD in this fine United Kingdom in which we live means potato, don't you? When I hear SPUD I think potato!? What do you want me to do? Eat some fucking chips?
But Daddy, you of all people should know that it really means Steem Power Up Day!? Please Daddy, power up some steem. Think of the children!?
The little lady looked bereft as if I was once again telling her that Santa was dead.
Is that who you think I am? Some fop, beholden to the whims and fads of others?
I chopped at the air about me with an iron hand as if I were surrounded by a flock of angry seagulls.
Do I look like a sheep!!!?? A follower of men!?
I roared.
But please Daddy... What will I tell the other kids at school?
I lowered my hand from it's devil seagull air-chopping. Sinking softly down on one knee, I gently took my little lass's chin with one hand.
What will you tell the other kids?
I asked, softly, as one would speak to a skittish baby horse.
Yes, Daddy. What will I tell them when they ask!?
Her voice broke and the sobs started tumbling out.
I hugged her and held her close.
Tell them I powered up 50 steem.
She stopped mid-sob.
Really Daddy! Really, are you going to power up 50 steem!?
I nodded and smiled.
Aye but you're fucking paying for it and it'll cost 18 pounds. How do you like dem potatoes?
Noooooooooo!!!
---
Of course I don't swear at my daughter. Or steal money from her pony fund. It is Steem Power Up Day though, why not power up some steem?
Go on you know you want to!