This Will make you feel fantastic, if you try!
   
The early bird catches the worm.  
Said as advice to someone, that they will have an advantage if they do something immediately  This Phrase is so true in live! 
A year ago I found out about a routine called the Miracle Morning and I read about how important the morning is if you want to have a productive day. It promised me that this was the best thing you could do, if you want to start achieving your goals and get the most out of your life! 
An important sentence in the book was: Do you want to be mediocre throughout your whole life? Or do you want the get the most out of it and experience how extraordinary you can be!

This one sentence motivated me to start out doing all the things I wanted to do and with full confidence. 

Miracle Morning Routine 
If you want to read about the Miracle Morning Routine checkout my other post: https://steemit.com/life/@mysted/this-will-transform-your-life-endless-energy 
Some highly succesful people 
Starbucks President Michelle Gaas sets her alarm at 4:30 AM to go running.
Gretchen Ruben wakes up at 6:00 AM and works for an hour before his family wakes up to focus on important things before the day starts. He a popular author of 'The Happines Project". Also time-manager expert Laura Vanderkam talks about how important the morning is in her book: 'What The Most Succesful People Do Before Breakfast".

Even Albert Einstein and Nikola Tesla seemed to be early risers and we all know what they did for our world! 
Ben Franklin's old saying Early to bed, and early to rise makes a man healthy, wealthy and wise. 
Already getting eager to try it out?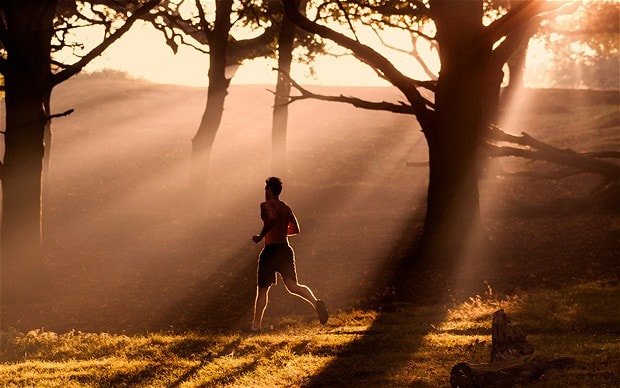 A little list of benifits of early rising: 
It helps you deal with negativity. 
Enhances your chances of succes. 
 Morning people are more persisten, cooperative, agreeable, conscientious and proactive.
Reduces stress and makes you happier. 
Procrastinate less. 
Better mental health.
Waking up early improves your quality of sleep.
 Oh man.. I could go on and on with this list, but lets stop it here. We got the point dont we? :) 
Why do I want you to try it out? 
So.. you must think. Mate.. are you selling me a book or why are you pushing this?
 Well, it's because I would really want to see other people do it and see them feel the experience themselves. At first I was sceptical about this whole early morning thing. Especially that book 'Miracle Morning". I first heard about from my brother he was doing the routine for a half year. 
That really impressed me because he was always pretty lazy and not ambitious.  Using the Miracle Morning routine he managed to get from a lowly paid job, to a fairly decent salary within a year time. Almost doubling it.  Eventually he told me I had to give the Miracle Morning a try. 
At first I was a bit defensive and sceptical about the whole matter. But hey.. he managed to get things done and I saw a big improvement in him. So why shouldn't I do it. 
How I started 
I was the worst person to be able to start with this routine, because mostly I was up till late at night and couldn't skip a night at the bar. 
Or.. maybe a glass of whisky while watching my favorite series. But I started off and it was terrible! I used to wake up at 10 or 11 in the morning. That's super late ofcourse! And now I had to wake up at 6:00AM! 

This was pretty hard for me so in the first week I Managed to do it a few days woke up at 8 the next day 7:30 and another day in that week at 7:00. How lame this must sound, but I was pretty amazed already. Waking up fit at 6:00 still seemed abit extreme.. but that was about to change. 
After the weekend, having some rough social conventions ofcourse (like partying). Now it was sunday and I was mentally prepping for this. At this time I was pretty stoked about starting it and wanted to wake up early at 6:00 to do the routine. I managed to pull it off and I was getting more and more enthusiastic about it. 
My inspirational moment 
At the end of the second week I woke up at 5:00 and went running for like 10 kilometers through the forest. It was still dark and I had this amazing adventurous feeling.
The forest and the lake had a little spooky vibe but also very mysterious.
And me.. what was I doing here, having a morning run at this time, I must be crazy! But no. It was taking life head on!
 
At that time I was looking over the lake, it had a little fog above it and in the distance over the lake I could see the city of Rotterdam. Everyone still being asleep.
That was a moment wich gave me a very powerful feeling. A state of mind in wich you are ready to start anything without fear. 
Because of this feeling I knew this routine was working. That changing yourself is possible. That you can be the architect of your own life. It is possible to take matters into your own hands. It's just a matter of choice. Does life run you? or do you run your life?  
The Actual place in Rotterdam where I was running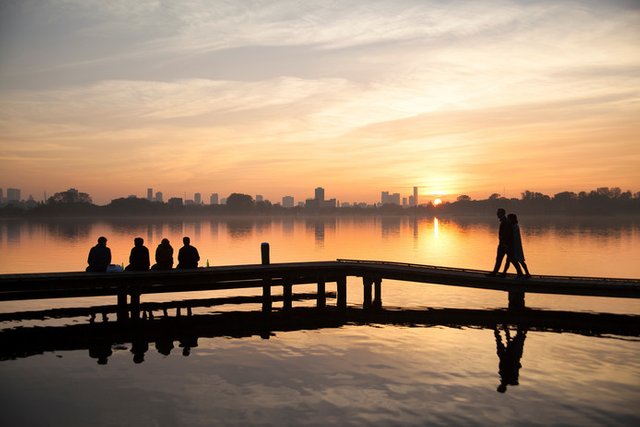 Conclusion 
I hope this story was helpfull for you and that I might have inspired you to take life head on! And be the best version of yourself. Because it's really helpful, beneficial and fun to do this.

The experience I went through practising this made me alot more active, fit, healthy, confident and happier person. I couldn't do it without the routine! So I hope you enjoyed reading and have an Amazing day!