Best hotels in the world!
Credit to: http://www.travelofferszone.com/best_hotels.html
Summer is here!
These are the most expensive and luxurious hotels in the world. It will make you feel comfortable and very relaxing when you stay in this hotels. But the thing is can you afford to go in any one of these?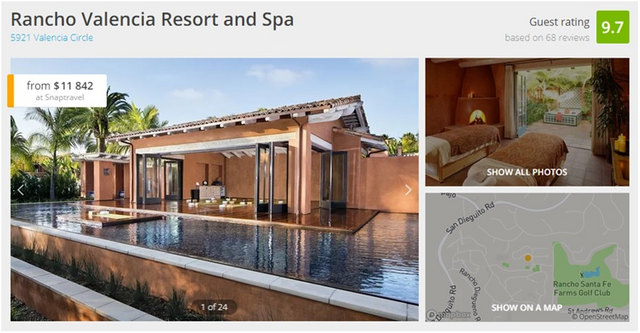 Guest Rating: 9.7
This resort has an area of 45 acres of gardens and olive groves, it is also 6 miles near from Del Mar Racetrack and 10 miles distance from Torrey Pines State Natural Reserve.
The hotel includes flat screen TV, stereo systems and private patios, plus high-thread-count linens, espresso machines, designer toiletries and 24-hour in-room dining. There is also a private outdoor pool and hot tub in the guesthouse
You will experience a good spa in the place or you can go to 2 heated pools and hot tubs near the vicinity. There is also a fitness center offers exercise classes, and sports facilities include tennis, croquet and bocce ball. There are is also a 2 restaurants and a wine bar, and Wi-Fi like other hotels and luxury car rentals are complimentary for those person that in need.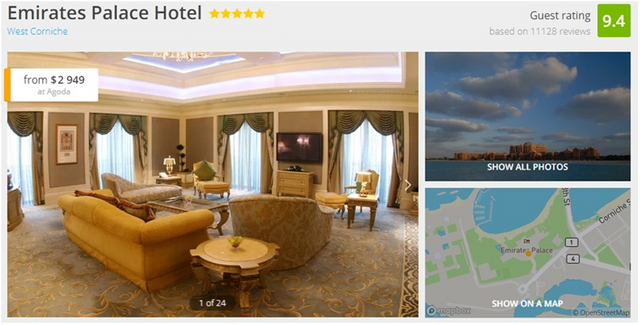 Guest Rating: 9.4
With an area of 85 hectares of landscaped gardens, this palatial beachfront hotel is near from both the Marina Mall and the Qasr al-Hosn fort in a 4 km distance.
This luxurious rooms has a feature balconies with garden, pool or Arabian Gulf views. All provide free Wi-Fi and flat-screen TVs. Suites add living rooms and whirlpool tubs. Room and butler service are offered as well.
The hotel also include 14 restaurants and bars, including a romantic BBQ eatery on the beach. Other amenities include adventure and leisure pools, a kids' club, and jogging and cycling trails, plus a spa and 2 fitness centers. It is also has a private beach and a marina. You can also rent a bike, join on a yoga sessions and experience a camel rides in that hotel while still in the country.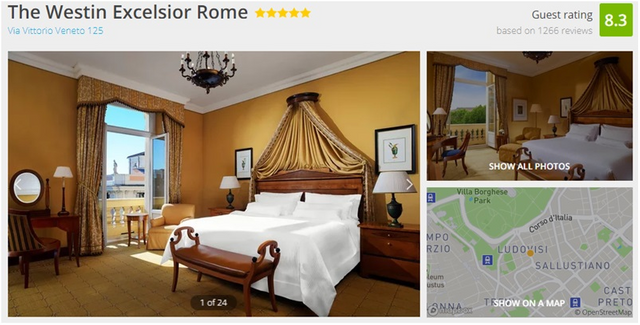 Guest Rating: 8.3
Even it has a low rating compared to other, this hotel has a refined rooms have crystal chandeliers, marble bathrooms and also flat-screen TVs. The suites add sitting areas; upgraded quarters offer whirlpool tubs while the opulent Villa La Cupola suite features a private cinema and a frescoed dome. They also have a free Wi-Fi. You will definitely feel the ambiance of Rome in this hotel.
Near this hotel you can get to the nearest metro station in only a 5-minute of walk. Additional 8 minute of walk from the Trevi Fountain and 2.3 km from the Roman Forum.
Amenities include a deluxe restaurant, a piano bar for everyone and an amazing ornate lobby. There's also a business center nearby and a fitness room for healthy purposes, along with a modern spa and an indoor pool. The parking is offered also. Burj Al Arab Hotel, Dubai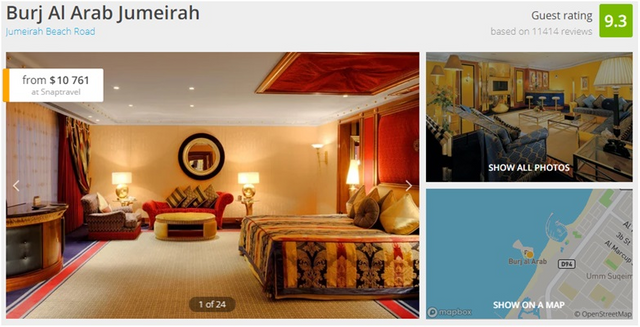 Guest Rating: 9.4
In this hotel you can go to the great amusement of Dubai such as Wild Wadi Water Park. Only 5 minutes walk to go there and there is also a big mall near the area (Mall of Emirates) only 4 km of walk.
The hotel offers a good view of the gulf country. You can take a look at their 24-carat gold iPads. Like other hotel, they also offer free Wi-Fi, flat-screen TVs and iPods. They also offer Egyptian linens, designer toiletries, whirlpool baths and butler service. When you upgrade suites they will include the snooker tables, libraries, cinemas plus private elevators.
There is a breakfast buffet in the morning, you can park there, and the water park passes are free. Amenities also include 9 restaurants and bars, 4 pools and a private beach. There's a spa, a gym, a helipad and they have a club for kids.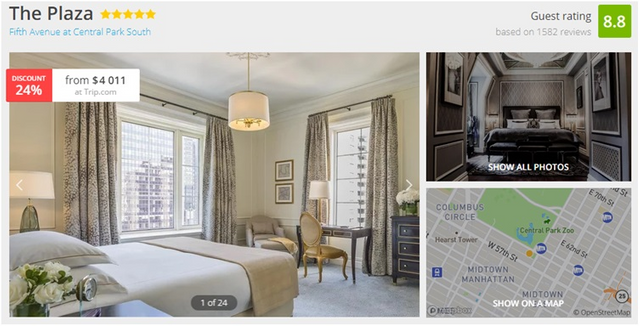 Guest Rating: 8.8
In a landmark 19th-century building opposite Central Park, this iconic luxury hotel is 1.4 miles from the Empire State Building.
Offering bathrooms with gold-plated fixtures, the elegant, French-style rooms have Italian linens and sitting areas, plus flat-screen TVs, Wi-Fi (fee) and iPads; some rooms have terraces. Suites offer city views, powder rooms and butler's pantries; some are bi-level. Room service is available.
Afternoon tea is offered in the famed Palm Court, which features a stained glass ceiling and lavish decor. There's also a European-inspired food hall, a storied jazz lounge and a luxe champagne bar, plus a posh spa and a gym.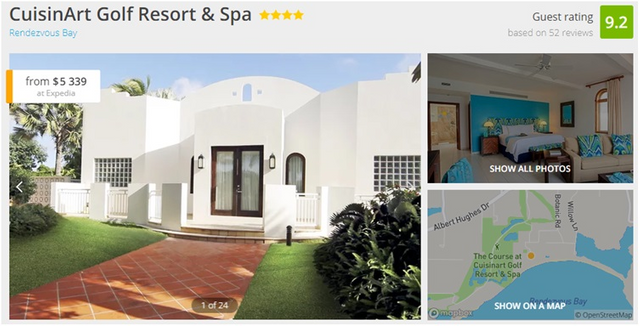 Guest Rating: 9.2
Set on a beach overlooking Rendezvous Bay on the Caribbean coast, this upscale resort is 8 km from Devonish Art Gallery and 9 km from Clayton J. Lloyd International Airport.
Featuring balconies with sea views, the airy rooms feature colorful decor, and come with sitting areas and flat-screen TVs. Villas have separate living areas and private pools.
There are 3 elegant restaurants using ingredients from the resort's farm. Other amenities include a spa, a gym, and an outdoor pool surrounded by sunloungers. Water sports equipment is available, and there's also an 18-hole golf course.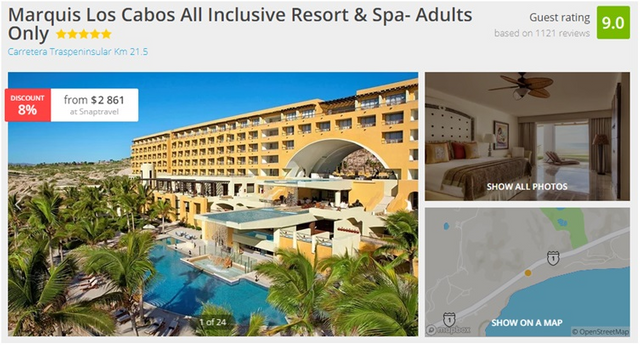 Guest Rating: 9.0
At the tip of the Baja California Peninsula, this luxe, adults-only, all-inclusive resort is on a white sand beach. It's 3 km from Cabo Real Golf Club.
Polished suites feature free Wi-Fi, iPod/iPhone docks and flat-screen TVs, along with minibars and pull-out sofas. All have balconies or terraces offering sea views. Upgraded suites add living rooms and private pools. Room service is available 24/7.
Complimentary meals are served in 4 international restaurants. There are 2 bars and 3 pools (2 are infinity), plus a day spa and a gym. Activities include dance lessons, archery and tequila tastings.