We Bought A Car In A Bunnings Carpark Tonight: Didn't See That One Coming!
What an evening! We've recently been going through a process of simplifying our lives and part of that has been downgrading our car that was costly to hold and was causing stress due to unmet expectations. I did a write up on the motivations for that here.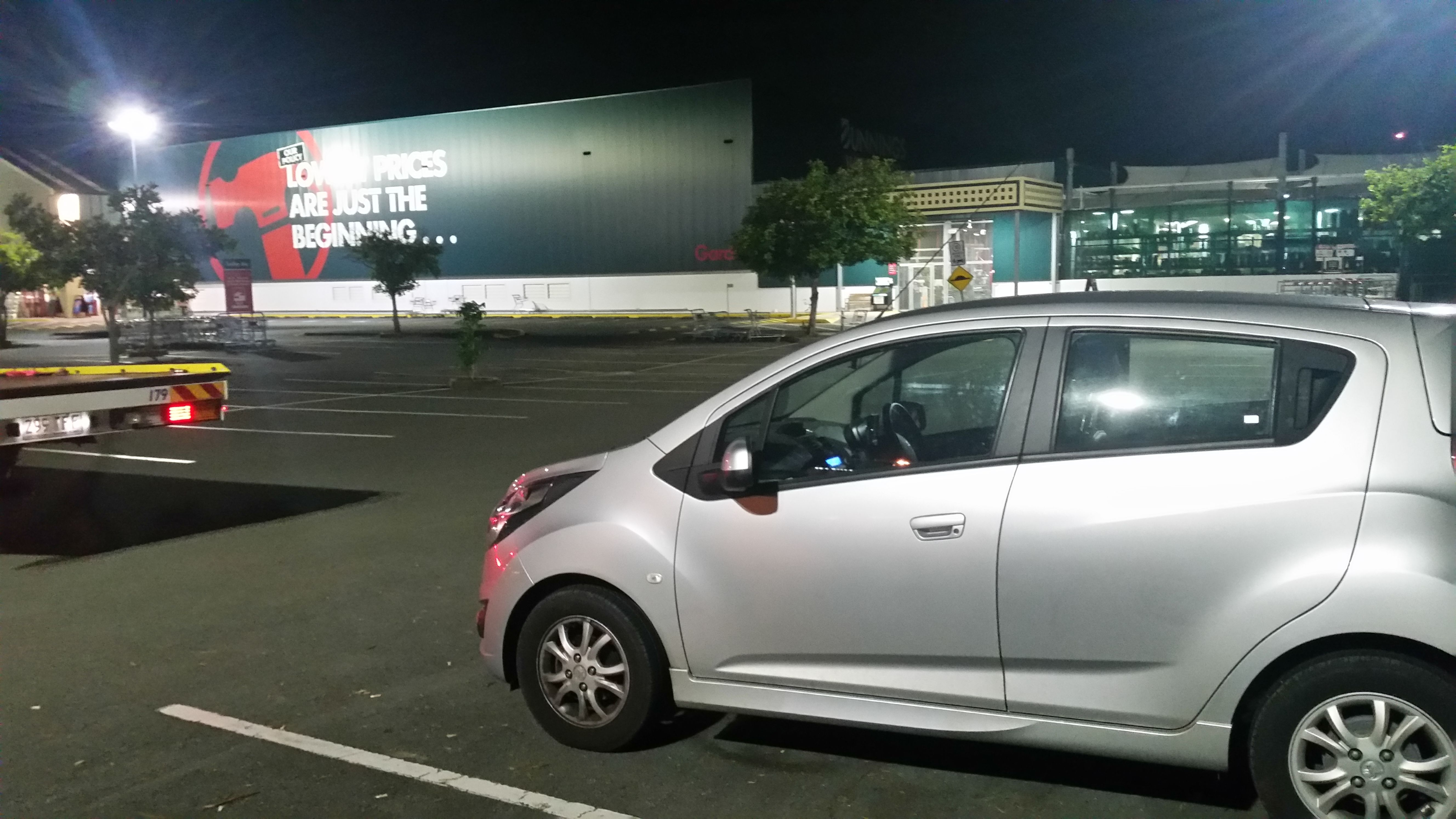 Our silver car just dropped of from being towed off the highway. Waiting for second tow. Its replacement was minutes away! More on that soon...
So we found a car we liked that was older and at a price we liked and went through the normal process of having it inspected and negotiating with the (rather lovely as it turns out) vendor. Today I came home early from work in order to drive with my wife out to the private seller's home in order to make payment and collect the vehicle. Sounds simple enough, right?
They live on the other side of town to us and, being that we were travelling in peak hour, the trip was understandably horrendous. After two hours on the road in stop start traffic, our fairly modern run around started beeping and flashing a red temperature warning at me.
I managed to negotiate the three lanes of highway traffic and we pulled up on the highway shoulder. I jumped out and had a look under the bonnet. I noticed straight away that the coolant reservoir was empty. This car hasn't been leaking. It's parked on concrete and I would have noticed leaking coolant. Perhaps a heater tap exploded, goodness knows, but it seems to have been something that came on rather quickly.
We called the vendor who was expecting us. It was the second contact with him, the first was to say that we were delayed due to the heavy traffic. I said "you're not going to believe this!" and started explaining the issue.
He was very accommodating and suggested that he come with his wife and meet us where we were stranded while we waited for a tow. That was very convenient as it would have meant a lot of logistical juggling to reattempt the collection with our runabout out of action and would have meant doing the whole trip again on another day.
The tow was a little complex. Being that we were on a highway, the government requires some kind of "emergency response" tow to get the vehicle out of immediate hazard. They literally drop you "around the corner" at which point another tow is organised to take you to where you need to go.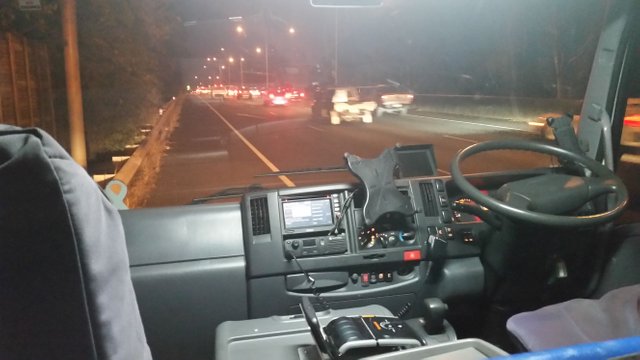 Waiting in the cab of the tow truck while the car is being loaded to be taken off the highway.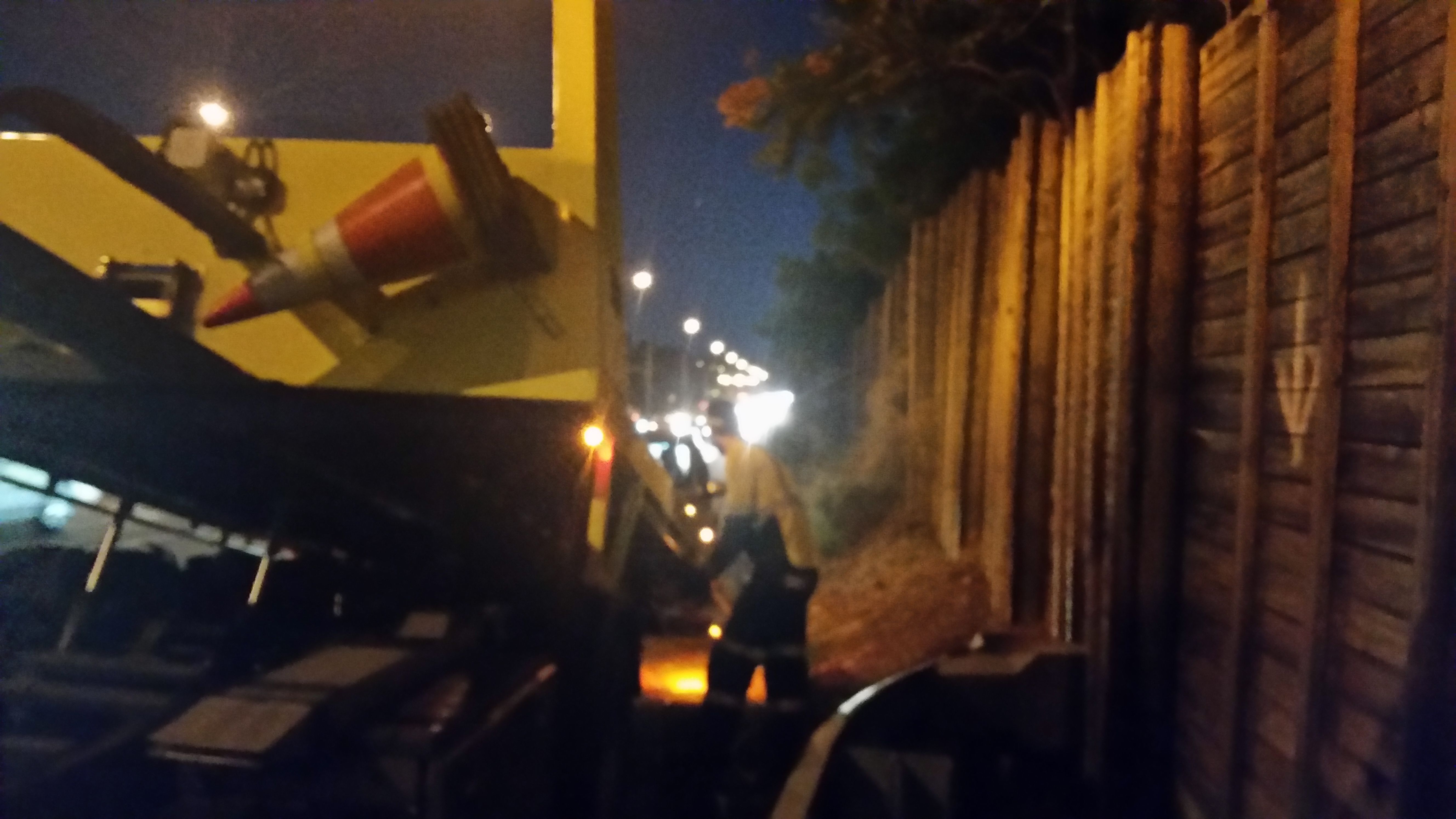 The first truck arrived within half an hour or so and dropped us in the large and well lit carpark of a Bunnings hardware store that we were close to. I messaged the vendor who was en-route with two cars and told him where we were. He was literally two minutes away.
Sure enough, there he was! He was funny, opening the door and saying to me "did someone order a car?" We filled out the paperwork on the boot of the car and I handed over the funds. We had an enjoyable chat and when the conversation was wrapping up, our second tow arrived. You couldn't have scripted it better!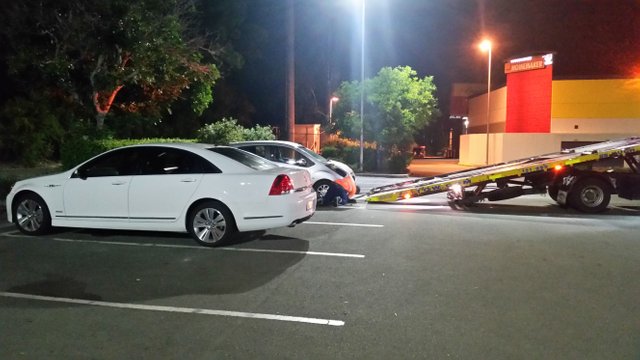 We just finished with the paperwork on the boot of the car to purchase the white vehicle pictured in this bunnings carpark as our silver car is being loaded onto the flat bed.
Our service coverage provided for the 40km tow back to a Holden dealer which was on our way back home. I rode in the tow truck and had a lovely chat with the Indian who was working the shift. My wife followed in the new car. We dumped the crippled vehicle out the front of the dealer and my wife and I took the new acquisition home.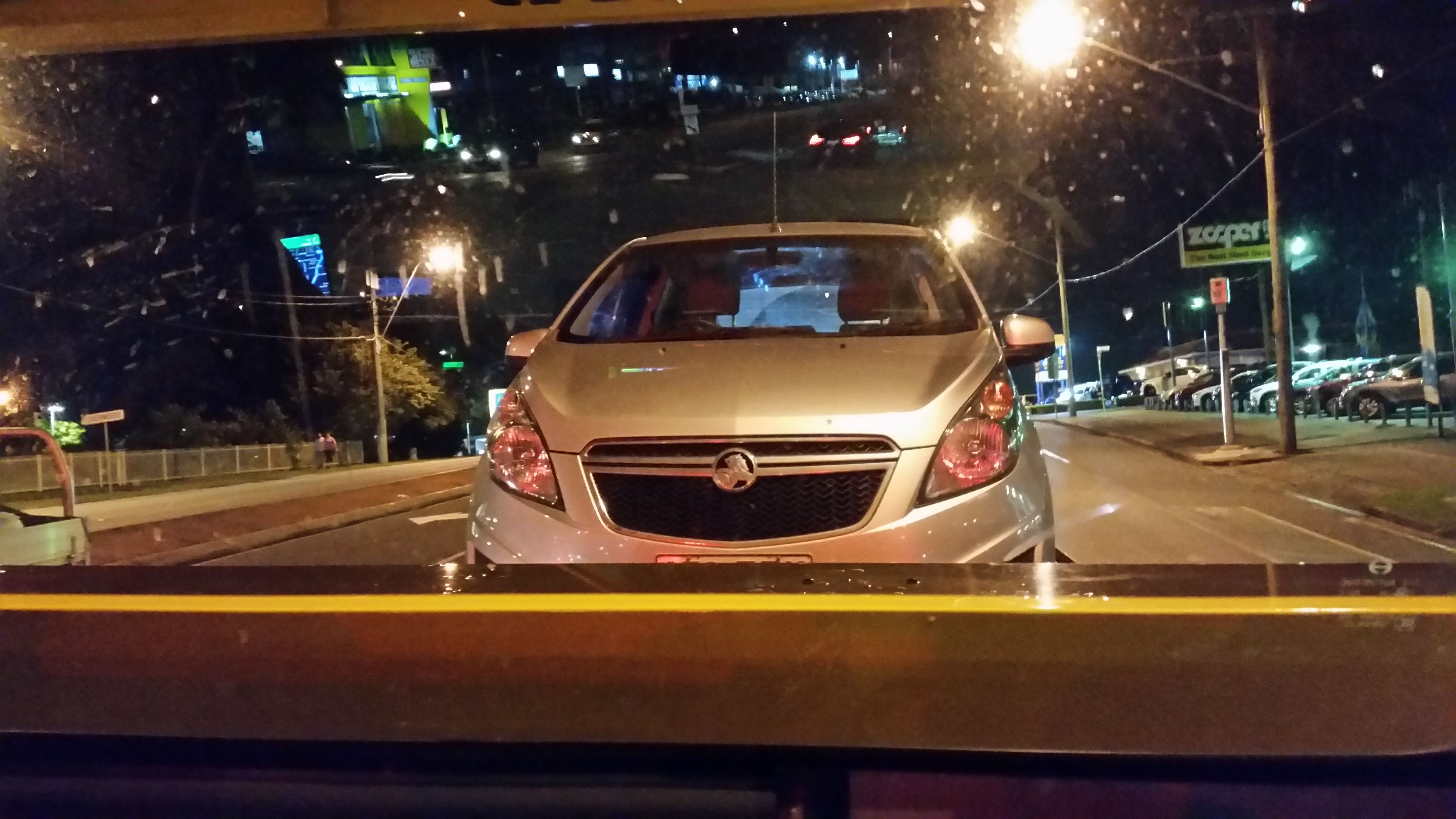 En-route to the Holden dealership.
As much as it was a hassle, I'm actually somewhat stunned at how we managed to still pull everything off, and so well timed too. That car could have failed on us tomorrow or at any other time and to literally be en-route to purchase a second car when it failed was something that only happens when planets align.
What an exciting night. Door to door we were gone for an amazing five hours but sometimes the unexpected inconveniences are what become memorable. We wont forget the night we took delivery of this vehicle!