What sets Mozart apart from Muddy Waters?
While driving home Mozart's music fills the car, after announcing his name came the name of the performer. Then it occurs to me this would never happen with some of the masters of other music, such as the blues.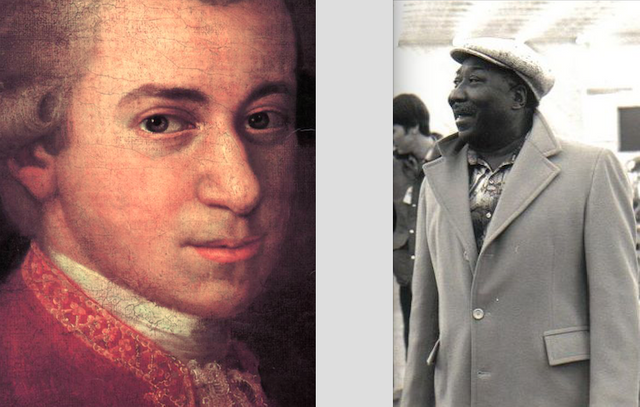 Photo of Mozart
Photo of Muddy Waters
Which got me to thinking
What sets Mozart apart from Muddy Waters besides 159 years between their births. Mozart born in 1756 and Muddy Waters born in 1915.
While Mozart wrote and played classical music Muddy Waters is a vocalist who wrote lyrics and played blues music on the guitar.
The argument could be cast that Mozart is a master. Yes, however, Muddy Waters is a considered a master in his genre.
Blues music
The blues originated on Southern plantations in the 19th Century. Its inventors were slaves, ex-slaves and the descendants of slaves—African-American sharecroppers who sang as they toiled in the cotton and vegetable fields. link for more info
Muddy Waters is black and a sharecropper born in the south in Mississippi and is in the Rock and Roll Hall of Fame.
His music is so popular it affected the name a of a famous music magazine.
His sensual lyrics peaked interest in the young crowds of the city. "Rollin' Stone," one of his singles, became so popular that it went on to influence the name of the major music magazine as well as one of the most famous rock bands to date. link
Many modern day songwriters sell all rights to their music. That must be difficult considering they may never be mentioned when it is performed.


Be sure and check out "A look at Plagiarism from 1933 compared to the blockchain" here
Thank you so much for making it possible for me to share my thoughts with you.
@rebeccabe
Stay strong and Steem on!