Overthrowing Fear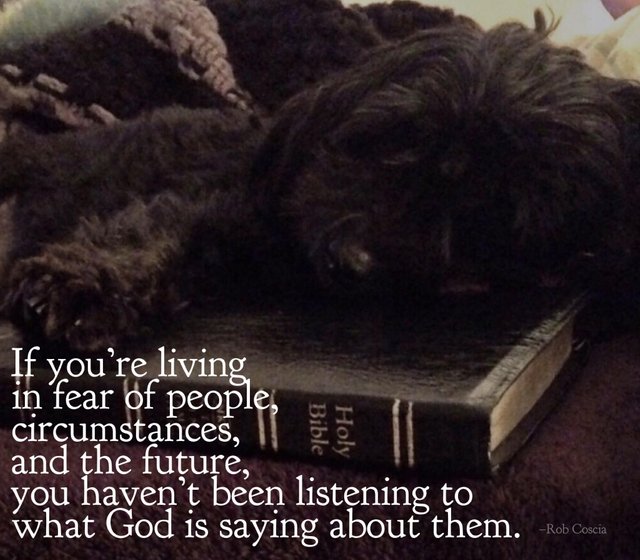 Most of your battles are less about dealing with the circumstances around you than what will win the fight for the empty space inside of you. You have to occupy love, or fear will occupy you.
When you let present pain grow into fears of future hurt, loss, and failure, those fears turn into filters for how you process your thoughts and feelings, and how you deal with your relationships and circumstances. Anxiety, anger, and avoidance become your new processing systems.
The best way I know to bring yourself back to your genuine identity is to take time to re-associate everyone and everything in your life with God's goodness, rather than with the fears of what might go wrong. Start by thanking Him for every good thing in your life. Recognize what grace, peace, hope, and joy He's been imparting to you, regardless of what's happening around you. Let His love for you overwhelm the negativity until it becomes the only filter through which you see and deal with the world.
Romans 8:19 says, "For the creation waits in eager expectation for the children of God to be revealed." If the Spirit of Christ lives in you, then you carry His transforming grace, love, joy, peace, and wisdom. Wherever you go, you have the opportunity to change the atmosphere by living joyfully aware of His goodness, and releasing it through your attitude, words, and actions.
Even in the darkest places, you're never overwhelmed by the darkness of the people or circumstances around you, because you're so aware of the infinite light and life in you. No longer let there be anything in your mind or heart you let the enemy claim as his. No matter the situation, or what others say or do, everything you face is subject to being blessed by the faith, hope, and love in you.
"Then Jesus said, "Come to me, all of you who are weary and carry heavy burdens, and I will give you rest" (Matthew 11:28).
"God has not given us a spirit of fear, but of power, love, and self–discipline" (2 Timothy 1:7).
"God's complete and unceasing love displaces all fear" (1 John 4:18a).