My Keto Experience
My Keto Experience
As I've mentioned in the last couple recipes I posted, I've been trying the keto diet. I thought I'd share my experiences with anyone else who's curious.
The Good
It seems to work. As you can see below there's a pretty clear trend line of my fat mass percentage decreasing, and the muscle mass rising. I was not gaining muscle really, just the percentage increased since there was less fat.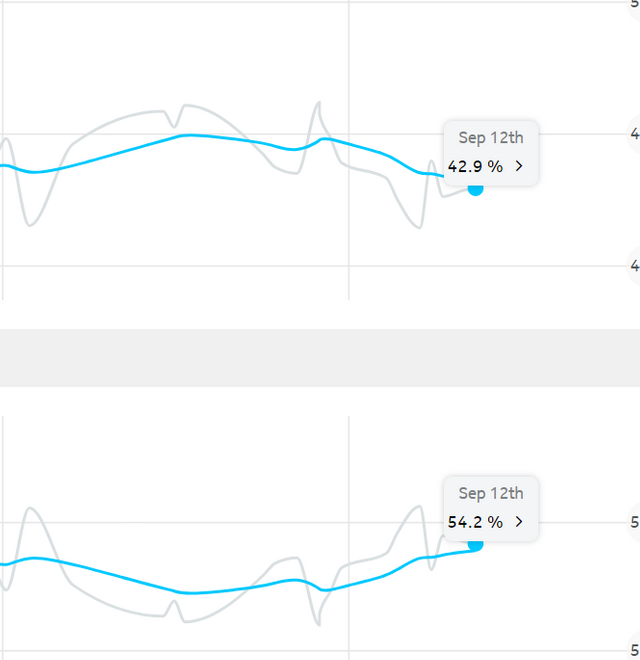 So what that translates to is exactly what I wanted, losing fat without losing muscle... despite rare and inconsistent exercise.
The other good part is you get to eat a lot of tasty food. The entire diet is based around high fat, which translates to lots of cheese, olive oil and even beef, bacon and butter. There is a lot of info out there saying saturated fats are fine, but I never really researched that a lot so I tried to get a pretty good portion from known healthy fats like olive oil.
Still though, I don't mind having omellettes almost daily because they are super easy to make and taste great. Snacking on cheese is basically what I do anyway, I just skipped the crackers that I used to have along with it. There are even pepperoni wrapped mozzarella sticks you can find in stores that are my new favorite treat!
The Bad
It's really difficult to stick to if you have any kind of a social life. While there is a lot of delicious food, you essentially have to make everything yourself. Nothing in a restaurant or store can be trusted unless they give you the nutrition info.
You might, for instance, order a nice salad with chicken and balsamic dressing thinking that'll be a super healthy meal. Then you go into MyFitnessPal and search dressings and find out most dressings have added sugar, and certain vegetables have way more carbs than you think too!
I even had that problem with recipies I made, such as the Paleo Crock Pot Roast I made a couple weeks ago, ended up having way too many carbs despite being advertised as keto friendly.
The Ugly
No beer! Actually, a lot of drinks are out which goes back to the "having a social life" part. Beer and wine are especially out though, and most mixed drinks because they all have a lot of sugar.
Worse yet, you can end up drunk much faster and have a worse hangover the next day. All in all while you can drink, mostly straight liqour, it's not really worth it.
The other, arguably more important, problem is the cost. You're buying tons of meat and cheeses, which adds up quick. Then cooking for one has a tendency to waste food unless you eat only what you cooked for days on end. (Again, social life... get invited out to dinner once and you're probably going to throw away some food in addition to the dinner cost!)
The other potentially ugly part is that a lot of keto enthusiasts seem almost cult-like about it. There's this vibe in a lot of videos where they seem to think carbs are an evil plot against humanity, which leads some people to extremes.
The Bottom Line
None of the problems are really insurmountable, especially if you're better at cooking and meal planning than I am. I probably didn't stick to it well enough either, with the occasional beer and failed restaurant outings.
Really though, it does work even when done imperfectly.
I'm just not sure it's worth it for me. I might do the occassional "keto week" to try and keep progressing, but I was also losing weight with just intermittent fasting so I'm going to stick with that and exercise more.
My plan foing forward is maybe more of a "keto light." I'll have much more carbs than recommended, but do my best to stick to healthier carbs like quinoa while having my snacks consist of higher fat items like cheese or those pepperoni mozzarella sticks.
---