I'd never seen this before.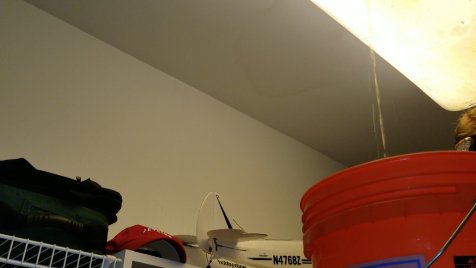 Today, we had, among other things, to replace a florescent light fixture.
It was your standard, everyday 2' x 4' fixture except John kept telling me that it had 12 gallons of water in it.
Yeah. Ok. It's got some water in it. We see that occasionally in outdoor fixtures and I have seen some pendant fixtures in kitchens that were totally rusted because of roof leaks.
This one was different. This fixture was in the basement directly under an ice maker whose water line had burst.
Looking at the fixture, you could tell that there was indeed water there. But how much?
We tapped on the light cover and could see ripples reflected on the ceiling.
We decided there was no way we could take it down without getting soaking wet. Our only alternative was to do a 1/4" hole in the cover to drain the water. Then two holes. Then three.
It took about 45 minutes to drain the thing into a 5 gallon bucket. We had to empty the bucket four times. We figure there was about 17 gallons in there.
Here's a very short video.