CARDI B HAD A SWELL TIME IN NIGERIA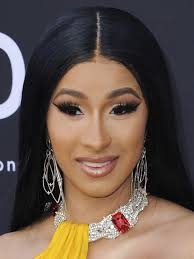 Source
Cardi B undoubtedly had a swell time in Nigeria as she seized the opportunity to visit various locations in Lagos State, Nigeria.
Her first point of call was the Murtala Mohammed International Airport, which of course, is the first point of entry for visitors and the largest airport in Nigeria.
She also visited Cool FM Lagos, which is known to conduct interviews on international celebrities visiting Nigeria for the first time. She has a 30-minute interview on the station and seized the opportunity to promote the Livespot X festival. She revealed that she loves Burna Boy's 'Ye.'
She also visited Silverfox Nite Club, a strip club in Lagos, where it was reported she spent over 3.6 million nairas. She also posted pictures of her dancing with the strippers.
She visited Prince Ebeano Supermarket, too, where she shopped for provisions worth millions of naira and took it to Lions Village Motherless babies' home.
Of course, she was at the Eko Atlantic City, the venue for the Livespot X Festival. It is regarded as an international commercial city built on lands reclaimed from the Atlantic Ocean. The city was filled with fans and lovers of Cardi B.
The famous Cubana club was not left out in the momentous visit. Cubana chief priest and other Nigerian celebrities were there to welcome her and make her feel at home.